This week in our Women in Comms roundup: Short skirts and bright colors get attention; few tech jobs for women in Mass.; an out-of-the-box UC Berkeley commencement; and more.
---
Interested in joining Women in Comms on our mission to champion change, empower women and redress the gender imbalance in the comms industry? Visit WiC online and get in touch to learn more about how you can become a member!
---
Barbara Corcoran of Shark Tank fame has landed herself in the deep end with her recent comment about getting attention as a woman in business. Her controversial Tweet stated: "I find running a #business in a man's world to be a huge advantage. I wear bright colors, yank up my skirt + get attention." Her intended message, that women should use what they have to get ahead, just as men have historically done in other ways, upset many people who argued that women should not be using their sexuality in business and that the comment was demeaning. (See WiC Pics: Speak Up & Wear Fabulous Shoes.)

Corcoran must be doing something right though with exposure and profits currently soaring. ABC News has a video interview with Corcoran that expands on her much-debated statement.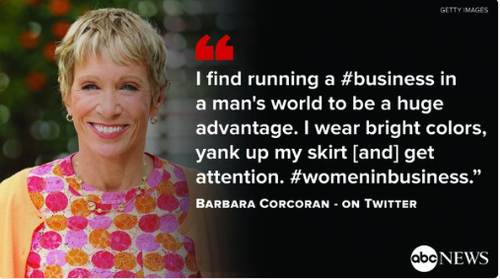 While Massachusetts is a leader in employing tech workers, most of those workers appear to be men. The Mass Technology Leadership Council deduced that the number of tech jobs in Mass. grew by 17,283 positions total between 2007 and 2014. Surprisingly, men filled 16,919 of those roles, which left women a measly 364 jobs. While we might have expected some disparity between the number of men and women filling tech-based positions, this is just wrong. It seems like this state, which is one of the top states for tech companies in the US, has some reevaluating to do in the HR department. (See Intel Hired 43% Women, Minorities in 2015.)
A first-of-its-kind nationwide test is measuring how K-12 students are performing in tech. The results proved that girls fared better than boys by three points across the board, though the overall results had the majority of all students (43%) falling into the "proficient" level, as opposed to truly excelling. Dr. Vince Bertram, president of Project Lead the Way, stated, "There's this perceived gender bias in STEM, which discourages girls from pursuing technology and engineering. The test shows that this can be changed if we get to girls early enough in school, before the gender bias sets in." (See A Man, a Mission & an Underwater Flashlight.)
While Uber might lead the pack as the taxi substitute of choice in the US, Didi Chuxing wins the race in China. In just a short year and a half, female President Jean Liu has catapulted Didi Chuxing to the top and averted a taxi war in the process. In China, less than 10% of people have cars, so many rely on buses and ride-sharing services to get just about everywhere, which creates a huge market (and, ahem, traffic congestion!) for companies such as Didi, which has miraculously fended off an Uber invasion. Liu isn't done innovating yet though. The company's biggest goal is "that within three years [they] are going to serve 30 million people a day, by helping them get a car, a bus or any transportation [including other shared vehicles] within three minutes."
Sheryl Sandberg, renowned Lean In author and de facto career inspo, gave the commencement speech at UC Berkeley last weekend. While part of the speech comprised the expected "You can do it all!" message that all new grads need to hear, Sandberg mostly talked about the recent unexpected death of her husband. She reminded students that when Plan A fails, there's always a Plan B: good advice in these competitive times. The main takeaway seemed to be that while we can certainly "have it all," we probably won't win every battle, and that's OK.

— Eryn Leavens, Special Features & Copy Editor, Light Reading