Matrixx Founder: Divergent Career Paths Lead to the Top
AUSTIN -- BIG Communications Event -- It's still a challenge to find women for leadership roles in Silicon Valley, according to Matrixx Software's Jennifer Kyriakakis, who encourages women to focus on their transferable skills and take the leap into tech even if they don't have direct experience in that space.
Kyriakakis is now the vice president of marketing at Matrixx Software Inc. , a Valley-based company she co-founded in 2008 to reinvent wireless operators' mobile billing relationships with customers, making it more akin to a digital commerce platform. While the company boasts 40% women in engineering and technical roles, service delivery and support and in marketing and finance, she's the first to admit she's the only female in the executive suite.
"We struggle to find women to bring into leadership in a Silicon Valley environment," she told attendees at Women in Comms networking luncheon ahead of BCE in Austin last week. (See WiC Panel: Societal Pressure Drives Diversity & Inclusion.)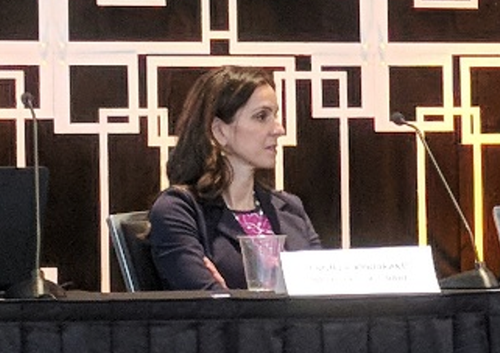 So, how can we change that? It's a significant problem rooted in company cultures, pipeline problems and outside influences, but Kyriakakis focused her presentation on how women themselves can keep pushing their career forwards. Part of doing that might mean not taking a straight path and putting yourself forward for new jobs and promotions even if they are not a direct fit.
Kyriakakis, who has a business degree in IT and a minor in philosophy, is no stranger to doing this. She went to work for Accenture post-graduation and was later recruited into Portal Software. Here, she survived when the bubble burst -- and seven rounds of layoffs. She held a number of different roles at the company, including one in technical sales, finally landing in product marketing, and stayed with it until Oracle acquired it in 2006.
At Oracle, she said, there was no concept of product marketing, and she had to carve out a role for herself and create a culture on her own. Kyriakakis and a small group of engineers from Oracle ended up leaving the company to start their own -- building the technology, finding funding and taking the risk all from a one-bedroom apartment in Palo Alto. (See Matrixx Founder Creates Her Own Culture .)
"When you have varying paths and you're figuring out what to do, having all those different opportunities to participate in the industry helps broaden your perspective," she said. "I've been inward facing, customer facing, managed resources -- I had perspective from every side of the table. It gave me the confidence to say I can go lead a startup."
---
Interested in joining Women in Comms on our mission to champion change, empower women and redress the gender imbalance in the comms industry? Visit WiC online and get in touch to learn more about how you can become a member!
---
Kyriakakis stressed that while technological skills can be learned, critical thinking, decision making and verbal communication are what matters most -- and those skills can be honed in any role and in any industry. What's more, digital transformation and the move to 5G is opening up opportunities more than any past technology iterations.
"The conversations are different with 5G," she said. "People are focusing on the end customer experience, the use case, how to monetize it, and not the technology itself. We don't have answers, but the whole conversation has changed."
This, she added, is indicative of the cultural change at telcos themselves. There are more opportunities than ever to come in and lead commercial teams. While telcos used to ask about how technology works, now they are squarely focused on how they can engage with their customers differently, roll out new services more quickly and reach new verticals. The commercial and strategic teams are now driving buying decisions, she said.
"The shift of power is opening new opportunities for women and those with skill sets from other industries to be disruptive in our space," Kyriakakis added. Citing a McKinsey & Co. study, she noted that the main things telcos are doing to face digital transformation are reinventing their cores, starting with the customer, pursuing adjacencies and building new talent and capabilities. These core focuses are changing how telcos market and sell to people who aren't their customers and creating a new wave of hiring in the process. (See Matrixx Software Founder: Digital Transformation Lends Itself to Diversification .)
The new tech skills that are in demand include data analytics, Internet, media, digital advertising and marketing know-how. For those women who also have the "soft" skills of critical thinking, decision making and verbal communications, as well as diplomacy and self-teaching, there are countless new entry points into this industry.
Using these principles at Matrixx, Kyriakakis was able to convince a skeptical executive team to rebrand as a digital commerce company with a new product name and visual representation of what they built. "I took a few hostages with me but did push it through," she joked. The end result was the company growing 130% last year with a second wave of customer growth. (See MATRIXX Software Raises $40 Million, Matrixx Raises $5M From New Customer PLDT and Matrixx Lines Up New Customers, Funding.)
"[Operators in Asia, Europe and North America] are making a cultural shift and changing how their teams are structured," she said. "They are purposely mixing people with long telco histories with people outside the industry that have cross-functional abilities and more autonomy and the ability to take risks. They are changing how they operate. They are accepting of new methods and skill sets."
— Sarah Thomas, Director, Women in Comms
PARTNER PERSPECTIVES
- content from our sponsors