Matrixx Software is set to announce details of new customers and a new round of funding just weeks after teaming up with Salesforce partner Vlocity on a cloud-computing service, Light Reading has learned. (See Matrixx, Vlocity Launch Go Digital.)
The highly regarded Silicon Valley-based company -- winner of the Outstanding OSS/BSS Vendor trophy at the 2015 Leading Lights awards -- is one of several startups looking to address telcos' requirements for more sophisticated IT systems as digital services become increasingly popular. (See Leading Lights Awards 2015: The Winners and Leading Lights 2015 Finalists: Outstanding OSS/BSS Vendor.)
Swisscom, Australia's Telstra and Vodafone New Zealand already make use of the company's real-time charging and policy products, while the investment arms of Swisscom AG (NYSE: SCM) and Telstra Corp. Ltd. (ASX: TLS; NZK: TLS) are also investors in Matrixx Software Inc.
Matrixx now appears to be on the cusp of a new phase of growth. In January, it announced a major strategic partnership with Vlocity Inc. , a cloud software company that last year raised $42.8 million in a funding round led by Salesforce.com Inc. .
The tie-up was spurred by growing demand among service providers for "a stack that is digital and cloud-based and can be up and running in three to five months," according to Jennifer Kyriakakis, one of Matrixx's two founders (along with CEO Dave Labuda) and its current vice president of marketing.
"We have a big piece of the solution -- the real-time engine, the digital commerce functionality, real-time self-service -- but we didn't have the front-end, omnichannel, CRM-type experience of Vlocity," she says. "Together we have an end-to-end stack that an operator can use to launch a new brand and get to market quickly."
Around half of the conversations Matrixx is now having with prospective customers are about using the service it has developed with Vlocity, according to Kyriakakis.
"There are people trialing it who have invested [in Matrixx] and there are people trialing it who have not invested," she tells Light Reading.
The appetite for Matrixx's technology has been especially strong in the Asia-Pacific, says Kyriakakis, where competition in consumer mobile markets has been "cut-throat." New customers will be revealed soon, she indicates.
But the company is also getting closer to potential customers in Europe: Matrixx today announced that it has joined BT's Innovation Martlesham tech cluster, a "collaborative ecosystem of ICT companies focused on the development of next-generation technologies and the sharing of innovative ideas and concepts" based at the UK incumbent operator's R&D headquarters. (See Matrixx Joins BT's Innovation Martlesham Community.)
---
Want to know more about cloud services? Check out our dedicated cloud services content channel here on Light Reading.
---
Matrixx is also about to announce details of new funding commitments, having previously raised more than $33.6 million in five rounds of funding since it was founded in 2009: The total amount the company has raised is likely much greater than that, as Light Reading believes the company's as-yet-undisclosed May 2014 round, led by Telstra Ventures, was north of $13 million, while its April 2012 round led by Swisscom Ventures is also undisclosed.
Other investors include private equity firms Adam Street Partners, Greylock Partners , Innovacom and Tugboat Ventures.
Salesforce as a suitor?
The involvement of Salesforce in Vlocity -- whose technology is actually based on the Salesforce platform -- suggests the software-as-a-service pioneer is looking to play a much bigger role in the markets targeted by Matrixx.
"I think you'll see Salesforce pushing more into the communications space with a B2C offering," says Kyriakakis when asked if other strategic partnerships are in the pipeline.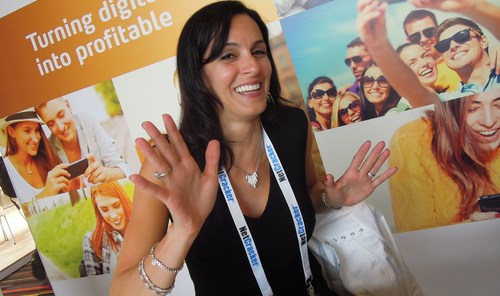 While Matrixx and Vlocity are initially catering to mobile operators rolling out digital services under a "second brand," they plan on expanding the offering to cover enterprise and fixed-line service evolution. "We are looking together with Salesforce and Vlocity to cover a three- to five-year evolution [of customer systems]," says Kyriakakis.
All of this raises the possibility that Salesforce could be announced as one of Matrixx's new investors and that it could even be a prospective suitor. Kyriakakis would not comment when asked if Matrixx has fielded takeover offers.
Even so, it may be an increasingly attractive target given the benefits that early adopters of its technology appear to have realized.
According to Kyriakakis, Telstra has seen a 40-50% drop in call center traffic since it began working with Matrixx, taking a huge cost out of its business. Perhaps more importantly, she says, its average revenue per user has risen by 5% over that period as customer transactions have shifted online.
"People are buying additional services and more data because Telstra has removed the fear of doing that by giving customers more transparency," says Kyriakakis.
Matrixx obviously faces competition from established vendors that have been serving operators for years, but the marketing vice president reckons none has a digital mindset. "We see them talking about it but we don't see them coming up with solutions," she says.
The big question is whether more service providers will entrust a relatively small player with the job of digital transformation across the entire business.
That will require Matrixx to impress during early deployments, according to Kyriakakis. "They will give us smaller projects and say, 'Prove yourself in six months and if so we will think about evolving our entire business over time,'" she says.
— Iain Morris,

, News Editor, Light Reading