Mentoring has always been a priority for Keri Gilder, VP and General Manager, EMEA at Ciena, especially as she was building out and executing an aggressive career plan because it gave her the "visibility and guidance" she needed to "reach each level."
As a result of her efforts, Gilder saw the value and rewards of mentoring from a personal level and went on to create Women @ Ciena, a networking group that hosts working sessions, book clubs and more. While groups like Women @ Ciena are an important initiative, she also notes that it's important individuals take responsibility for their own career development and, "Go for it!"
Women in Comms checked in with Keri via email to find out more about her views on mentoring and how Women @ Ciena is making a difference for women and men at the company.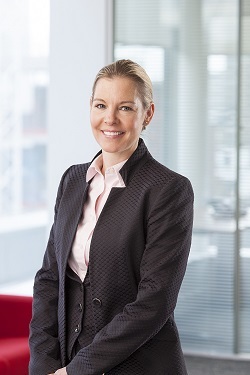 Liz Coyne: You've said that mentors have helped you progress and pivot in your career. How did you go about forming these relationships?
Keri Gilder: Early on I was lucky enough to understand the value of mentoring, and how important it is to be proactive. I found a mentor to help me understand how to sell, build executive relationships and how to network. Through that I identified areas for development and progression. I used the guidance and support to build up a personal coaching and mentoring network that helped me expand into different roles.
Mentoring also went hand-in-hand with quite an aggressive career plan -- and I worked diligently to execute it, get sponsorship and review it quarterly/bi-annually -- and that gave me the visibility and guidance I needed to reach each level.
I also used online education programs, tools and classes to learn as I went, from understanding how to create a business case, to reading industry periodicals and leadership books to help improve my perception and management skills.
My aim is to extend both the mentoring and learning at Ciena Corp. (NYSE: CIEN) -- creating the Women @ Ciena networking initiative and facilitating the sharing of experiences and ideas through working group sessions, book clubs, a library and online resources. At the end of the day, it is up to each individual to own their mentoring program and career development, no one else can do it for you.
LC: How do you now make mentoring a priority for you given how busy you are as a leader in the company?
KG: I would actually turn this question around. As a leader your biggest asset is your people and if you don't prioritize your top talent through programs like mentoring, then how can you lead? For a mentoring program to be a success all involved need to set time aside for it and make it a priority. I set time aside for my personal mentoring, both being mentored and being a mentee.
The Women @ Ciena initiative also works together to make mentoring a priority, with newsletters and internal and external events to help share ideas. We have also localized the program through a Global Women's Council to manage the scheme, with regional representation and autonomy. In this way, it is structured with regional goals and local events that inspire engagement with the entire organization.
LC: In your career, has there been any programs or initiatives that have been particularly effective for fostering diversity and inclusion?
KG: So far the outcomes of the Women @ Ciena initiative have made great changes, creating an environment that benefits everyone, not just women.
For example, at Ciena we recently updated our Global Family Leave Policy to build on the company's commitment to diversity. As of September 2015, all new parents receive enhanced paid leave, absence duration and return to work schedules. This helps give all employees a better work-life balance and greater job satisfaction.
When these initiatives take hold they can extend from career development support, to better work-life balance policies, to improved maternity and paternity benefits.
LC: What advice do you have for women who are considering taking a leap like you did, from engineering to sales?
KG: Go for it! If an opportunity arises put yourself forward and take that step. Sales leadership is very fulfilling. I always think of it as a roller coaster ride; there are very high highs and very low lows, the trick is to stay on track through each bend and curve, work as a team and help everyone get off the ride at the end with a smile on their face.
My advice would be to not be afraid to get on the ride. Most companies will help and encourage you to be successful. And companies, like Ciena, are getting better at trying to address the work-life balance conundrum with opportunities for flex-work and work from home, understanding that these roles are "always on," but also offering a flexible work environment that enables you to not miss the key moments that life has to offer with your friends and family.
— Elizabeth Miller Coyne, Managing Editor, Light Reading