Mellanox's Chloe Ma grew up in a large city in China where men and women were always considered equal, which meant that if "the teachers want to kick your ass (literally), he will do it no matter whether you are a boy or a girl," she says.
It was this equal opportunity ass-kicking, her natural smarts and the strong role model she had in her mother that helped Ma adopt the attitude that it was up to her, and only her, to get what she wanted in life.
Ma is now the senior director of marketing at Mellanox Technologies Ltd. (Nasdaq: MLNX), helping to drive adoption of the vendor's cloud, SDN/NFV and Open Composable Networks technologies amongst network operators, but the story of how she got to where she is today is pretty fascinating. Read on for more on how Ma, a finalist in Women in Comm's Leading Lights award for Female Tech Pioneer of the Year, paved her way from China's most populous province to one of the Valley's most innovative networking companies. (See WiC Leading Lights Finalists: Hedy Lamarr Award for Female Tech Pioneer of the Year .)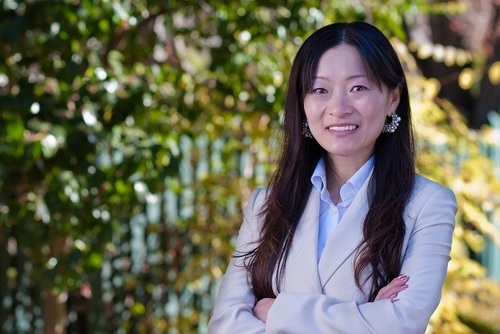 ---
Interested in joining Women in Comms on our mission to champion change, empower women and redress the gender imbalance in the comms industry? Visit WiC online and get in touch to learn more about how you can become a member!
---
Women in Comms: Tell us a bit about your personal story and how you got to where you are today.
Chloe Ma: I grew up in a large city in China, capital of one of the most populous provinces there. Food was scarce and rationed, everyone was equally poor and I did not own lot of toys, but childhood was full of fun memories. China had a fairly strong emphasis on men and women being equal in that era, which means that if the teachers want to kick your ass (literally), he will do it no matter whether you are a boy or a girl. Also there were rarely any stay-at-home moms back in the 70s and 80s in China, so it is perfectly natural for women to work on almost anything, in my mind. My mom also always told me that if I want to get anything in life, I need to work on it myself and not expect to count on "them" to help me out.
I went to a middle school not far from home and was one of the top students, so they wanted me to go to high school there without taking the exam. But I was quite rebellious against my mom and wanted to go to the best high school in the city, which is also a boarding school that was farther away from home. I was admitted to my dream school with the highest score for the high school entrance exam and remained number one during my three years there. In China, they do post your scores for every major exam, and your ranking publicly. I was very good with math, physics and chemistry, and these subjects just made sense to me. I fell in love with biology and life sciences during high school years, and wanted to major in biology in college.
As an award to my continued outstanding performance in high school, I was waived college entrance exam to go to one of the best colleges in Beijing, China, but they did not put me into my first-choice major, biology. Instead, I got into my second choice, electronics, very reluctantly, because it was mostly my parents' idea. I had very little idea about what an electronics major means and what I could do after I graduate for most of my college years. As a matter of fact, I hated some of the core classes such as analog circuits and digital circuits -- even though my design looked logically correct, once I put all the components onto the circuit board and connected them together, they didn't produce the expected results. It was very frustrating. Then in my senior year, I got into the computer networking lab for my thesis project, totally by accident. It was the dawn of the Internet era in China and our lab was one of the few that had Internet access. I thought the Internet was amazing, and got addicted with BBS and online gaming. I ended up selecting a communications software project for my final thesis in a hardware-dominated field.
After finishing college in China, I came to the US for graduate school in the Electrical Engineering Department in USC. I was in a PhD program with Dr C.C. Jay Kuo who specializes in Digital Signal Processing. In the first summer, Dr. Kuo referred me to a VoIP startup for a summer internship, and the CEO convinced me to quit my PhD program and get an MS instead. I felt that I wanted to start working and make sense of what the real world needed instead of continuing down the academic route. Dr. Kuo was nice enough to respect my choice and continued to offer me scholarships until I graduated and started working in a networking stack software startup in Southern California in 1999.
1999 was a crazy time and almost the height of the Internet boom. Little did I know, the startup I joined would get acquired by Wind River almost immediately after I joined. After working there for a year, I decided to move to Silicon Valley and join the mecca of networking industry -- Cisco Systems. I worked at Cisco for ten years, growing from a software engineer to a technical leader, and then Cisco sponsored me to get an MBA from the Wharton School of Business, and I moved to Strategic Marketing within Cisco. During my stay at Cisco, I was also deeply involved in the Women in Technology Action Network (WTAN), first as Director of Events, then as a co-chair. Cisco gave me great opportunities to move around within the company itself to do the things I am most passionate about. It is also a company that invests in its employees and cares deeply about diversity and inclusion. I feel lucky that I kind of started and built up my career at Cisco.
After Cisco, I worked for Huawei Technologies, Juniper Networks and now Mellanox. Each has offered me valuable experience in taking on more responsibilities and working on exciting cutting-edge technologies. All in all, I have always been amazed at information and communication technologies, and how much they have changed people's lives in the last 20 years or so, and I am excited and proud to be part of this technological advancement, and that is the main reason that keeps me going.
WiC: Have you faced any unique challenges or opportunities as a female engineer in our industry?
CM: During my engineering days, I thought of myself first and foremost as an engineer, not a female engineer and I competed and collaborated with my male and female counterpart regardless of gender. After I moved to marketing, I saw a higher concentration of women in various marketing, sales, alliance and BD roles, but when it comes to technology marketing roles such as product or solution marketing, the female ratio is similar to that of engineering. I look at outstanding engineers and marketers, no matter whether they are male and female, and I try my best to learn from them, and enrich myself. The upside of being female is that you stand out, and I am normally the only female engineer in a meeting or the only female panelist on a technology forum, so people remember you. I occasionally felt that people may habitually reach out to my male counterpart because they feel more comfortable, but again, you just need to prove to them that you know more, you can work hard, you can get the job done and done well, and you can help them.
WiC: What makes you most excited about the future for women in comms right now?
CM: I am excited because I see more and more women role models in the tech industry, and that men are taking more responsibilities on the home front which is a big enabler to let women shine at workplace. Ultimately three conditions need to be there for women to succeed in engineering or the tech world:
Women need to be truly interested in engineering.
Those women who are interested need to feel that they can succeed and be motivated to continue to move up the ladder.
The women who do move up the ladder need to have the support they need from their family so that they can dedicate the time and energy they need to achieve bigger success.
WiC: What advice do you have for women just starting out in their careers?
CM: Three things:
Follow your heart: You want to work on something that you have decent interest in to succeed in the long run. Move around a bit, try different things and find that dream job of yours; stick to it and make it big. If that something is engineering and technology, so be it, we can do it well; but in case it is not, there is no need to force yourself into it.

There is no lowering of standards. Compete and collaborate with others as an engineer, not a female engineer. Learn from other men and women, and be better than them.

Leverage your strength to differentiate yourself. Females are normally better communicators, good listeners and more sympathetic, and you need to think about how to use these strategically to help you get your job done better.
— Sarah Thomas,

, Director, Women in Comms