As the only female chief information officer in the telco space in India, Bharti Airtel CIO Harmeen Mehta is an inspiration to many in the country. Among other accolades, she is also the only woman to make it to the LinkedIn list of most viewed tech executives in the country.
Mehta has been with Bharti Airtel Ltd. (Mumbai: BHARTIARTL) since November 2014. In the past she has worked with BBVA, Bank of America Merrill-Lynch and HSBC. As global CIO and director of engineering at Bharti Airtel, Mehta is responsible for providing overall leadership and strategy to the IT function. She is driving the digitization transformation for the company and is credited with launching the MyAirtel App.
Though India's technology industry is hiring more women at entry level, the proportion of women in senior management continues to be low. (See India's Tech Sector Boosting Female Jobs Even as Barriers Remain.)
"I think it is a privilege if you are sitting in a room and there are 50 men and you are the only woman in the photograph," says Mehta during the course of the interview. Read on for more excerpts from our interview with her covering everything from women in comms to digital transformation. (See Airtel Transforms IT to Meet Digitization Challenge and Harmeen Mehta – Consumer-Inspired Digital Transformation.)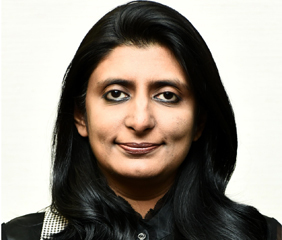 ---
Women in Comms is gearing up for a bigger, better 2017. Join us in our cause to redress the gender imbalance in the comms industry! Visit WiC Online and get in touch to learn more.
---
Women in Comms: How do you feel about being the only woman CIO in the Indian telecom space?
Harmeen Mehtra: I would say that the table is not very balanced if I am the only CIO in the Indian communications industry. The engineering or the technical side is largely very male dominated and then the telecom industry is also very male dominated. So, when you combine the two together, then it becomes inevitable. However, it is a good start... Today I am the only one but tomorrow there could be nine or ten.
WiC: What is one policy which is likely to make a difference in getting more women in the communications industry?
HM: One of things that really makes a difference is when a woman is going through a stage in life when she has gotten married and is going to have a baby and that's the time when a number of them fall off the cliff -- the probability of her continuing increases if the organizations make it easier for her to go beyond this stage. What generally happens is that organizations feel that at that point they are going to lose the person for six or nine months but our career span is around 30 years. And, even if you go on maternity leave twice for say, six months out of that, it is no big deal. That's a trick many of us miss. Airtel is also doing a number of programs with the engineering colleges, which I believe is making a real difference.
The organizations can make small measures to ensure that women continue to be a part of the workforce even after they become mother. For instance, at Airtel we run a day care [for the children of employees], which is really a very small initiative but it has made such a huge difference.
WIC: What are the steps taken by Airtel to increase the number of women employees in the organization?
HM: At Airtel, we are taking definite efforts to increase the number of women. At times I have told headhunters that we will pay them more if they find me a woman, and I have had good success as well. We are making a concerted effort to hire more women and we would like to continue to do that we as well. Our ratio of women [in the company] is higher than what it was last year. Women constitute nearly 13% of the workforce in my department.
WIC: What has your experience been like? Was it challenging to rise in a male-dominated sector?
HM: Not really; it was not a challenge for me. I have led a very privileged life. I was very young when I decided to pursue engineering and life has been kind.
— Gagandeep Kaur, Contributing Editor, Special to Light Reading