Vodafone Gets Set for Gigafast Assault on BT
Vodafone Gets Set for Gigafast Assault on BT
Using networks built by CityFibre, the UK service provider is due to launch its first gigabit-speed broadband service in the next few weeks.

Residents of the UK city of Milton Keynes are said to have put up with some of the worst broadband connections in the country, but in the next few weeks about 4,000 homes will be able to subscribe to a new "gigafast" service from Vodafone.
Better known in the UK market as a mobile operator, Vodafone UK has been developing the high-speed broadband service in partnership with CityFibre, which is building a glass-fiber network that reaches all the way to customer premises. The gigafast service is both a sign of Vodafone's frustration with the wholesale products it buys from BT Group plc (NYSE: BT; London: BTA), and an attempt to wrest broadband customers from the former state-owned monopoly. (See Vodafone, CityFibre Take Their Gig to Concrete Cowland and Vodafone UK Boss Slams Openreach 'Stranglehold'.)
Figure 1: The Gigafast Bandwagon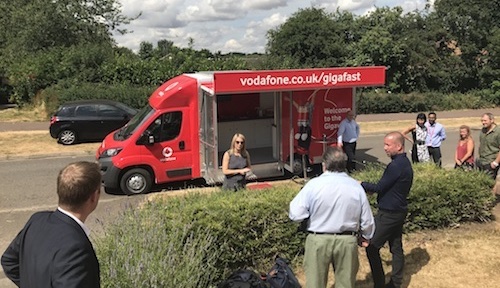 Vodafone and CityFibre take their gigafast show onto the roads of Milton Keynes.
"For us it marks a big milestone," said Neil Blagden, Vodafone UK's chief operating officer, during a demonstration of the gigafast technology at a residential property in Milton Keynes. "It is a bit of a challenge to BT because they have been talking about it for ten years and have got nowhere."
A commercial launch for the 4,000 homes covered by the CityFibre network is likely to happen between mid-August and early September, and will follow trials with about 50 customers this summer. Those who spoke to reporters were effusive when comparing gigafast with their older BT-based services. One local resident said uploading video files for work purposes had previously been an overnight task. Now it takes minutes, she said.
Tests have recorded peak connection speeds of about 900 Mbit/s when uploading and downloading files on a standard PC, according to Blagden. During one test Light Reading observed at a customer property, Vodafone registered connection speeds of about 500 Mbit/s, on both the uplink and downlink, using a tablet. The bottleneck that prevents customers from enjoying even faster services is no longer the broadband connection but the end-user device, according to Guilhem Poussot, who heads up Vodafone's gigafast program. Nevertheless, the service represents a dramatic improvement on average broadband speeds of 26.6 Mbit/s in Milton Keynes, according to press reports, and the national average of 44 Mbit/s.
Figure 2: Fiber Enthusiast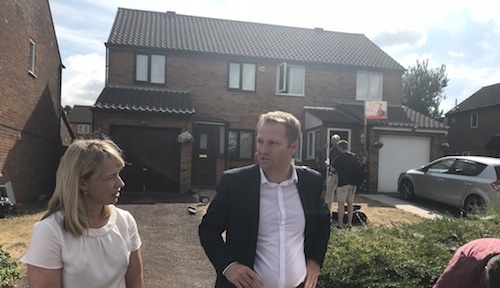 Neil Blagden, Vodafone UK's chief operating officer, addresses reporters outside one of the Milton Keynes properties trialing the operator's new gigafast service.
Availability will clearly be limited when gigafast turns commercial, with 4,000 properties representing less than 4% of the 111,813 homes in the entire Milton Keynes borough, according to housing statistics from local authorities. But Vodafone and CityFibre plan to cover about 1 million premises across 12 cities by the end of 2021, and are targeting 5 million UK premises by 2025. That would put all-fiber networks within reach of nearly a fifth of UK homes. CityFibre reckons just 3% of households can access an all-fiber service today.
The other gigafast cities announced so far include Aberdeen, Coventry, Edinburgh, Huddersfield, Peterborough and Stirling. All are places in which CityFibre already has some network infrastructure it is using to support business customers. "We have spine networks in 40 cities around the UK covering around 4 million homes," said Rob Hamlin, CityFibre's commercial director. "We are extending those down streets and that gives us a speed and cost advantage."
Next page: Trench warfare
Trench warfare
CityFibre, which will own the network infrastructure, has already indicated it will invest about £315 million ($414 million) in construction in those seven cities, including roughly £40 million ($53 million) in Milton Keynes alone. While Hamlin is not saying how much it costs to cover a single property, CityFibre brandished a figure of less than £500 ($657) per home passed during older trials of fiber-to-the-home technology in York, where it similarly operates a spine network. This would equate to about 80,000 properties in Milton Keynes, or the vast majority of those in the urban area. (See UFO Brings Hope to FTTH Altnets.)
If the gigafast project is to realize that target in the next three-and-a-half years, it will evidently have to make speedier progress on network rollout than it has since January, when Milton Keynes was named as the first gigafast city. Yet both CityFibre and Vodafone have experience of building and operating all-fiber networks in other parts of the UK or Europe, and Blagden is satisfied with progress to date. "We are well on track for the first million homes by 2021," he said. "We are doing about 450 meters per day in terms of dig speed, which is positive."
That process, which Light Reading was able to observe, means digging a small trench in front of customer premises, laying hollow tubes up to a distribution box right outside the home, and then filling in the trench. Only when a customer orders a service from Vodafone is cable "blown" through the tube from the nearest cabinet. CityFibre is using the GPON standard during this procedure. "That technology has been proven around the world," said Hamlin. "It has the capability to deliver gigabit speeds and more over time."
Figure 3: Digging In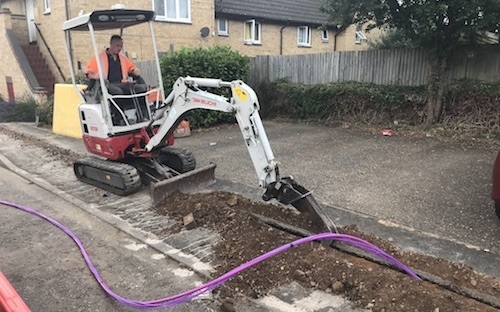 Tubes that will house fiber-optic cable are laid outside properties in Milton Keynes.
Vodafone has yet to reveal any details of pricing for its forthcoming service, but rates are likely to be very attractive, according to Poussot. "It should be more competitive to be on fiber than on copper," he said.
Given the likelihood that other retailers will eventually begin marketing all-fiber services, Vodafone has a clear incentive to ensure prices remain low. Under an exclusivity agreement, Vodafone will be the only retailer offering broadband services on the CityFibre network for about three years. Beyond that period, however, CityFibre will be free to seek other partners. "Customers will be able to switch but we are going to be so competitive that it will be difficult for a second operator," said Poussot.
For more fixed broadband market coverage and insights, check out our dedicated Broadband content channel here on Light Reading.
Fiber competition could also come from BT. Under pressure from rivals and regulatory authorities, it has announced plans to build its own all-fiber network for about 3 million premises by the end of 2020. The other major broadband challenge would appear to be Virgin Media Inc. (Nasdaq: VMED), a cable operator whose network covers more than two thirds of UK homes. (See Eurobites: Openreach Turns to Nokia, Huawei for 'Fibre First' Aid and Liberty Global Claims UK Turnaround.)
Poussot, however, reckons cable is at a big disadvantage in several respects. The top speed on Virgin Media's infrastructure is only 350 Mbit/s, he pointed out, and upload speeds on cable networks are just a fraction of download speeds. Cable's use of "active" equipment, which entails lots of electronics, also makes it more susceptible to outages than "passive" glass fiber, claimed Poussot. CityFibre's network, he said, "can be flooded and it still works."
None of this prevents Virgin Media from upgrading its own network with fiber technology, just as BT is doing. For CityFibre and Vodafone, the hope is that first-mover advantage and fiber know-how will translate into long-term commercial success. Milton Keynes is where it all starts.
— Iain Morris, International Editor, Light Reading
Subscribe and receive the latest news from the industry.
Join 62,000+ members. Yes it's completely free.
You May Also Like
---