Searchlight and BCI bid to take Consolidated private
Searchlight and BCI bid to take Consolidated private
Bid for outstanding shares of Consolidated not already owned by Searchlight and BCI comes as company pursues fiber upgrades. Update: A 'special committee' will review the proposal.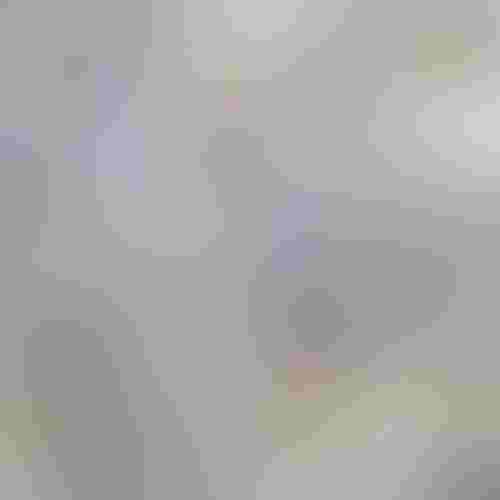 Searchlight Capital Partners and British Columbia Investment (BCI) have proposed to acquire all of the outstanding shares in Consolidated Communications not currently owned by the duo for $4 per share. Searchlight already holds about 34.3% of Consolidated, making it the company's largest stakeholder.
The bid would value Consolidated at $2.6 billion, according to a KeyBanc Capital Markets estimate.
Consolidated disclosed the bid, made on April 12, in this SEC filing. In it, Consolidated noted that the proposal could result in a merger or a delisting of its stock from the Nasdaq market. However, some analysts wonder if the move could spark interest in similar moves involving other midsized US broadband operators (more on that later).
Update: 'Special committee' to review proposal
In an announcement made after the market closed Thursday, Consolidated said it has not yet had an opportunity to carefully review and evaluate the proposal or to make any decision about the company's response to the proposal.
Consolidated added that the proposal letter states that any potential transaction "must be subject to the approval and recommendation by a special committee of independent and disinterested directors, advised by independent legal and financial advisors." The proposal, the company added, would also be subject to a "non-waivable condition" requiring the approval of the holders of a majority of the shares of Common Stock that are not owned by the Searchlight group.
Consolidated said its board intends to create a special committee to review and consider the proposal along with "any other alternative proposals or other strategic alternatives that may be available to the Company."
Fiber upgrades ongoing
The Searchlight/BCI proposal enters the picture as Consolidated, which operates a network with about 2.6 million wireline passings in parts of 22 US states, pushes ahead with a multi-year plan to upgrade 70% of its footprint to fiber. Tied to that upgrade project, Consolidated introduced the Fidium Fiber brand in 2021.
Figure 1: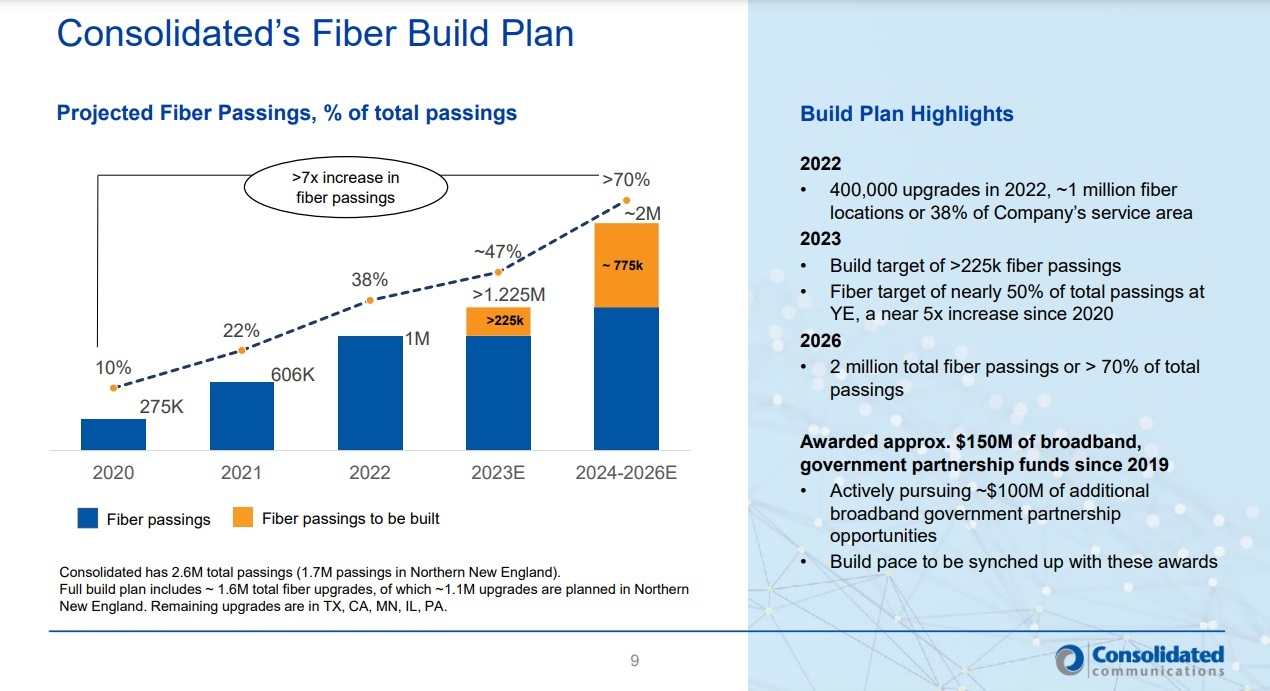 Click here for a larger version of this image.
(Source: Consolidated presentation given at J.P. Morgan conference, March 7, 2023)
About 22% of the footprint was upped to fiber in 2021, 38% in 2022 and an estimated 47% in 2023. Consolidated expects to reach its 70% goal – or about 2 million total fiber passings – around 2026. The company is estimating an average cost of about $650 per fiber passing, and an average range of $750 to $800 to connect. Consolidated is targeting a penetration rate in the neighborhood of 40% in its fiber upgrade footprint over a five-year horizon.
News of the bid, a 52% premium to Consolidated's 30-day volume weighted average price, caused shares in the company to rise $1.07 (+38.77%), closing at $3.83 each on Thursday.
Potential liquidity for fiber buildout
The analysts at Wells Fargo lauded the bid as Consolidated moves ahead with its upgrade plans, as Searchlight has committed to help fully fund the operator's fiber build plan.
"We view Searchlight's bid to take CNSL private and complete its fiber build as the best outcome for investors staring at a bumpy runway ahead for CNSL as a standalone company," the Wells Fargo analysts wrote. Aided by Searchlight's commitment, Consolidated can overcome some near-term liquidity concerns and be in a better position to complete its upgrade without having to resort to "leveraging public/private partnerships and minding the capital markets," the analysts added.
May spark more M&A action
KeyBanc's analysts also wondered if the Consolidated proposal might turn other smaller operators, including Cable One, WideOpenWest (WOW) and Altice USA, into potential acquisition targets.
WOW, owned 37% by Crestview Partners, has already been the topic of M&A rumors. Altice USA recently dropped its plan to sell off its rural-focused systems.
"[T]his transaction is likely a catalyst for investors to keep an eye out for," KeyBanc analysts noted. "M&A has effectively been non-existent in the last year or so as cost of financing capital has increased, though with the valuations that are in the public markets vs. the likely premium in private markets, public companies may look attractive."
Related posts:

— Jeff Baumgartner, Senior Editor, Light Reading
Subscribe and receive the latest news from the industry.
Join 62,000+ members. Yes it's completely free.
You May Also Like
---