Rural Broadband: Help or Hoax?
Rural Broadband: Help or Hoax?
Better Internet access for rural areas is getting a lot of attention from the Trump administration but the plan of action seems less than solid. Rural broadband has become a popular political talking point, but actually doing something to improve Internet connectivity in rural areas of the US seems to be, if anything, less likely under the Trump administration.
As noted in this Telecompetitor article, President Trump's presentation to the American Farm Bureau Federation stressed the importance of broadband to the rural economy and concluded with two executive orders on that topic.
The speech and the executive orders are follow-ons to this report from the Task Force on Agriculture and Rural Prosperity, done by the US Department of Agriculture in 2017. It listed "e-Connectivity for Rural America" as the top priority for economic development in rural America, much of which is being left behind in the move away from manufacturing and family farms. Even so, that report didn't call for major federal funding of such efforts, and even threw some shade on previous federal funding efforts, saying government policies and regulations actually stifle network buildouts and deployment processes need to be streamlined. It called for reducing government barriers and "incentivizing" private capital investment, among other things.
Figure 1: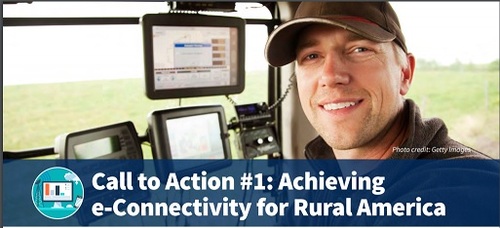 USDA report lists e-connectivity as number one priority.
But this call comes against the backdrop of efforts by Trump's Federal Communications Commission (FCC) , led by Chairman Ajit Pai, to redefine broadband as 10 Megabits per second downstream and 1 Mbit/s upstream wireless service. That would let network operators off the hook for having to invest in broadband infrastructure that meets the FCC's earlier definition of 25 Mbit/s downstream and 4 Mbit/s upstream, which seems to be to be the opposite of "incentivizing." (See #MobileOnly Movement Targets FCC's Broadband Plans.)
All this discussion of rural broadband being important seems to come down to a cynical parroting of concern for those in rural areas who lack real broadband Internet without any real effort on their behalf. No one would argue the points the USDA task force makes about the value of broadband Internet in providing economic development opportunities along with better healthcare and education. But the very squishy recommendations and executive orders that follow don't seem to advance rural broadband in any way, and Pai's spurious dumbing down of the very definition of broadband could definitely take it backward.
— Carol Wilson, Editor-at-Large, Light Reading
Subscribe and receive the latest news from the industry.
Join 62,000+ members. Yes it's completely free.
You May Also Like
---