Open Source Opening New Doors for RDK
Open Source Opening New Doors for RDK
Discussions leading software stack for set-tops and gateways to new regions and service providers that fall outside the cable fold. ATLANTA -- SCTE Cable-Tec Expo -- Taking an open source approach is enabling the Reference Design Kit (RDK) to enter new global markets and eye opportunities with service providers that aren't cable operators.
More than ten operators primarily based in the US, Europe and South America are on board with RDK, and talks are starting to heat up with operators in Asia and Africa, Steve Heeb, president and GM of RDK Management LLC , said here on a panel discussion that offered an update on RDK's activities.
"It's really becoming a global solution," Heeb said. Global adoption, he added, "is happening a little bit faster than I thought."
"The true open source aspect is there," Bill Warga, VP of technology at Liberty Global Inc. (Nasdaq: LBTY) said, noting that recent RDK events in Europe are drawing non-cable operators.
Figure 1: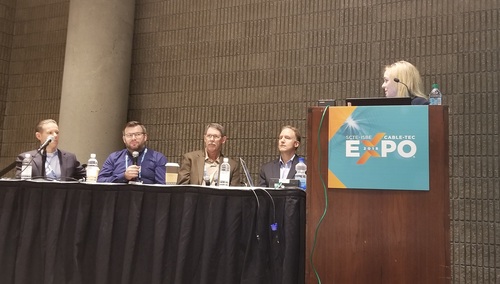 Panelists here talked up RDK's global aspirations. Pictured (left to right): Ed Shrum, Cox; Fraser Stirling, Comcast; Bill Warga, Liberty Global; Steve Heeb, RDK Management; and session moderator Leslie Ellis.
Heeb said more than ten operators are now on board with RDK, a software stack with profiles for IP and QAM set-top boxes (RDK-V), broadband devices (RDK-B), connected cameras (RDK-C) and IoT-facing integration with Thread, Zigbee and Bluetooth. (See RDK Management clears path for apps on set-top boxes.)
Comcast Corp. (Nasdaq: CMCSA, CMCSK), Liberty Global and Charter Communications Inc. run the RDK JV, but other MSOs that have deployed or plan to include RDK in their product sets include Cox Communications Inc. , NOS (Portugal), Jupiter Telecommunications Co. Ltd. (J:COM) (Japan), The Quickline Group (Switzerland), Vodafone, Tele Columbus AG (Germany) and three Canadian operators -- Shaw Communications Inc. , Rogers Communications Inc. (Toronto: RCI) and Videotron Ltd. .
Heeb, who is set to speak at Light Reading's Cable Next-Gen Europe event in London next month, estimated that there are more than 40 million devices deployed with RDK software, and that the RDK community now spans about 350 tech companies and a group that includes MSOs, chipmakers, set-top and gateway makers, and system integrators.
Home in on the opportunities and challenges facing European cable operators. Join Light Reading for the Cable Next-Gen Europe event in London on November 6. Admission is free for all!
Of recent note, Heeb said AirTies has integrated its whole-home WiFi software and network management system with RDK, followed by a similar announcement by Plume Design Inc. . (See AirTies Hikes Hardware-Agnostic Path as Whole-Home WiFi Takes Off .)
"They don't have to ask; it's open source," Heeb said.
WiFi has become the "main interface" for broadband in the home, Fraser Stirling, SVP, devices and advanced AI systems at Comcast, said.
RDK, a platform that is facing rising competition from the Android TV Operator Tier, believes that it can differentiate in party by enabling partners to control the software and the data flowing through their platforms.
The "jewel" there is access to real-time data on the network, devices and products, Heeb said, noting that the data can help operators pinpoint the root of technical issues before customers start to call about them.
That telemetry data can also take some finger-pointing out of the mix. By way of example, Heeb said an RDK partner in Germany spent four months trying to resolve the root of a bug, but then its systems integrator stepped in, accessed that data, and was able to determine that it was a conditional access issue and had it fixed in six says.
"It was really powerful," Heeb said.
"The quicker you can move, the better the customer experience is," Stirling said. Comcast's X1 set-tops, xFi-based gateways and more than 1 million connected cameras are running RDK software.
Cox, meanwhile, has RDK on its new Contour video platform (underpinned by an X1 syndication deal with Comcast), and is rolling RDK-into its new DOCSIS 3.1 gateways with plans to migrate some DOCSIS 3.0 devices to the software. It's also equipping its home security and home automation product line with RDK.
"It [RDK] permeates all of our platforms," Ed Shrum, Cox's VP of product development and management of devices and networking, said.
— Jeff Baumgartner, Senior Editor, Light Reading
Subscribe and receive the latest news from the industry.
Join 62,000+ members. Yes it's completely free.
You May Also Like
---