Gigabites: Amazon Truck Packs 100PB of Data
Gigabites: Amazon Truck Packs 100PB of Data
Amazon's Snowmobile service is designed to truck data around the country at a rate that's obscenely faster than data transfer on a gigabit broadband connection. Welcome to your weekly edition of Gigabites. Today, Amazon drives a truck through data transfer speed records, Altice commits to fiber rollouts throughout its US footprint, Telefónica picks Nokia for 10-gigabit trials and more.
What's faster than a gigabit connection by, oh, 20 years or so? Amazon.com Inc. (Nasdaq: AMZN)'s new Snowmobile trucks designed to store and transfer up to 100 terabytes of data per truck, or a total of 100 petabytes of data using Amazon's entire fleet. Amazon Web Services Inc. announced the new Snowmobile service at the company's re:Invent 2016 conference. According to AWS, users can move 100PB of data "in as little as a few weeks, plus transfer time." The company notes that the same transfer "could take more than 20 years to accomplish over a direct connect line with a 1Gbps connection." Figure 1: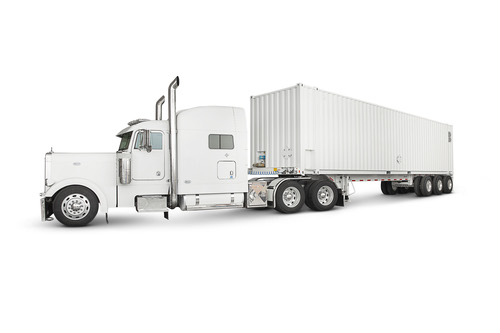 Amazon Web Services Snowmobile truck, as depicted by Amazon The purpose of Snowmobile is naturally to transfer large amounts of data to AWS infrastructure. At that point, customers can take advantage of Amazon's substantial storage capacity and cloud computing resources to make their data accessible around the world and perform actions like data analysis and disaster recovery implementations. Far from dismissing the importance of digital infrastructure, AWS is using Snowmobile to supplement telecommunications networks, marrying physical and virtual logistics in a way that only Amazon can.
For more gigabit coverage and insights, check out our dedicated Gigabit/Broadband content channel here on Light Reading. Leaving Amazon aside, Altice was the big headline-maker in gigabit news this week. The French company unveiled plans on Wednesday to deliver 10-gigabit Internet speeds to customers by driving fiber to the home across its entire US footprint, which today passes nearly 8 million residences. The deployment plan is an ambitious one, but Altice believes it can complete the rollout over the next five years without significantly increasing its capex budget, which maxed out at about $1.4 million in the most recent quarter. (See Altice FTTH Bill Could Hit Almost $9.6B in US.) Altice says it will avoid additional spending by "[reinvesting] efficiency savings to support the buildout." According to SNL Kagan analyst Jeff Heynen, who spoke to Multichannel News, Altice is in an enviable position because much of its US footprint is already fiber-rich, and because the company has a lot of aerial plant, which will allow it to avoid expensive trenching activity. Altice also claims to have developed proprietary technology for its fiber rollout, which the company could be hoping will be more cost-effective than other next-generation FTTH technologies already emerging. The US isn't the only country with 10-gigabit Internet speeds on the agenda. Spanish provider Telefónica announced it has successfully tested FTTH equipment from Nokia Corp. (NYSE: NOK) that will also allow it to hit the 10-gigabit threshold. Unlike Altice, Telefónica is exploring standard technology for its FTTH network plans: XGS-PON. Nokia says nine operators are now using its XGS-PON gear. (See Eurobites: Telefónica Fires Up Nokia's XGS-PON.) Still speaking of 10-gig, a small municipal broadband provider in Tennessee announced this week that it's selected Calix Inc. (NYSE: CALX) as its partner for a major network upgrade. Tullahoma Utilities Authority said it will deploy the Calix E7-2 Modular Access Systems, GigaCenters and 700GE optical network terminals to enable a transition to 10-gigabit PON technology. And finally, it wouldn't be a Gigabites roundup without news of a new neighborhood on AT&T Inc. (NYSE: T)'s gigabit launch list. This week, the telco said it has expanded gigabit access to new areas in the Greensboro, North Carolina region. — Mari Silbey, Senior Editor, Cable/Video, Light Reading
Subscribe and receive the latest news from the industry.
Join 62,000+ members. Yes it's completely free.
You May Also Like
---