Virgin Media Business Ltd. delivered a traditional British message to its key rivals BT Group plc (NYSE: BT; London: BTA) and Cable & Wireless Worldwide plc (London: CW) today with a two-fingered salute and a high-speed business broadband offer called "Big Red Internet," available from today, designed to lure more business users onto its partially dormant network. (See Virgin Unveils Its Big Red One.)

What's with that name? See below…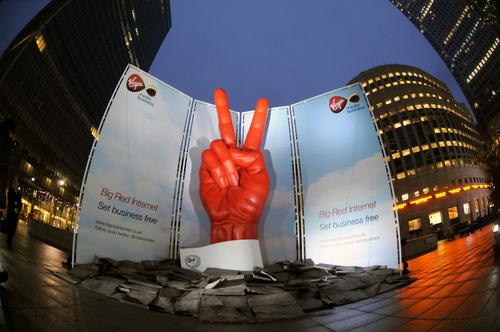 The business services provider, part of UK cable giant Virgin Media Inc. (Nasdaq: VMED), believes there's pent-up demand for a very simple, fast Internet access service at a "competitive" price that will satisfy business users' growing needs for more bandwidth.

And the operator says it already has the capability to deliver the services: It has a physical network that covers half of the UK (geographically) and which delivers broadband services (of increasingly high speed) to more than 4 million UK residents, so it sees a very high spike in traffic outside regular work hours (in the evenings, basically). (See Virgin Media CEO Disses DSL and ISPs Shamed by UK Broadband Speed Tests.)

During the day, though, the network is massively underused, says managing director Mark Heraghty, but the infrastructure to deliver very high-speed, fiber-based broadband services already exists. So…

Following some market research, the results of which suggest that UK businesses would like to have a better quality, faster connection to the Internet, Heraghty and his team decided to use that existing network to offer two flat-rate services -- 100Mbit/s symmetrical Ethernet access, and 1Gbit/s symmetrical Ethernet access -- using the Alcatel-Lucent (NYSE: ALU) service routers the operator already has up and running.

The only additional network expenditure involved, according to Virgin, is digging the fiber to the building of any new customers. In those instances, the provisioning time could be up to 65 days, says Heraghty, but in most cases it'll be quicker.

The 100Mbit/s service is aimed at companies that currently use business broadband services of around 10Mbit/s to 30Mbit/s, while the 1Gbit/s service is aimed at firms that currently use 60 to 100Mbit/s.

The idea is to, basically, over-provision to deliver an uncontested service that removes concerns about bursty traffic and packet loss.

Heraghty says the 100Mbit/s service will cost £12,000 per year (unmanaged) or £13,000 per year (managed), while the 1Gbit/s service will cost £22,000 (unmanaged) or £25,000 (managed). A quick check of rival services suggests Virgin is undercutting the market by around 20 percent, on average.

The initial hope is that existing Virgin Media Business users will upgrade, and that, in time, companies using other service providers -- mostly BT and C&W -- will defect to Virgin. Heraghty's team believes they'll be able to tell if the offer is having an impact on the broader market within about six months.

The service won't be offered using other carriers' infrastructure, only using the Virgin network, so about 20 percent of British businesses won't be able to get the service. But that still leaves a lot of potential customers to hook up to what is, according to Virgin, a largely empty network during the daytime.

So about the two-fingered V sign: Is that a potentially rude gesture aimed at BT? It looked like an aggressive posture in the window of the press conference attended by Light Reading.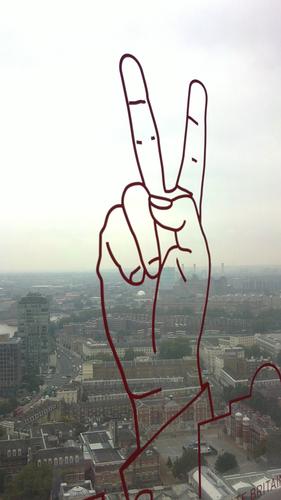 Not at all, says Virgin Media COO Andrew Barron, though Heraghty admits the team considered angling the fingers towards BT Tower in London during this morning's grand launch ceremony in the capital city's Docklands area.

So, fast broadband is all very well, but it's not the cloud services announcement Light Reading was expecting. (See Virgin Business Looks to the Clouds.)

Heraghty says negotiations with prospective partners are in progress, and that he expects to make an announcement in the next few months. In the meantime, the "Big Red Internet" is "a fundamental enabler of the cloud," says the managing director.

But only if anyone signs up for it.

— Ray Le Maistre, International Managing Editor, Light Reading