Auctions to Open Up Emerging Markets
Emerging markets are in the midst of another round of telecom license auctions, opening both the mobile and fixed sectors to increased competition and providing carriers with opportunities for growth outside their home markets.
Mobile licenses have recently been awarded in Iraq, Benin, and Senegal, and there are more to come across the Middle East and Africa, and in Latin America.
In Iraq, 15-year licenses that replace temporary permits awarded in 2003 went to MTC-Atheer, AsiaCell (a consortium including
Qatar Telecom QSC (Qtel)
), and Korek Telecom, netting the Iraqi government $3.75 billion. Korek went on to form a joint venture with
Orascom Telecom
's Iraqna, which had dropped out of the auction. (See
Orascom Forms Iraq JV
and
Orascom Drops Iraq Bid
.) Sudanese operator
Sudatel
won Senegal's third mobile license for $200 million, while Nigeria's
Globacom Ltd.
secured a license in neighboring Benin last month, after Benin's telecom regulator suspended the licenses of two of its four operators (
MTN Group Ltd.
has since been reinstated).
There are a slew of other license auctions and privatization bids scheduled for the coming months; here they are listed by region: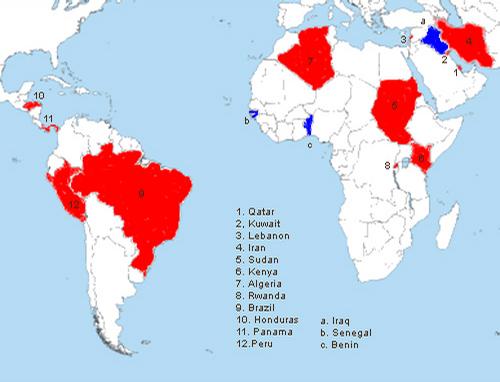 Middle East
In Qatar --- home to the Middle East's last telecom monopoly -- the regulator last week announced that seven operators submitted bids for the country's second GSM license, which will create a competitor to incumbent Qtel. (See Seven Bid for Qatar License.) The winner is expected to be announced in November. Qatar is also preparing to auction off a fixed-line license that will be awarded at the end of the year.
Kuwait has kicked off the bidding process for its third mobile license to further open up its market. The deadline for expressions of interest was on Sept 7, and at least 10 operators have indicated their intention to bid, including United Arab Emirates-based Etisalat , Bahrain Telecommunications Co. (Batelco) , and Saudi Telecom Co. (STC) .
Lebanon has plans to privatize its two mobile operators -- MTC Touch and Alfa -- which are run under government-issued management contracts and will issue two new mobile licenses to the buyers. It also intends to award a third mobile license to Liban Telecom, a newly formed incumbent fixed-line operator, and will subsequently sell a 40 percent stake in the company.
The government of Iran is preparing to announce conditions for the auction of its third national mobile license, which will require the new operator to offer 3G services. The carrier will compete with state-run MCI and MTN Irancell, which launched in Oct. 2006, along with three regional operators.
Africa
Sudan is reportedly planning to issue a fourth mobile license in the coming months. Etisalat, which is part of the consortium behind fixed-line operator Kanartel, has said it's negotiating with the Sudanese government for a license.
Kenya is throwing in a fourth mobile license and a 3G license to lure investors into acquiring a majority stake in fixed-line operator Telkom Kenya . Seven operators have expressed interest in the deal -- BT Group plc (NYSE: BT; London: BTA), South Africa's Telkom SA Ltd. (NYSE/Johannesburg: TKG), Orange (NYSE: FTE), Mahanagar Telephone Nigam Ltd. (MTNL) , Tata Teleservices Ltd. , Reliance Communications, and Kuwait's Alkazar -- and the winner will be announced in late November.
The Algerian government is finalizing plans to privatize around a 50 percent stake in fixed-line operator Algerie Telecom, which also controls Mobilis -- the country's second largest mobile operator.
Six companies have reportedly entered bids for Rwanda's state-owned fixed and mobile operator Rwandatel, a month after the government announced up to 70 percent of the firm was up for grabs.
Latin America
Brazil's regulator closed bidding for its latest round of mobile licenses last week. Anatel has yet to set a date for announcing winners of the 20 operators that expressed interest in the licenses. The spectrum can be used by existing mobile operators to augment their services or by new companies seeking to enter the market.
Honduras is scheduled to announce the companies that have pre-qualified for its third mobile license auction on October 15. Mexican newswire Notimex reports that Caribbean operator Digicel Group , Telefónica SA (NYSE: TEF), and Mexico's Grupo Iusacell S.A. de C.V. are vying to join Millicom International Cellular SA (Nasdaq: MICC) 's Tigo subsidiary and Claro, part of América Móvil S.A. de C.V. , in the market.
Panama's public services regulator Asep is set to begin the auction of two $47 million mobile licenses on October 27. América Móvil, Millicom, Digicel, and Salt SA are among the 12 operators that have participated in the pre-qualification stage.
Peru's foreign investment promotion agency, Proinversion, is scheduled to issue tender documents and a draft contract this month for a CDMA 450MHz license auction, with Iusacell expected to be among the participants.
— Nicole Willing, Reporter,
Light Reading
PARTNER PERSPECTIVES
- content from our sponsors