How AI is taking center stage at SK Telecom
The stand of SK Telecom is always a visual highlight of any Mobile World Congress (MWC), typically built around a Godzilla-sized nod to the zeitgeist. Last year's featured a huge virtual-reality display as the tech sector went mad about the metaverse and a new bubble began to inflate. In the absence of a unifying theme for 2023, the South Korean operator seemed to have gone retro, installing one of those multi-bladed and presumably self-flying copters that were all the rage a few years ago – although SKT's was naturally as big as they come.
Lift-off for people-carrying versions looks no closer now than it did in 2017 (except in Asia), when a former Light Reading editor was photographed clambering out of a smaller prototype in London (see the second image in this story). But SKT's intention may have been to demonstrate artificial intelligence (AI) and all its possibilities in the most attention-grabbing way it could. ChatGPT and other permutations of generative AI aren't suited to the tech catwalk of the tradeshow. A huge self-flying machine can turn heads.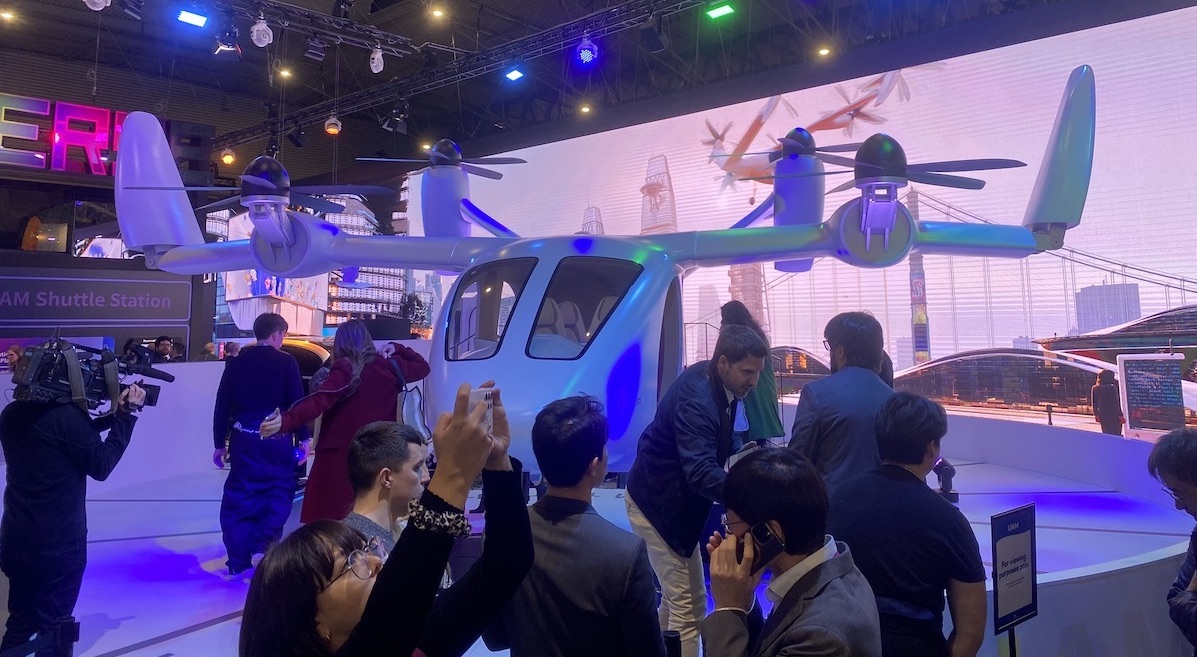 SKT is arguably more invested in AI than any other telco worldwide. Back in November, company executives announced plans that put AI at the very heart of SKT's future strategy. "We will transform our core businesses into AI-based businesses to secure new growth drivers, offer AI services to deepen customer relations and employ AIX strategy to spread SK Telecom's AI and digital transformation capabilities to other industries," said Jinwon Kim, the operator's chief financial officer.
Evidence of this approach could be seen at MWC, where SKT was eager to parade some of its AI partners and innovation. "We're accelerating AI transformation with Korean AI companies," said Jang Seong-ho, SKT's AI business development team leader, during a conversation with Light Reading. "Together with partners, we're trying to build an AI ecosystem in the global market, including the US."
Bringing AI to the masses

Phantom AI is one such partner. Founded in 2016, and based in Silicon Valley, it is developing algorithms for use in so-called advanced driver assistance systems (ADAS), where vehicles would be only partly autonomous. Industry people refer to five levels of vehicle autonomy, with 1 meaning basic driver assistance and 5 describing a car that takes humans entirely out of the driving process – allowing the person who sits behind the wheel to knit, read novels or sleep.
"We are not targeting level 4 or 5 full autonomy but focusing on levels 2 and 3," said Cho Hyung-gi, Phantom AI's founder and CEO, who met with Light Reading at SKT's stand. His company now has a contract with a major vehicle manufacturer and hopes to be in production by the final quarter of this year.
So where does SKT come in? Not, it seems, as an investor. Crunchbase, a website that tracks investment in startups, shows Phantom has raised about $80.5 million in total, including $36.5 million during a Series C round as recently as February. Curiously, the list of investors names KT Investment, the venture-capital arm of SKT rival KT Corp, but not SKT. Samsung Venture Investment, a subsidiary of the electronics giant, is another prominent South Korean investor on that list.
SKT's practical involvement with Phantom AI seems to lie on the semiconductor side through an affiliate called Sapeon. Like Phantom, it is headquartered in California but wholly owned by SK Group, the parent company of SKT and South Korea's second-largest "chaebol," or conglomerate, after Samsung. Viewed as a potential rival to Nvidia, Sapeon is currently working on AI chips that could be used for servers and edge devices as well as in ADAS, said Jang.
"That is the idea," Cho told Light Reading. "The subsidiary is well-known, and they are making an innovative AI chipset and we are purely software and so we see the synergy between Phantom and Sapeon." A low-cost system-on-a-chip (SoC) priced at between $20 and $30 could be vital in helping Phantom target a mass market of lower-priced vehicles, Cho explained. "Tesla is using a very powerful and expensive SoC, but we are running on a low-cost chip so that we can deploy to millions."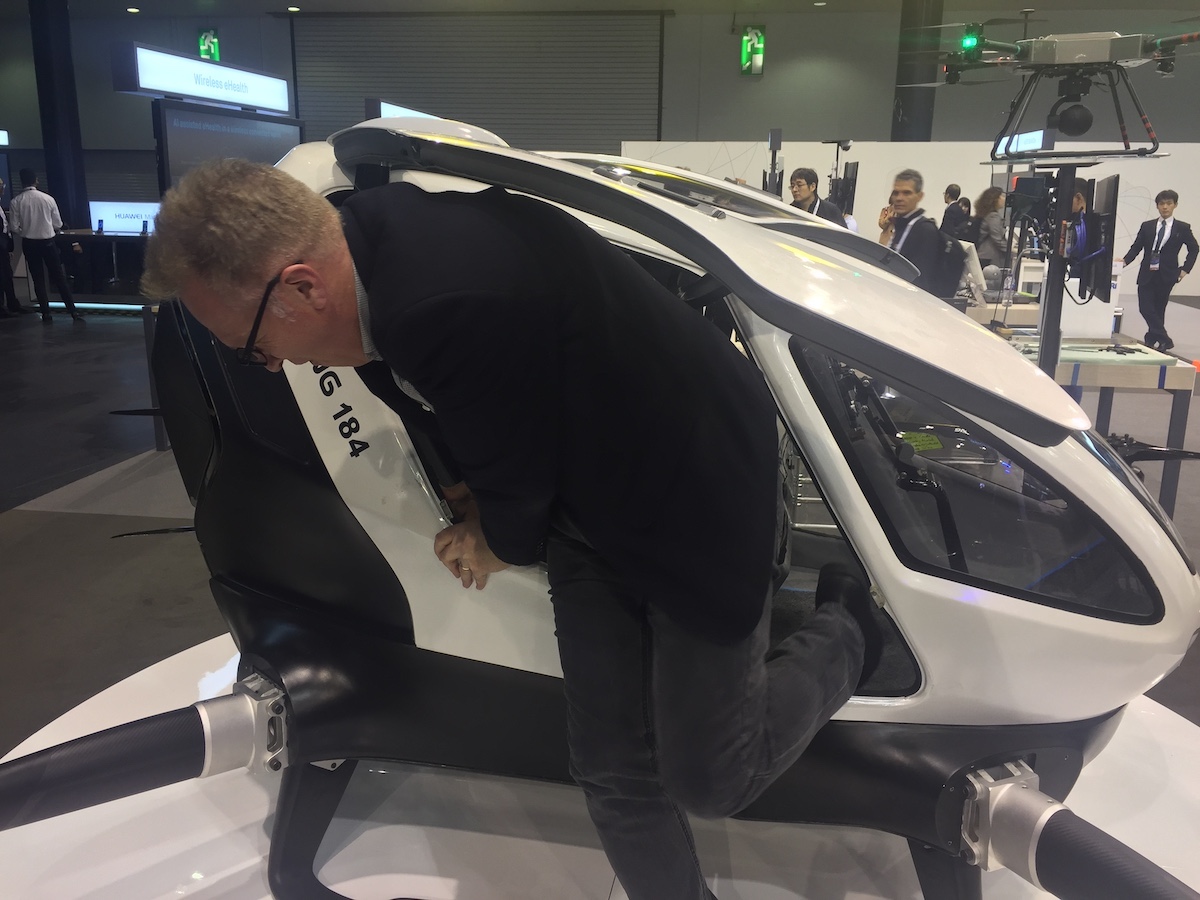 Less clear at this stage is how Phantom would have direct benefits for SKT, as opposed to Sapeon. But it is not hard to see why a telco would be keen to push AI into as many sectors and connected objects as possible. The self-driving car is one of the oldest 5G "use cases" on paper, even if the ink on that is starting to fade.
Mention of AI was not confined to SKT at last week's show. Microsoft was talking up a version of GitHub Copilot – a software-writing AI based on the same GPT-3 platform as ChatGPT – tailored for telco needs. A few telcos are examining how ChatGPT could be used in operations for things such as software documentation and to help field workers and customer service agents.
Howard Watson, the chief security and networks officer of the UK's BT, even spies a potential sales opportunity. "The thing about ChatGPT is the immense compute that's required, particularly in the learning phase, and one of the great ways of distributing that – and why I'm thinking is generative AI an opportunity – is between the edge and the devices," he said. "Could it be the killer app for multipurpose edge?" BT's shareholders will certainly hope so.
Related posts:
— Iain Morris, International Editor, Light Reading
EDUCATIONAL RESOURCES

UPCOMING LIVE EVENTS
June 6-8, 2023, Digital Symposium
June 21, 2023, Digital Symposium
December 6-7, 2023, New York City
All Upcoming Live Events
PARTNER PERSPECTIVES
- content from our sponsors