Can ChatGPT live on your phone? Qualcomm thinks it's possible
Qualcomm today announced it successfully demonstrated "Stable Diffusion" artificial intelligence (AI) technology running exclusively on an Android smartphone. Company officials suggested that the development could lead to running an AI program like ChatGPT on a phone, without the need for an Internet connection.
"Running all the AI processing in the cloud will be too costly, which is why efficient edge AI processing is so important," explained Qualcomm's Jilei Hou, a company VP of engineering, in a blog post to the company's website.
"Edge AI processing ensures user privacy while running Stable Diffusion (and other generative AI models) since the input text and generated image never need to leave the device – this is a big deal for adoption of both consumer and enterprise applications," Hou added. "The new AI stack optimizations also mean that the time-to-market for the next foundation model that we want to run on the edge will also decrease. This is how we scale across devices and foundation models to make edge AI truly ubiquitous."
Text-to-image AI
To be clear, Qualcomm's recent "Stable Diffusion" AI demonstration does not offer access to ChatGPT, the wildly popular AI chatbot created by OpenAI and now promoted by Microsoft. Instead, it's an AI-powered program that can generate images – at a maximum resolution of 512 by 512 pixels over the course of roughly 14 seconds – based on a user's text inputs.
However, the supported text inputs are virtually unlimited. "Super cute fluffy cat warrior in armor, photorealistic, 4K, ultra detailed, vray rendering, unreal engine," was one of the prompts that Qualcomm tested.
The results – completely generated by AI – are impressive: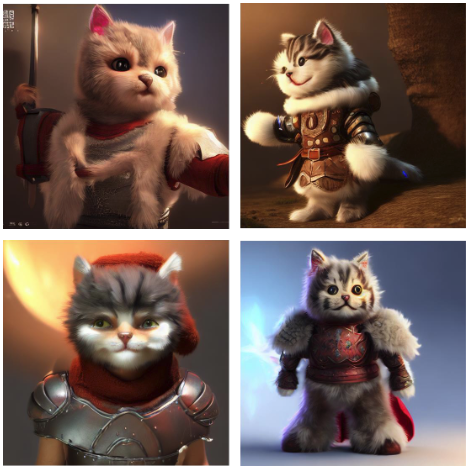 "Stable Diffusion, a very popular foundation model, is a text-to-image generative AI model capable of creating photorealistic images given any text input within tens of seconds – pretty incredible," Hou explained. "At over 1 billion parameters, Stable Diffusion had been primarily confined to running in the cloud, until now."
Qualcomm, which has invested extensively in AI technologies, used a variety of engineering and software tricks to squeeze the image-generating AI model onto one of its Snapdragon chipsets, which powered the Android phone in the demonstration.
During a recent call with the media, Qualcomm officials explained that ChatGPT also runs on a generative AI model like the one it used for the demonstration. Therefore, it could be possible for ChatGPT or similar programs to eventually "live" inside a phone rather than on a server in a massive cloud computing data center.
"This means that the optimizations for Stable Diffusion to run efficiently on phones can also be used for other platforms like laptops, XR headsets, and virtually any other device powered by Qualcomm Technologies," Hou noted.
However, Qualcomm has no concrete plans to offer its new AI image-generation technology directly to consumers, at least not in the near term. Generally, the company develops technologies that are purchased by electronics manufacturers like Apple and Samsung for use in their gadgets. Qualcomm wants to ensure that its products remain valuable to those companies, and on-device AI fits with that goal.
Related posts:

— Mike Dano, Editorial Director, 5G & Mobile Strategies, Light Reading | @mikeddano
EDUCATIONAL RESOURCES

PARTNER PERSPECTIVES
- content from our sponsors