Why Evernote Picked Google Cloud Over Amazon
Why Evernote Picked Google Cloud Over Amazon
The answer comes down to five little words. Amazon has such an overwhelming market lead that when an enterprise picks anybody else as a cloud platform, it's reasonable to ask why.
Amazon Web Services Inc. (AWS) was the top choice for infrastructure-as-a-service (IaaS) for more than half of enterprise respondents to a 451 Research survey -- 55.8% of respondents, to be precise, with 35% of respondents naming Microsoft as their most important provider. (See AWS Tops in Public Cloud, but Azure Is Catching Up.)
But when Evernote decided to move from its own data centers to the cloud, it picked Google Cloud Platform. Why?
I asked Evernote that question at our recent webinar: "Evernote's Journey to the Cloud." The answer can be summed up in five words: Artificial intelligence and machine learning.
Figure 1: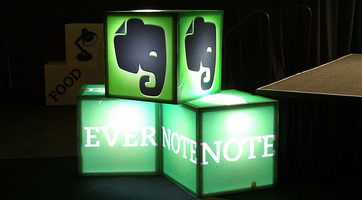 Photo by Brooks Duncan (CC BY 2.0)
"Machine learning and artificial intelligence is the future for Evernote, and that it's Google's absolute sweet spot," Ben McCormack, Evernote vice president of operations, said on the webinar. "The things that are important to Evernote are the things that are important and interesting to our cloud provider." (See Evernote Wrapping Up Google Cloud Migration, Looking Ahead to Machine Learning.)
Evernote moved its 200 million users to the cloud at a rapid pace -- 70 days from a "standing start," McCormack said. The service made the move so quickly because it wanted to get the project done and not have it be a roadblock that slowed providing additional services and features to its users. "What we couldn't do is put the business on hold for more than 12 months while we architected the move," McCormack said. (See Evernote Gives Itself High Fives, Completes Migration to Google Cloud.)
Evernote was initially dubious about going with Google, because of the search giant's relative newness to the enterprise market. Diane Greene, who heads up the Google Cloud Platform and is behind Google's enterprise push, only joined the company about 18 months ago.
Can Google make the grade as an enterprise cloud provider? Find out on our special report: Google's Big Enterprise Cloud Bet.
However, Evernote found Google to be a hands-on partner. Google didn't just rely for support on self-service and an anonymous trouble-ticking process. Google support staff were available for personal consultations, McCormack said.
"If you give them an engineering problem the company boundaries disappear," McCormack said. "They're not the usual service provider trying to protect themselves. We have amazing engagement at an engineering level.
"We had the engineers bringing us donuts on the big migration day," McCormack said in a conversation prior to the webinar.
For more on Evernote's cloud migration, including problems it encountered and what it did about them, view the recording of our free webinar: "Evernote's Journey to the Cloud." You'll need to register, but it's a one-time process, and after that you get access to all of Enterprise Cloud News's premium assets, including other webinars (our second, "How IoT & Cloud Will Eat the World," is coming May 9), special reports, the message boards, and more.
— Mitch Wagner
Editor, Enterprise Cloud News
CALLING ALL CLOUD, NFV AND SDN COMPANIES:
Make sure your company and services are listed free of charge at Virtuapedia, the comprehensive set of searchable databases covering the companies, products, industry organizations and people that are directly involved in defining and shaping the virtualization industry.
Subscribe and receive the latest news from the industry.
Join 62,000+ members. Yes it's completely free.
You May Also Like
---