Telenor's Svendsen Has Gut Feeling About AI
Telenor's Svendsen Has Gut Feeling About AI
The Norwegian telco wants to base more of its decisions on hard data and not intuition. Investment in AI-based systems could hold the key.

Data guzzlers tend to be irredeemable computer nerds or bedroom-bound teenagers playing online games and uploading videos of pranks and inanities onto YouTube. So when Telenor's newly installed "recommendation engine" identified an 80-year-old lady as a bandwidth hog, customer service assistants thought the machine had made a mistake. Surely this octogenarian needs a fixed-line service upgrade, not Telenor's most generous data deal, they assumed.
As it transpired, the elderly customer had entered gamer and YouTuber territory through epic videoconferencing sessions with her grandchildren. The recommendation engine, an early foray into artificial intelligence (AI), had called it right, while the assistants' preconceptions had been misplaced.
Now a few years old, the recommendation engine has turned out to be a runaway success for the Scandinavian telco, says Berit Svendsen, the CEO of Telenor Norway. But it represents just one of several AI investments that are changing the role of Telenor's employees and taking the guesswork out of its decision-making. "We need to make data-driven decisions and not by the feeling in our stomachs," said Svendsen during a conference in London in June.
Figure 1: Welcome to the Machine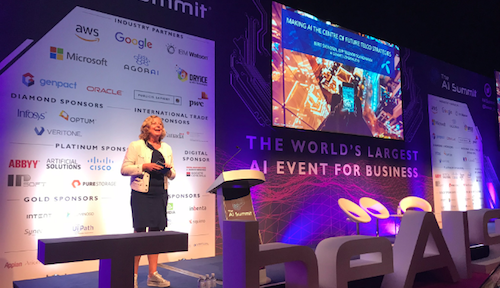 Berit Svendsen, Telenor Norway's CEO, speaks at the AI Summit in London in June.
Telenor's interest in automating and digitizing its business has not been a secret. In January, the Norwegian telco said those twin forces would claim about a fifth of jobs across the entire organization by the end of 2020. Its related AI investments have been fueled partly by its concern about the growing might of the Internet giants. Some, it hopes, will lead to new business opportunities. (See Drunk Brits, Russian Anglers & Telenor's Big Data Gambit.)
But much of the AI focus is simply on ensuring Telenor Group (Nasdaq: TELN) runs like a well-oiled machine. Telcos sit on reams of data about network performance, coverage and the customer experience that could be used not only to boost sales but also to cut expenditure, according to Svendsen. Until now, they have done a poor job of exploiting that information.
Telenor aims to make amends. In Norway, it has already set up an AI team that has been talking to various divisional managers and developing new "use cases" for the technology. In total, there were about 50 in June, according to Svendsen. "Some are well known, and some are not," she said.
On the infrastructure side, one of the most compelling is about using AI in network analytics to optimize performance. If Telenor can dynamically allocate bandwidth in areas where there are sudden capacity constraints, it could worry far less about network planning and disgruntled subscribers. With that feature, Telenor might also be able to make do with fewer software licenses, shifting these between basestations to save costs. And in a future 5G market, where business customers demand connectivity in mission-critical applications, providing a guaranteed level of network service may be of paramount importance. (See Downsizing Telenor Pins Margin Hopes on Automation.)
AI could also help Telenor diagnose and fix problems before customers even notice them. At the TV business, it is developing tools that can detect an abnormal signal-to-noise relationship on the cable network, an early warning sign of imminent problems. "If you find out where the infrastructure is going to fail before it fails, then you avoid having unhappy customers," said Svendsen.
For all the latest news on automation, check out our dedicated automation channel here on Light Reading.
Having started out with a recommendation engine on the customer care side, Telenor is now going into chatbots. Last year, it ran successful trials of a chatbot called Amelia, allowing customers to liaise with an AI-based system instead of a customer services assistant. Under a more recent pilot, it has been combining customer data from various channels, and integrating these with back-end systems, to improve the effectiveness of the chatbot. Investments in digitization have already led to a 20% reduction in calls to customer care centers.
Telenor is evidently not among the telcos denying new technologies will lead to widespread job losses. But Svendsen says Telenor's strategy will be to use chatbots as well as people on the customer care side, describing this as the "perfect" combination. How people and AI will combine in other parts of the business remains unclear, although AI looks bound to change many roles, and sometimes beyond recognition. If it can be used effectively in network analytics, AI could massively reduce the working hours dedicated to network planning and monitoring, for example. (See Robot Wars: Telecom's Looming AI Tussle and Vodafone Prioritizes Automation as Efficiency Bolsters Margins.)
As a pioneer in the field, and an operator that does not want to be too AI-dependent on its vendors, Telenor will be closely watched by its rivals and peers. Svendsen is keenly aware that AI is still at a very early stage of development, and often gets oversold. But any sign it is lowering costs and improving the customer experience for Telenor will focus even more industry attention on the technology.
— Iain Morris, International Editor, Light Reading
Subscribe and receive the latest news from the industry.
Join 62,000+ members. Yes it's completely free.
You May Also Like
---