Marvell and Nvidia ride the AI and custom-silicon waves
Marvell and Nvidia ride the AI and custom-silicon waves
Shares in both chipmakers are up as they predict untold riches thanks to a surge of interest in AI, but some are warning of a bubble.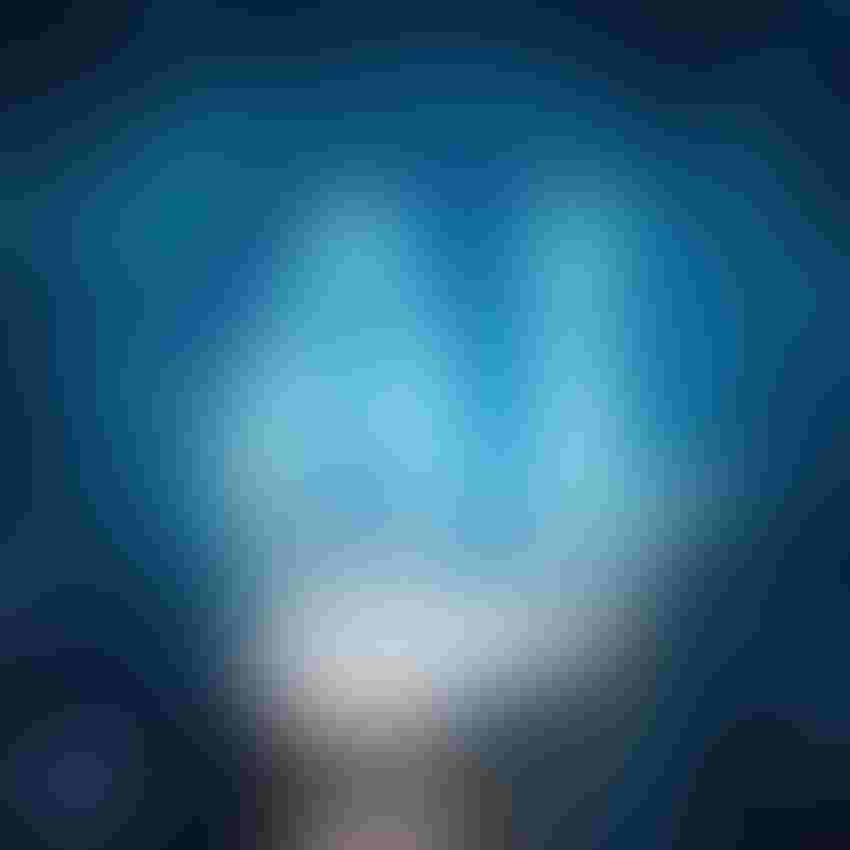 Marvell, unlike Nvidia, isn't a big vendor of graphical processing units (GPUs), the games chips that fortuitously turned out to be much better than Intel's central processing units (CPUs) at propping up artificial intelligence (AI). But it does make digital signal processors (DSPs), another type of chip used, among other things, to provide connectivity between those GPUs. Traffic is about to explode as AI takes off, said Marvell CEO Matt Murphy on his earnings call with analysts this week, predicting DSP riches for Marvell.
Investors believe it. After Nvidia's share price surged 24% on May 25 amid chatter about the AI boom, Marvell's rose 16.7% in after-hours trading on the publication of its own first-quarter results and Murphy's remarks. Yet neither chipmaker had the most glorious quarter. Nvidia's net income of more than $2 billion was 26% higher than the year-earlier figure, but its sales were 13% lower, at $7.2 billion. Marvell's revenues dropped 9%, to about $1.3 billion, and it reported a $169 million loss.
Figure 1: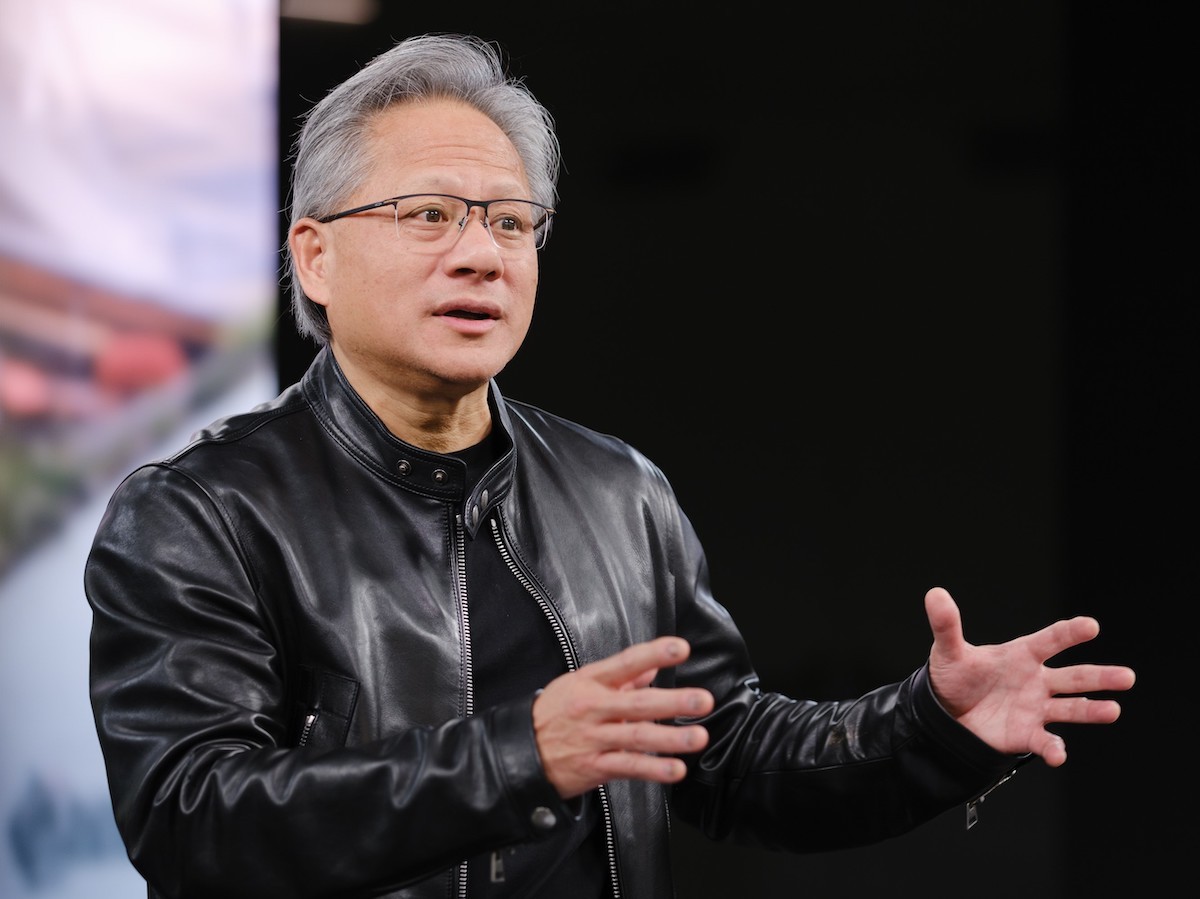 Nvidia CEO Jensen Huang now runs a company with a market cap of nearly $1 trillion.
(Source: Nvidia)
Murphy's assessment is that Marvell is effectively between investment cycles. Data center and network customers are spending less after previous upgrades. Ericsson and Nokia, one of Marvell's biggest clients in the telecom sector, have already noted an inventory correction in 5G as their own telco customers plunder existing stockpiles instead of buying new equipment. "There's a lot of concern around capex out there," said Murphy, telling analysts to plan for a 5G "drop" at Marvell in the final quarter.
But he expects overall revenues to start growing in the second half of the year as customers invest in the equipment needed to support AI applications. His rationale is compelling. AI workloads require "massive datasets," he said, and could generate enormous flows of data center traffic. Today's latest CPU "drives" up to 200 Gbit/s, noted Murphy. For an advanced AI system with eight accelerators (customized silicon used to handle specific workloads), the figure could reach almost 30 terabits per second (Tbit/s). Yet the optical interfaces supporting connectivity for that system typically provide only 3.2 Tbit/s.
"To bridge this gap, we expect the number of optical interfaces per AI system will continue to grow," Murphy told investors. Those optical systems will need DSPs of the kind developed and sold by Marvell. A recent surge in sales of an 800G DSP platform designed by Marvell was fueled almost entirely by AI applications, according to Murphy. And AI is now expected to drive initial take-up of a new 1.6-terabit DSP it has built.
The rise of custom silicon

There is possibly an even bigger opportunity for Marvell on the computing rather than connectivity side. AI seems to be turning the data center model upside down. In the old world, facilities relied heavily on CPUs and had accelerators only for offloading a few critical tasks. With AI, GPUs and other customized silicon could take precedence, leaving CPUs only for "control purposes," in Murphy's words. That's bad news for Intel but good for companies producing specialist silicon, Marvell among them.
"Computing and AI applications have now grown to become the single largest revenue driver and opportunity for Marvell's cloud-optimized silicon platform," said Murphy. "We see annual revenue from those same set of cloud-optimized design wins well exceeding the prior $800 million projection as these programs ramp over time." Various custom silicon projects linked to AI will go into production next year.
Figure 2: Share price movements at Marvell and Nvidia this year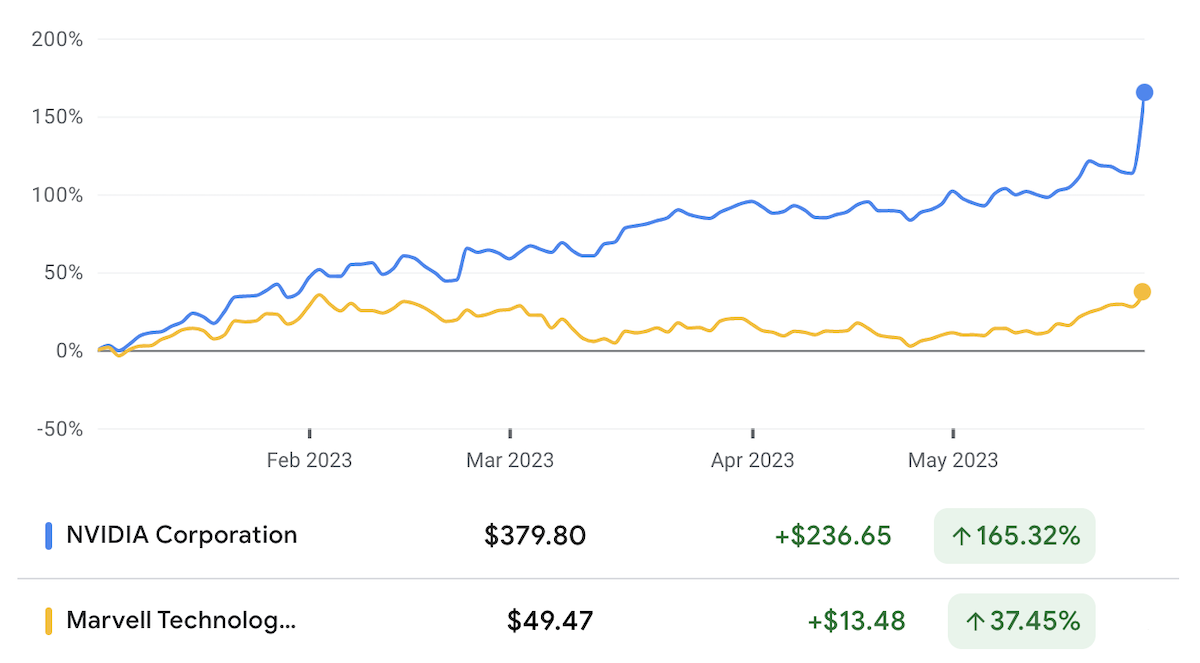 (Source: Google Finance)
It was a similar story from Nvidia earlier in the week. "The computer industry is going through two simultaneous transitions – accelerated computing and generative AI," said CEO Jenson Huang in prepared remarks. As the world's biggest maker of separate GPU cards, Nvidia stands to profit massively as organizations large and small bundle into AI.
That explains why its share price soared this week and why Nvidia now carries a market capitalization of about $940 billion. On that basis, it is worth 45% more than Facebook, and yet its net profit last year of about $11.2 billion was less than half as much as the social media giant's. Nvidia's price-to-earnings ratio is currently about 218. Apple's is 29.
The word bubble will be the on the lips of some market watchers, with the only question being when it is going to burst. Richard Windsor, an analyst with Radio Free Mobile and AI skeptic, foresees trouble down the road, arguing in a recent blog that "the hype cycle of super-intelligent AI will hit the buffers sooner or later. This could very quickly turn a boom into a bust through no fault of Nvidia's." For the time being, the bubble is still inflating.
Related posts:
— Iain Morris, International Editor, Light Reading
Subscribe and receive the latest news from the industry.
Join 62,000+ members. Yes it's completely free.
You May Also Like
---