Magyar Telekom's AI Trial Success Baffles Engineers
Magyar Telekom's AI Trial Success Baffles Engineers
The Hungarian operator is trialing AI tech from startups including Uhana and Anodot, and the results have so far been compelling. Like men (allegedly), artificial intelligence (AI) is not very good at multi-tasking. It still cannot make dinner while keeping a watchful eye on the children and dispatching a few emails to work colleagues. But give it a single job, like configuring cell sites in a radio network, and it sometimes excels.
Hungary's Magyar Telekom plc has had some trial success in that area with a Silicon Valley startup called Uhana. Employing just 18 people (according to LinkedIn data), and backed by venture capital funding, Uhana specializes in applying machine learning and predictive analytics to the management of wireless networks. Its AI technology developed solutions that left engineers puzzled. But it turned out to be right.
Kim Larsen, Magyar Telekom's chief technology and information officer, has described the Uhana technology as "super exciting." During trials in Budapest, the optimum configuration for cell sites in a particular zone suggested by Uhana differed significantly from that proposed by the operator's engineers. "We ran trials and proved the Uhana solution was a much better configuration," said Larsen at a conference in London earlier this year.
Figure 1: Low-Hanging Fruit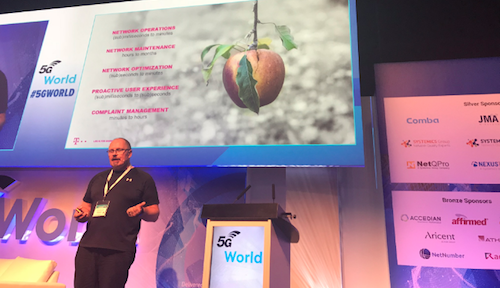 Kim Larsen, the CTIO of Magyar Telekom, speaks at the 5G World Summit in London in June.
The benefits in a commercial setting could be numerous. Any improvement in service quality would promise a reduction in churn and an improvement in the net promoter score, a measure of customer satisfaction that operators take seriously. Happier subscribers are less likely to complain, taking pressure off customer service departments. Engineers could be reassigned or even cut loose.
"I personally think the biggest benefit comes from the customer experience boost, which you can tie to churn," said Larsen, when quizzed about savings. "If you look at real human resource savings, that comes later."
Used in conjunction with other technologies, Uhana could help to address what Larsen labels the "low-hanging fruit" in network operations. "If you look across what we do, it is amazing how manual it is and how many people are doing stupid, silly things," he says. Magyar Telekom is also working with Ericsson AB (Nasdaq: ERIC) to fix network problems before customers even know about them. Through so-called "autonomous incident management," it has brought down the number of IT incidents by a fifth, says Larsen. (See Humans Beware: Ericsson Readies Machines to Run the Network.)
Anodot, an Israeli startup founded in 2014, is also involved in Magyar Telekom's trials. While details are scant, the company has built an AI platform that can detect anomalies and their root causes in telecom networks. The goal, said Magyar Telekom in a presentation this year, is to find "outliers" in its data reservoirs and turn these into "valuable business insights."
One of the main hurdles is cultural acceptance. Engineers and other staff can hardly be expected to embrace systems they do not comprehend, especially when these highlight their shortcomings and threaten their livelihoods. "We had debates with engineers who said it doesn't make sense," said Larsen, reflecting on the resistance that Uhana has inevitably encountered. (See Robot Wars: Telecom's Looming AI Tussle.)
If AI makes choices that humans cannot fathom, an over-reliance on it could be risky in the long run, and would pose an ethical dilemma. That is perhaps one reason humans will remain in the loop. But Larsen thinks the industry is still a long way from having access to the kind of multi-tasking, "general" AI that would make everyone redundant.
"The most interesting stuff happens in narrow AI, which is getting better and better at doing smart stuff," he said. "These are specialized machine algorithms that mimic human intelligence." Like a human, Uhana learns on the job, and will eventually be even better at network configuration. But there are plenty of engineering tasks it will never even contemplate.
How will service providers enable automated and efficient network operations to support NFV & SDN? Find the answers at Light Reading's Software-Defined Operations & the Autonomous Network event in London, November 7-8. Take advantage of this opportunity to learn from and network with industry experts – communications service providers get in free!
What comes next? While there is still no sign Magyar Telekom is using Uhana in a production environment, Larsen is evidently pleased with its performance in trials. Commercial pressure and growing network complexity could drive the operator toward a full deployment of Uhana or similar technologies.
A subsidiary of Germany's Deutsche Telekom AG (NYSE: DT), Magyar Telekom was a standout performer in the first three months of the year, reporting a 7% year-on-year increase in sales, to €443 million ($513 million), and 11% growth in earnings (before interest, tax, depreciation and amortization), to €121 million ($140 million). But the Hungarian market remains as competitive as others in Europe. And network complexity is rising with the rollout of "converged" offers, bundling fixed and mobile services, and the recent launch of NB-IoT, which provides connectivity for objects like smart meters and factory-based machines. For a startup like Uhana, the real coup would be a deal with the Deutsche Telekom group.
— Iain Morris, International Editor, Light Reading
Subscribe and receive the latest news from the industry.
Join 62,000+ members. Yes it's completely free.
You May Also Like
---