Deutsche Telekom hails best year ever as hopes soar for US merger
Deutsche Telekom hails best year ever as hopes soar for US merger
As the German operator turns 25, its performance under current management is something peers will envy.

How will telecom historians remember Timotheus Höttges, the current boss of Deutsche Telekom? As the man who presided over a successful merger between T-Mobile US, its North American business, and local rival Sprint? As the CEO who steered Germany's biggest operator back to growth after a squeeze under previous management? Or as a practitioner of "brutal automation" (an expression coined by one of his underlings) – an executioner who has chopped nearly one in 12 jobs since taking charge?
Höttges is not set to leave (as far as Light Reading knows), but it is worth taking stock as he embarks on his seventh year at the helm of a company celebrating its own 25th year as a private-sector player. His sixth, for which Deutsche Telekom today published results, has been hailed as its most successful ever, with sales and profits up at every one of Deutsche Telekom's main business units bar T-Systems, its long-suffering IT division. Growth at the unstoppable T-Mobile is now a given, but the performances in Germany and Europe – where conditions remain tough – are testament to Höttges' competence.
For a telco operating in developed markets, the latest headline numbers shine. Group revenues in 2019 grew 6.4%, to about €80.5 billion ($86.9 billion), while adjusted earnings (before interest, tax, depreciation and amortization) after leases were up 7.2%, to roughly €24.7 billion ($26.7 billion). As Höttges was quick to highlight, that is €600 million ($648 million) more than Deutsche Telekom had forecast. Thanks to that increase and some one-off factors, net profit soared 78.5%, to around €3.9 billion ($4.2 billion).
Figure 1: The great telco bake-off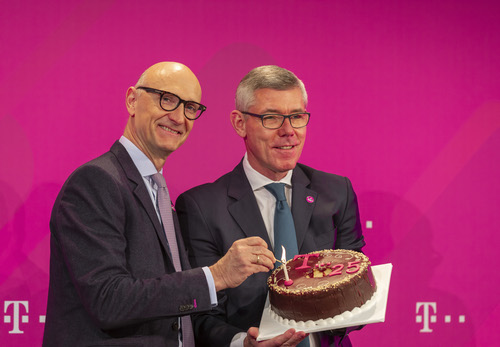 Deutsche Telekom CEO Timotheus Höttges (left) and CFO Christian Illek show off their cake-making skills.
At the group level, about the only negative was a dramatic rise in net debt, up 37.2% year-on-year, to €76 billion ($82 billion), in December. Deutsche Telekom blamed accounting changes, takeover activity in the Netherlands, dividend and spectrum payments and foreign-exchange effects for this increase. But even here the company's ratio of net debt to adjusted EBITDA looks better than it did in September: Dropping from 2.8 then to less than 2.7 in December, it puts Deutsche Telekom back in its "comfort zone ratio" of between 2.25 and 2.75. The traffic-light graphics it uses to measure performance against several key indicators are all showing green.
Why, then, has Deutsche Telekom slashed dividend payments from €0.70 ($0.76) in 2018 to €0.60 ($0.65) last year? Uncertainty about the US merger was the explanation provided in November, when the cut happened. After a top US judge recently blessed the proposed tie-up between T-Mobile and Sprint, confidence has subsequently risen. Höttges refused to comment on reports he wants to renegotiate terms following Sprint's continued decline. But any takeover will hit the balance sheet, as T-Mobile absorbs Sprint's net debt.
The answer, said Deutsche Telekom executives in Bonn earlier today, could be a sale of European assets such as T-Mobile Netherlands or towers. Europe's other debt-burdened incumbents have already started to spin off their towers and investigate sale options, but Deutsche Telekom has so far resisted any ceding of control.
Whatever happens in the wake of a US merger, shareholders today were upbeat after some pointed remarks by Höttges about the undervaluation of a combined T-Mobile US and Sprint. "The new T-Mobile US would today have a market cap of $120 billion," he said. "That is a difference between us and AT&T or Verizon of around $120 billion and we have just as many customers and twice as much spectrum." In Germany, Deutsche Telekom's share price was up more than 4% just after 1 p.m. today and is trading 14% higher than it was this time last year.
European resurgence
In Germany and Europe, investment activity seems to have paid off under Höttges, who has spent far more than René Obermann, his predecessor, on network improvements. Last year, Deutsche Telekom threw €7.8 billion ($8.4 billion) into capital expenditure outside the US, including €5.5 billion ($5.9 billion) – or roughly 20% of sales – in Germany. "Vodafone is only 50% of ours," said Höttges in a dig at what his closest German rival invests in capex. Sales last year in Germany were up 1%, to around €21.9 billion ($23.7 billion), while EBITDA rose nearly 4%, to €8.3 billion ($9 billion).
Even more impressive is the performance across Europe, with revenues up 2.4%, to €12.2 billion ($13.2 billion), and EBITDA rising nearly 15%, to €4.3 billion ($4.6 billion). Three years ago, Europe reported a 2.1% dip in sales and a 3.5% fall in EBITDA, prompting internal head-scratching about its performance. As in Germany, investment activity seems eventually to have worked out. "In ten of 11 markets in Europe we won network tests and are investing more than any other telecom company measured against revenues," said Höttges.
T-Mobile remains the German operator's engine room. When converted into euros, its revenues soared nearly 11% last year, to about €40.4 billion ($43.6 billion), and its EBITDA was up more than one third, to €13.3 billion ($14.4 billion). Sustaining this after a merger with Sprint will be tricky as managers wrestle with network integration, marketing challenges and a possible clash of working cultures. Any net reduction in headcount, which Höttges promised would not happen, could also meet with a backlash against the German owner in the increasingly parochial and protectionist US market.
For all the latest news from the wireless networking and services sector, check out our dedicated mobile content channel here on Light Reading. But as bosses carved up an anniversary cake before today's press conference began, just about all of Deutsche Telekom's business units had something to celebrate. Even T-Systems managed a sharp increase in EBITDA, which nearly doubled last year, to €314 million ($339 million), despite a 1.9% fall in revenues, to €6.8 billion ($7.3 billion). An ongoing move into more profitable business areas, such as cloud computing, was partly responsible. Many employees may not have felt in party spirits. With capex at record levels, Deutsche Telekom's focus is on reducing its operating costs for margin improvements. Headline numbers suggest the strategy is paying off, but it has taken a heavy toll on the workforce. Since Höttges took charge in 2014, Deutsche Telekom has cut about 18,000 jobs worldwide, a figure that represents about 8% of its headcount at the end of 2013. Some 5,000 positions went last year alone, and only a relatively small number of those were down to the sale of Telekom Albania. The push for greater efficiency looks set to continue as Deutsche Telekom works on automating its networks and operations. Digitalization is today one of Höttges' favorite words. "Anyone that stands still will lose," he said. "If customers want to buy online, we have to take that into account." For investors, the good news is the surge in revenues per employee that has taken place. In 2013, that metric was just €263,000 ($284,000). Last year, it topped €382,000 ($412,500). In other words, while group sales have risen a third over that period, per-employee revenues have grown 45%. A few storm clouds have gathered over the sector this year. Analysts worry what impact the outbreak of coronavirus will have on the telecom industry, with its global supply chains. Deutsche Telekom's heavy reliance on Huawei, a controversial Chinese vendor that US authorities want Germany to ban, is another concern. But Europe's operators do not often see the share price movements Deutsche Telekom witnessed this morning. "I'm in a great mood," said Höttges, after his company cruised past its targets. "Numbers and financials … will delight shareholders." For the time being, the market seems to agree. Related posts: DT wants to renegotiate T-Mobile, Sprint deal – report Germany keeps world guessing on Huawei DT Cuts Dividend on Spectrum Splurge but Lifts Outlook Germany raids telcos for €6.5B in epic 5G auction Deutsche Telekom finally gets to launch 5G — Iain Morris, International Editor, Light Reading
Subscribe and receive the latest news from the industry.
Join 62,000+ members. Yes it's completely free.
You May Also Like
---