AT&T job cuts continue as headcount drops by 5,100 since January
AT&T job cuts continue as headcount drops by 5,100 since January
Tens of thousands of jobs have disappeared at AT&T since it first made its bid for Time Warner and the cuts go on. There is a very tired cliché about not worrying artificial intelligence (AI) will cause mass unemployment because previous rounds of technological "progress" ultimately gave rise to new jobs, which is a bit like saying we shouldn't worry about wars because we always bounced back from previous ones. Ignore, for a moment, the carnage that happens during these upheavals. The logic is we can base the future entirely on experience – all very well until Vladimir Putin makes good one morning on his threat to push a big red button instead of the small black one for his coffee maker.
Equally tiresome is the habit of denouncing anyone who frets about technology's impact on employment as a Luddite. The Luddites weren't opponents of technology per se. They were opponents of losing their jobs, which seems just as reasonable as being opposed to falling ill or stumbling into a bear trap or being dispatched to fight a war in Ukraine by some Russian mobster.
Figure 1: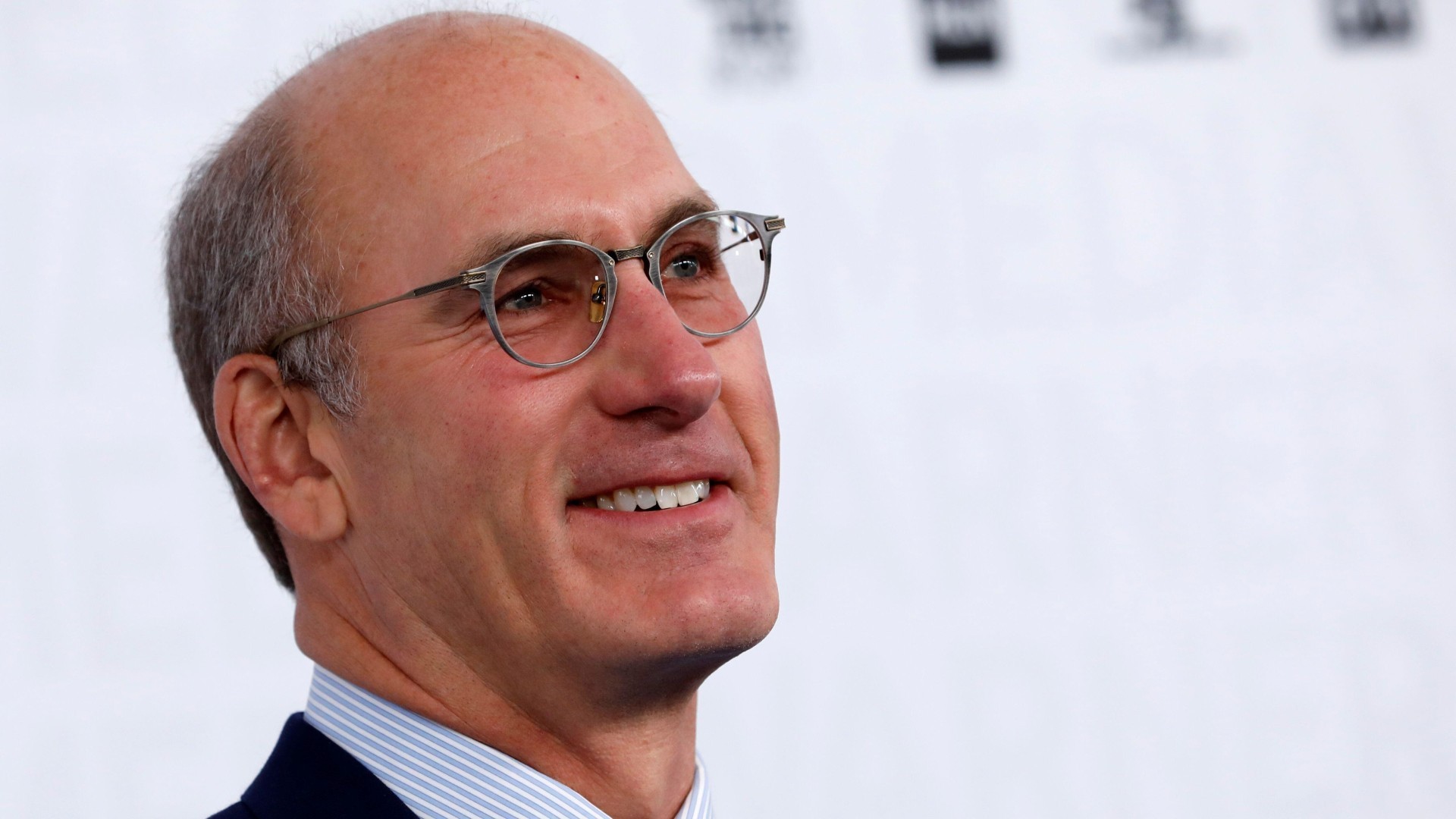 AT&T CEO John Stankey is cutting thousands of jobs at his company.
(Source: Reuters/Alamy Stock Photo)
Even before the alien invasion of ChatGPT and generative AI, AT&T had been cutting thousands of jobs – hacking into its workforce with more zeal than any other big operator in North America or Western Europe, according to data compiled by Light Reading. Including Time Warner, between the start of 2018 and the end of last year, AT&T's workforce shrank by 117,100 people, roughly 42% of the 2017 total. Another 5,100 jobs have disappeared from the books since January.
A lot of these cuts have nothing to do with technology or automation – the divestment of the Time Warner business that AT&T bought so disastrously for $85 billion in 2018 explains much of the reduction last year, for instance. But technology has been a factor, and it's likely to be an even bigger one in future.
Stankey the executioner

Senior executives have acknowledged this before when talking about the consumer preference for buying online instead of at an AT&T shop, or diagnostic software that replaces the technician visiting homes to identify problems. That would make it hard for AT&T's bosses to slam critics as Luddites or claim technology will create employment opportunities. Six years of attrition suggests these won't be at AT&T.
Fortunately, CEO John Stankey and his flesh-and-blood lieutenants (for now) are rarely quizzed about headcount during their quarterly interrogations by equity analysts. Spreadsheet jockeys think of employees as cost items and are likelier to ask about dollar numbers. But when operating expenses are sky high despite such enthusiastic pruning of the workforce, questions arise. After shedding 45,360 jobs in the last year, AT&T recorded about $24 billion in first-quarter opex, roughly the same amount it spent the year before.
References to headcount, then, were made by not one but two analysts on this week's regular call with Stankey and crew. "[You] guys have been aggressive taking out headcount," noted John Hodulik of UBS, according to AT&T's own transcript. "And John, you mentioned potentially accelerating the headcount or the cost-reduction initiative … Is there more headcount to go? How far through the $6 billion are you? And should we see that translate into better margins?"
The $6 billion is a reference to the latest cost-saving target linked with restructuring, the shutdown of old technologies (like 3G) and layoffs. But if Hodulik was expecting a clear answer on jobs, he didn't get one. That left Brett Feldman of Goldman Sachs to pick up the theme. "[Typically] there are costs associated with your workforce, whether it's severance or other separation costs," he said. "[I'm] just curious if you could potentially size what the impact of those costs have been."
Figure 2: AT&T's headcount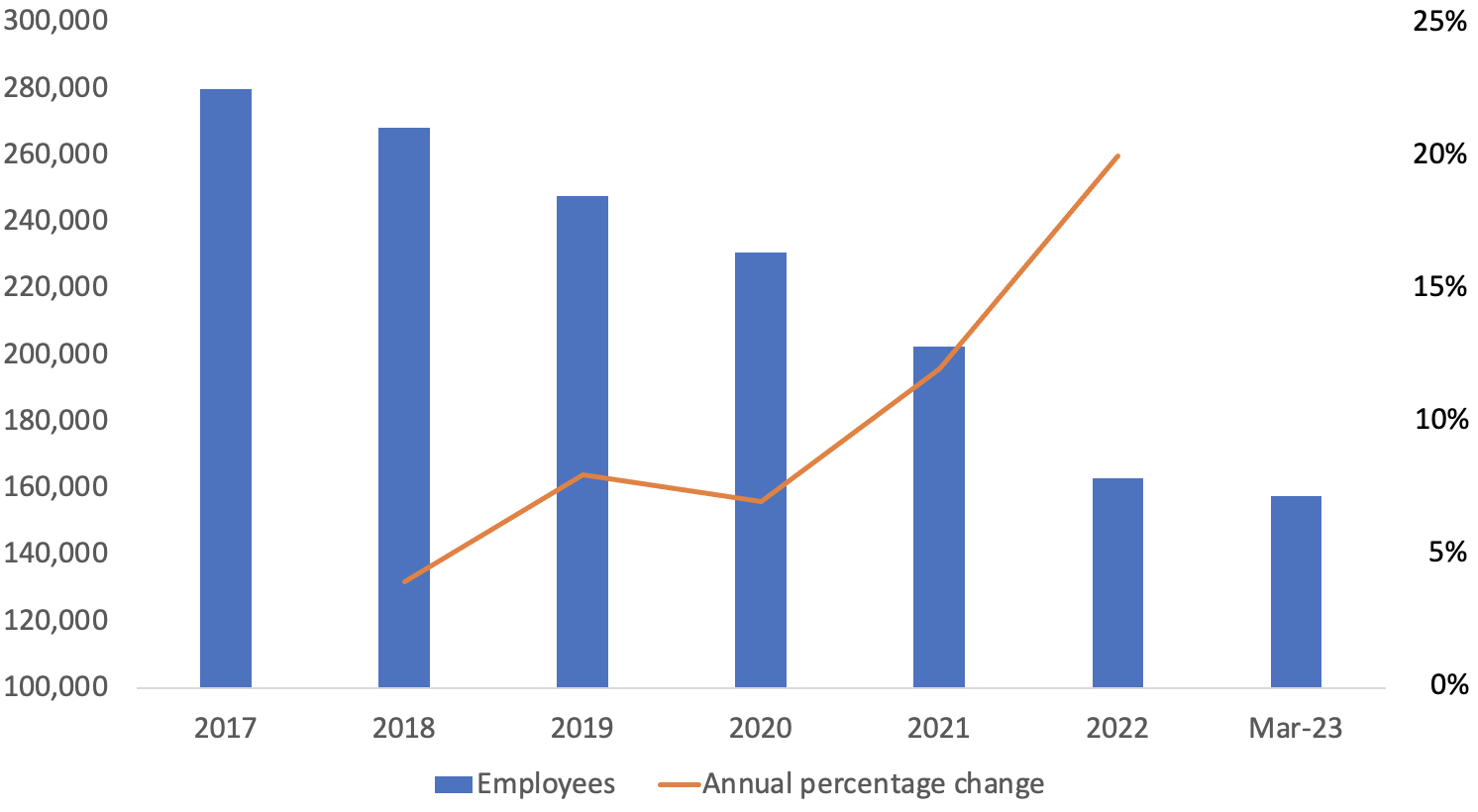 (Source: AT&T)
AT&T's response was that much of the accounting for the latest reductions happened last year, when – it should be noted – the operator reported a $4.6 billion operating loss and a net loss of nearly $7.1 billion. Meanwhile, what AT&T saved in personnel costs during the first quarter seems to have been offset by depreciation and amortization, bad-debt expenses and inflation. But margins, undoubtedly, would have been a lot worse if AT&T had not cut so deeply into its workforce.
Its ability to dispense with so many employees while still growing sales (up 1.4% year-on-year, to $30.1 billion) suggests AT&T has a surplus of what David Graeber, an American anthropologist who died in 2020, called "bullshit jobs." The alternative explanation is that technology made those workers redundant without finding them alternative roles within AT&T.
Scarily enough, Stankey, in his words, is now "leaning into" AT&T's "digital transformation," a regular industry euphemism for cost cutting and layoffs. On his call with analysts, he was also talking up the use of AI "to improve fleet dispatches so our field technicians can better serve customers." Reliance on AI has already made AT&T's customer care department more effective, he said. "We think this is only the tip of the spear of what's possible." Given the diminishing staff numbers, there could be thousands more in line to be skewered.
Related posts:
— Iain Morris, International Editor, Light Reading
Subscribe and receive the latest news from the industry.
Join 62,000+ members. Yes it's completely free.
You May Also Like
---