American 6G hopefuls start chasing government partnerships
American 6G hopefuls start chasing government partnerships
The Next G Alliance is working to set up public-private partnerships to promote 6G testing and innovation. It's the next phase of the group's efforts to promote American wireless technology development.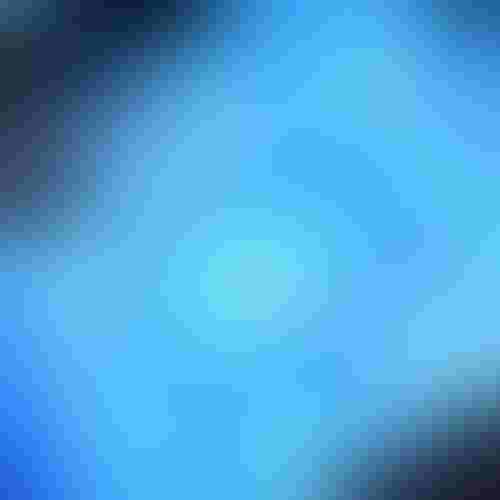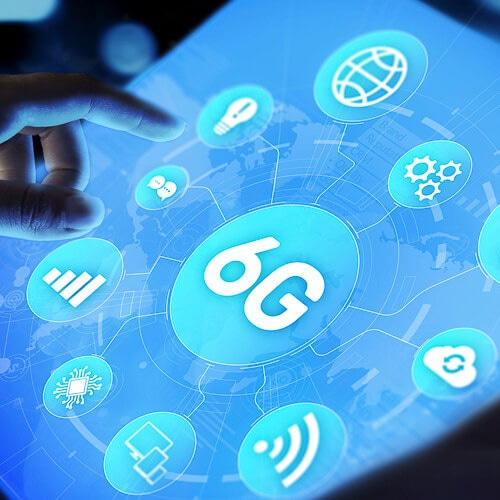 AUSTIN – Big 5G Event – Officials for the Next G Alliance are suiting up for the next phase of their broad 6G strategy: engaging with US government officials. The association held a party in Washington, DC, last week to kick off the effort with regulators and lawmakers.
Next, the alliance is hoping to set up some public-private partnerships to promote 6G testing and innovation.
"This is the phase we're in now," said InterDigital's Doug Castor, a vice chair for the Next G Alliance, here at Light Reading's Big 5G Event. He said the association has worked for the past few years to firm up its vision for 6G and to understand the role the technology might play in the broader US and global economy. Now, it is taking that view "to action," he added.
Next G Alliance officials aren't ready to discuss specifics about potential partnerships. But a start might involve the National Science Foundation (NSF), which receives roughly $10 billion annually to fund American science and engineering projects. Another possibility is the $1.5 billion "Wireless Innovation Fund," administered by the Commerce Department's NTIA.
Global importance
According to those involved with the Next G Alliance, the 6G topic is important from both a domestic and international perspective.
Domestically, the US companies involved in early 6G efforts believe it's important to educate lawmakers and other government officials about their hopes and needs, including more spectrum for 6G and regulations favorable to its rollout. Internationally, it's important because US-based companies are concerned that their global rivals – particularly those in China – might capture an insurmountable lead in the development and rollout of 6G if America isn't prepared.
In that respect, the work of the Next G Alliance could be compared to the US government's Manhattan Project, soon to be highlighted in the upcoming Christopher Nolan film Oppenheimer.
During World War II, the US government poured money into the Manhattan Project to make sure that the Allies, not the Axis powers, were the first to wield nuclear weapons. One ATIS official described the Biden administration's new CHIPS and Science Act – which allocates around $280 billion for the development of domestic chipset manufacturing – as a modern day Manhattan Project, with 6G playing a related, supporting role.
The next phase of American 6G
ATIS – a North American trade association that has previously addressed issues including secure supply chains, robocalls and hearing aid compatibility for cell phones – launched the Next G Alliance in 2020. During 2021 the alliance assembled a diverse group of members including Apple, Verizon and the US Department of Defense, and in 2022 it introduced a 49-page white paper that laid out goals for the development of 6G.
Earlier this year the group explained how it sees 6G working across various sectors of the US economy, from agriculture to healthcare, and which use cases the technology might enable.
Figure 1: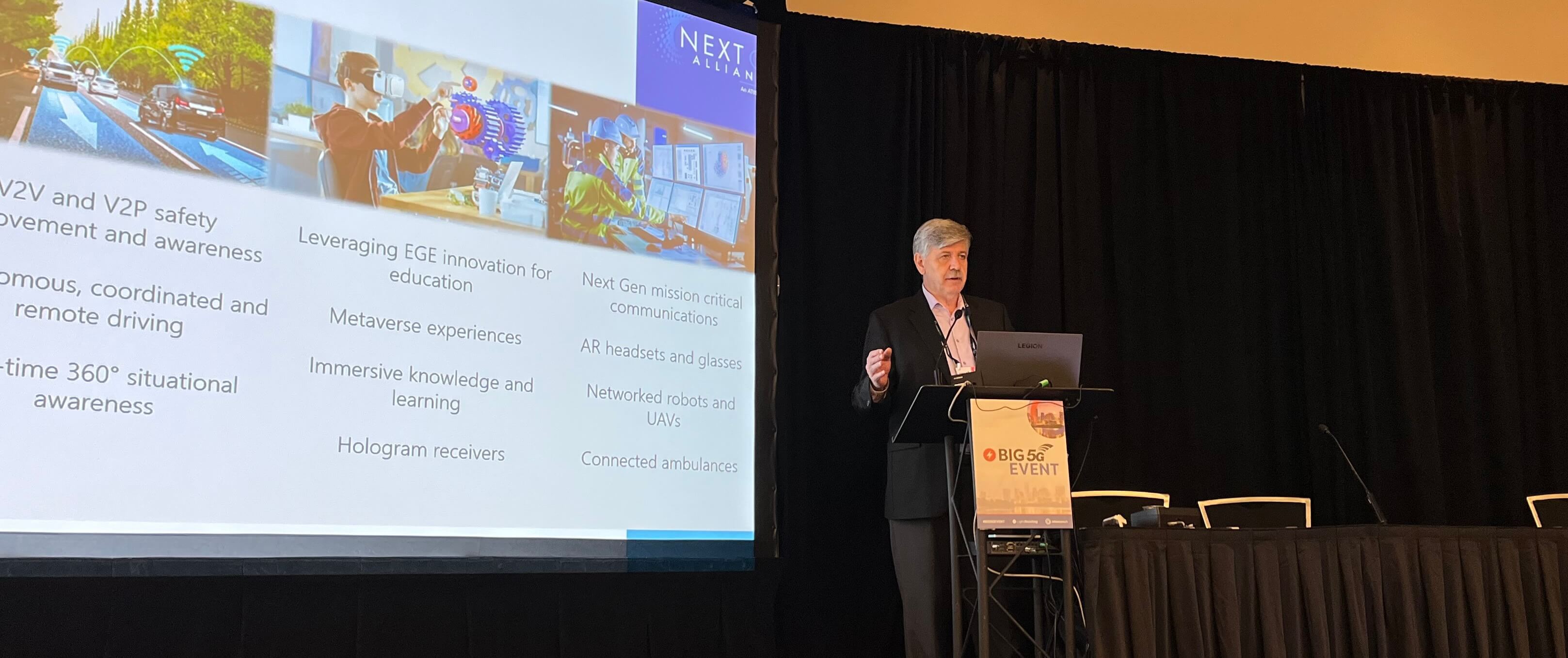 Mike Nawrocki, of ATIS, speaks at the Big 5G Event in Austin.
(Source: Mike Dano/Light Reading)
The Next G Alliance is the American answer to other 6G efforts around the world such as Europe's 6G Smart Networks and Services Industry Association and Japan's Beyond 5G Promotion Consortium (B5PC).
By pursuing public-private partnerships as its next step, the Next G Alliance is hoping to organize American companies, researchers, academics and government agencies around a common goal.
"In past generations [of wireless technologies], there has been a bit too much fragmentation," said Castor during a panel discussion here.
Several officials agreed that the US government needs to be involved in the development of 6G.
"The problems are just too big to tackle," said Thyaga Nandagopal of the National Science Foundation. He added that now is the time to talk about 6G because it can take up to a decade of planning and preparation to bring wireless technologies to market.
"Government has always been at the forefront of investment and innovation," added Abhimanyu Gosain, senior director for the Institute for Wireless Internet of Things at Northeastern University. He pointed to government interest in and funding for technologies ranging from artificial intelligence (AI) to quantum computing.
The complex questions
But plenty of questions remain among US companies, academics and government officials about the best way to move 6G forward. For example, which US government agency should take the lead in organizing work between federal and private entities?
Jaydee Griffith, an official with the NTIA, which is a division of the Commerce Department, made a pitch for his own agency. He said the NTIA has proven to be a good arbiter among various competing entities. Indeed, the agency has long worked to coordinate spectrum usage between federal and commercial users.
Intellectual property is another unresolved issue. "We have to be really careful about how we discuss that," said Gosain.
Some of the companies participating in the Next G Alliance, including InterDigital, have large businesses based on the licensing of intellectual property. That kind of a business model must also work alongside whatever public-private partnerships develop in support of American 6G.
A final issue, particularly on the government side of the equation, is how to avoid money traps.
According to NTIA's Griffith, some companies view government funding as a mechanism they can use to "lobby their way to success." But he added that the NTIA is looking for ways to support technologies that are "economically viable" instead of ones that need to be propped up with long-term government subsidies.
"The most important unit in engineering is the dollar," Griffith said.
The China problem
A number of speakers at the event obliquely acknowledged the fact that China is driving much of the interest in 6G in the US. For example, Griffith pointed to the "geopolitical angle" in his outlook on the technology.
Broadly, US telecom executives are growing increasingly concerned that the contentious relationship between the US and China will affect their businesses. In many cases it already has.
US sanctions against Huawei have largely blocked US companies from selling their technology and components to that vendor, for example. At the same time, a number of US-based rivals to Huawei – including iPhone behemoth Apple – are working to capture market share in global locations where Huawei has been pushed out.
In the wireless technology industry, there are growing worries that Huawei and other big Chinese technology companies are beginning to dominate the standards-setting process. That puts Chinese companies into a position to more directly control the creation of an eventual 6G standard – and for them to profit from the licensing of 6G intellectual property.
That's part of what's driving the Next G Alliance. The association seeks to help American companies develop domestic wireless technologies that might eventually be submitted into global standards-setting organizations like the 3GPP and ETSI as they will have the final say in any 6G standard.
Importantly, top Next G Alliance members continue to hope for a unified, global 6G standard like there is with 5G today. But they acknowledged that increased stress on the relationship between the US and China could lead to the development of two 6G standards, one for the US and its allies and a separate one for China and its allies.
Related posts:

— Mike Dano, Editorial Director, 5G & Mobile Strategies, Light Reading | @mikeddano
Subscribe and receive the latest news from the industry.
Join 62,000+ members. Yes it's completely free.
You May Also Like
---