When he's not flaunting his moobs in outdoorsy, action-man photos, Russian leader Vladimir Putin is usually playing the strongman in geopolitics. Yet Russia is a weakling in 5G, a technology central to the geopolitical clash between China and the US.
None of the main vendors developing 5G technology is Russian. Nor are the country's operators in a hurry to launch services. Russia does not even warrant a mention in a 5G leadership index published by consultancy Arthur D. Little in March, despite its inclusion of several 5G "laggards." As countries in Asia, Europe and North America jostle in the 5G "race," Russia is still lacing up its trainers on the start line.
Peering into Russia from the outside is not easy. It does not rank highly on press freedom and its sinister government agencies seem keener on meddling in other countries' affairs than disclosing details of any domestic agenda. Cronyism is a national pastime, making obfuscation even more prevalent than it would otherwise be.
Figure 1: Wobbly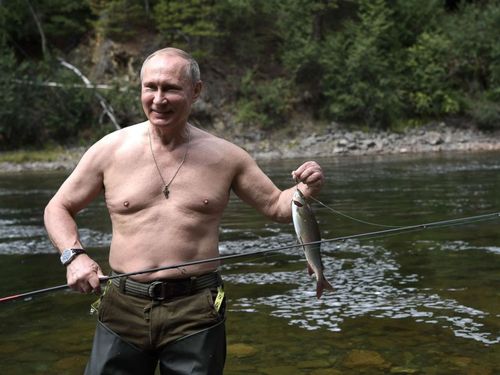 Russia's increasingly Tsar-like Vladimir Putin lacks the kingly physique for these photos, but no one in Russia dares tell him.
But reports of some curious developments have slipped out this summer. The main one is news that Russia will not reserve its 3.5GHz spectrum band for telecom operators building 5G networks, but instead leave it with the military. This decision matters because 3.5GHz has previously stood more chance than any other band of becoming a global 5G option. Interest in it should drive down costs and make rollout more affordable. Russia could be shut out of that ecosystem.
Reportedly worried about trailing in 5G, Russia's communications ministry has instead proposed using the 4.4-4.99GHz band to support 5G services. This would align Russia with two large Asian countries that are also considering this band as a 5G option: China and Japan.
It's the former that grabs attention. As it continues to make enemies in Europe and sensible North American circles, Russia is drifting into China's camp. Trade between the two countries has soared this century, according to a recent briefing by the Economist newspaper. But Russia is dwarfed by its Asian neighbor. With China's economy about six times larger, Russia is only China's tenth-largest export market. The Russians ship more goods to China than to any other country outside the European Union.
The cozy ties include what could be a major 5G deal between MTS, Russia's biggest telecom operator, and China's Huawei, the world's largest and most controversial supplier of 5G network products. It was announced earlier this year despite a US campaign against Huawei, which the Trump administration regards as a threat to security because of its Chinese identity.
Nevertheless, Russian mobile operators, including MTS, have shown little enthusiasm about 5G compared with their international peers. Even if he had the spectrum, he would not rush to build a 5G network, said Alexey Kornya, the CEO of MTS, during an earnings call this week. "We just don't feel that there is right now a demand … so there is no strong need on building up aggressively 5G."
Figure 2: No Sign of Russia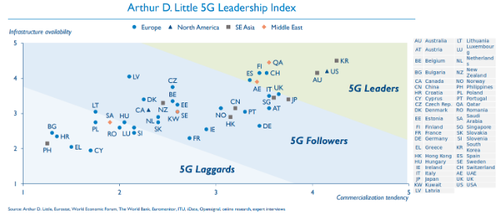 Source: Arthur D. Little.
MegaFon, Russia's number two mobile operator, mentioned 5G just once in its own second-quarter earnings update, and that was only to flag up a test video call on 5G equipment. As for VEON, the other member of the big three, its earnings call did not feature a single reference to 5G technology. Poached from MTS last year, Vasyl Latsanych, the CEO of VEON's Russian business, had zero time for any 5G chatter in his previous job. "There is no business case behind it," he told analysts at an MTS investor presentation in 2017, when he was the Russian operator's chief marketing officer.
Facing capex constraints, and few growth opportunities in Russia's saturated telecom market, all three companies have preferred to spend their money on new digital platforms and expand into new sectors, such as banking, in the case of MTS. Even without investing much in 5G, MTS thinks it will spend about 18% of its revenues on capex this year, a higher percentage than the capital intensity at many European operators.
Russian authorities are not helping. Last year, they introduced a new law requiring Russian operators to store all voice and data communications, presumably for sharing with Russian spooks. Putting in the storage systems will cost about 50 billion Russian rubles ($760 million), said MTS. That figure is more than half this year's capex budget.
The latest spectrum proposals will also hinder 5G rollout and drive up costs. While VEON declined to comment when approached by Light Reading, all three operators have made complaints, according to Kommersant, an independent Russian newspaper. No 5G equipment is currently available that operates in the 4.4-4.99GHz range, said a representative of Tele2, a smaller Russian operator, according to the Kommersant report.
For all the latest news from the wireless networking and services sector, check out our dedicated mobile content channel here on Light Reading.
And here is where developments become even more curious. Russia's goal, reports Kommersant, is to cultivate domestic manufacturers that can develop expertise in 4.4-4.99GHz-based 5G technology. The trade ministry is already said to be creating a consortium that will include hardware manufacturers, components specialists and software developers. A Russian company called Rostec will take the lead in developing 5G network equipment, says the newspaper report.
If little is known about Rostec outside Russia, it appeared on the telecom industry's radar in late July when it announced plans to start creating Russian 5G equipment. "We are making developments in the field of 5G and are interested in partnerships with foreign manufacturers, such as from India and China," said Victor Kladov, Rostec's director for international cooperation and regional policy, in a prepared statement.
Set up in 2007, the state-backed company has until now served a mainly military purpose. Its portfolio, it points out, includes the cheery-sounding Kalashnikov Concern and Russian Helicopters. But it is targeting annual revenue growth of 17% between now and 2025 through expansion into "civilian products."
Private-sector operators will be skeptical as well as nervous. While Russia churns out some of the world's best software developers, Tele2 has reportedly drawn attention to its lack of domestic manufacturers with experience of building cellular networks. But Russia was also rubbish at making tanks until partway through the Second World War.
Moreover, in the current environment, the Russian plan is no great surprise. Years of consolidation have left telecom with three all-powerful equipment vendors building 5G networks. Trump's campaign now threatens to lock Huawei out of some Western markets, making operators even more dependent on Ericsson and Nokia. And there are already signs of a backlash against the Nordic firms in China. With 5G networks increasingly seen as critical national infrastructure, countries that lack their own 5G vendors are looking for safe alternatives. Local entrepreneurs stand to benefit.
As part of Russia's military-industrial complex, Rostec hardly fits the description of local entrepreneur, though. Putin may simply be flexing those flab-encased muscles as he looks to control and shape a sector that could become even more critically important, should 5G live up to all its promise. Forcing Russia's operators toward Rostec and other Russian firms, and away from Ericsson and Nokia, could be massively detrimental to their commercial interests.
Related posts:
— Iain Morris, International Editor, Light Reading
Subscribe and receive the latest news from the industry.
Join 62,000+ members. Yes it's completely free.
You May Also Like
---