Despite all attempts at harvesting, Italian mobile operators keep popping up like Tuscan mushrooms. Way back in 2015, Italy's telecom executives dreamt of a three-player market after Three Italia and Wind Telecommunicazioni announced plans to merge. But the dream became a nightmare when the merging operators were forced to open the door to France's Iliad, the most aggressive network operator in Europe, to satisfy competition authorities. Now Fastweb, an Italian broadband operator, is poised to sprout a fifth mobile network. The nightmare persists.
Iliad's arrival in May 2018 has already floored the older operators. Telecom Italia has lost around 1.2 million mobile customers, finishing June with around 22 million. Vodafone has hemorrhaged nearly 1.4 million to leave it with around 20.6 million. As for Wind Tre, the union between Three and Wind that invited Iliad to the Italian party, it stopped sharing financial results with the wider world last year. Parent company CK Hutchison hasn't, though: Its last annual report shows that Wind Tre shed 2.4 million mobile customers in 2018, putting it on 27.1 million at the start of this year. While not all deserters went to Iliad, it had picked up 3.3 million subscribers by the end of March.
Figure 1: Blown Off Course?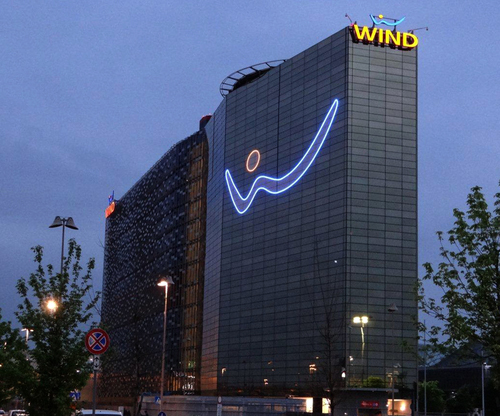 Italy's Wind Tre has suffered badly in the country's fiercely competitive mobile market.
Revenues have been dropping, too. Italian mobile service revenues fell 9.7% at Telecom Italia in the June-ending quarter, to €943 million ($1.1 billion), compared with the year-earlier period. At Vodafone, they were down 7.4%, to €905 million ($1 billion). Customer losses have not been the only problem: To staunch the outflow, operators have had to cut prices. The monthly average revenue per user fell 8% at Telecom Italia, to €12.5 ($13.9), and 2.2% at Vodafone, to €13.6 ($15.2).
None of this could have come at a worse time. Operators are just starting to build expensive 5G networks that will power future mobile communications. Last year they collectively spent €6.6 billion ($7.4 billion) on new 5G licenses after regulatory cack-handedness drove up spectrum fees. They are simultaneously under pressure to cut debts. Telecom Italia's net debt of about €28 billion ($31.2 billion) at the end of June was about 3.7 times what it made in earnings (before interest, tax, depreciation and amortization) last year. Ratings agency Moody's downgraded Vodafone out of concern that recent takeover activity will push up its equivalent ratio to about 3.2 in the next two years. Iliad's ratio has soared from 1.4 at the end of 2017 to about 2.3 last December.
Operators have sought refuge in partnerships. Faced with regulators hostile to consolidation, they are instead pooling or selling assets to make 5G rollout affordable. Telecom Italia and Vodafone struck up a network-sharing partnership in July and will manage their mobile towers through Inwit, previously a Telecom Italia subsidiary in which each operator will initially hold a 37.5% stake. Iliad has sold its own towers, including about 2,200 in Italy, to Cellnex, a European towers specialist. For Wind Tre, the partner of choice became Fastweb in June. Together, the companies believe they can hit a 90% 5G coverage target by 2026.
These deals go much further than previous network sharing in Europe. Vodafone and Telecom Italia, for instance, are sharing not only the masts managed by Inwit (so-called "passive" infrastructure) but also some of the basestations used to provide 4G and 5G services (the "active" equipment). That will mean relying on the same suppliers, increasing Italy's exposure to a small number of giant equipment vendors. Service differentiation will also become more difficult. In selling its towers to Cellnex, Iliad has relinquished control of an important asset. "Keeping ownership of towers ensures more flexibility to evolve the site," said a spokesperson for French rival Orange in a general comment about the pros and cons of tower outsourcing.
Closer co-operation could invite more regulatory scrutiny, as well. Last week, the European Commission raised objections to a network-sharing partnership between Deutsche Telekom and Telefónica in the Czech Republic, arguing that it "restricts competition in breach of EU antitrust rules." Its complaint that Deutsche Telekom and Telefónica are already the dominant operators in a three-player mobile market could not be made about any of the tie-ups in Italy. Active sharing and the establishment of joint tower ventures could trigger similar concerns about competition.
Want to know more about 5G? Check out our dedicated 5G content channel here on
Light Reading.
That would be the last thing mobile operators need as they await the arrival of Fastweb. After securing a fifth mobile license from Italy's Ministry of Economic Development in July, the broadband operator disclosed plans to launch mobile network services using a 40MHz block of spectrum in the 3.5GHz band, which it bought last year in a private transaction, and the 200MHz of 26GHz spectrum it picked up in Italy's 5G auction of October 2018. Even with shared resources, a five-player mobile market would be the most competitive in Western Europe.
Nevertheless, investors are less worried about Fastweb than they were about Iliad, and with good reason. While Iliad was an entirely new entrant, Fastweb has long been active in Italy as a mobile virtual network operator using Telecom Italia's infrastructure to provide services. It is switching to Wind Tre as part of their network-sharing deal but had only 1.63 million mobile customers at the end of June, after gaining 349,000 in the previous year.
It looks weedy in other ways, too. According to parent company Swisscom, it spent only 757 million Swiss francs ($778 million) in capital expenditure last year, while Telecom Italia's domestic unit forked out as much as €5.6 billion ($6.3 billion), including spectrum fees. Fastweb had fewer than 2,500 employees at the end of June. Telecom Italia's domestic workforce includes nearly 48,000 people.
Fastweb has so far had little to say about its mobile network plans, and much of its interest may lie in using a 5G network to provide residential broadband rather than smartphone services. Ailing Wind Tre will be glad to have a partner, and especially one whose existing fiber networks can provide important "backhaul" connections for high-speed mobile data traffic. But with the business outlook bleak in such a congested market, it is no wonder that plans for network sharing and asset sales are so advanced. Operators will have to hope that Italian authorities do not get in the way.
Related posts:
— Iain Morris, International Editor, Light Reading
Subscribe and receive the latest news from the industry.
Join 62,000+ members. Yes it's completely free.
You May Also Like
---