 Apple said recently it will purchase billions of dollars of 5G components from San Jose, California-based Broadcom. A key part of the announcement included the fact that some of the components will be built in Broadcom's Fort Collins, Colorado, manufacturing facility.
"We're thrilled to make commitments that harness the ingenuity, creativity and innovative spirit of American manufacturing," said Apple CEO Tim Cook in a release.
The statement represents a shift for Apple, which has long built most of its gadgets in gigantic Chinese manufacturing cities. The iPhone vendor – along with a growing swath of the US electronics industry – is moving at least some manufacturing into the US because of the increasingly tense geopolitical relationship between the US and China.
The trend, which dovetails with the Biden administration's efforts to encourage the development of domestic manufacturing capabilities, is increasingly affecting the market for 5G networking equipment. Radio vendors big and small – from Nokia, Ericsson and Samsung to Mavenir and JMA Wireless – are shifting manufacturing to more politically favorable locations.
Perceptions and realities
Ericsson – which builds products all over the world – announced almost five years ago that it would construct a 5G manufacturing facility in Texas. By the end of next year, the company hopes to make all its midband 5G equipment in the facility – an effort that supports Ericsson's pursuit of business with the US military.
Other suppliers are working on similar sales pitches.
"JMA researches, designs and makes its 5G network equipment at the only US-owned 5G factory in the country," the company said in a statement to Light Reading. JMA hosted several high-profile political figures at the opening of its new 5G manufacturing center in Syracuse, New York, last year.
"This critical technology is a strategic asset America must own," JMA said.
After Light Reading inquired about the "Made in China" labels on some of Mavenir's equipment, the company said it will update its filings with the FCC.
Figure 1: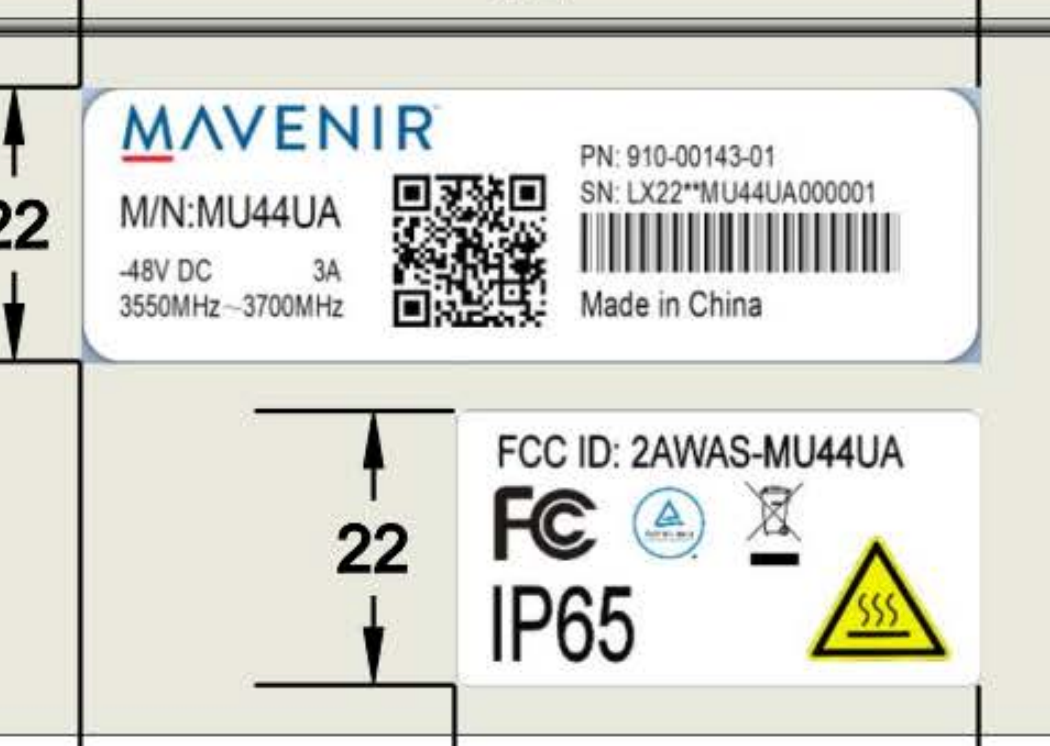 A recent Mavenir filing at the FCC showed a 'Made in China' label. Click here for a larger version of this image.
(Source: FCC/Light Reading)
"We have no radio manufacturing in China," the company wrote in response to questions from Light Reading. "We had some early prototypes manufactured in China some time ago. The labels that you showed are from an FCC document illustration and not a real product label."
The company sent Light Reading images of some of its products featuring "Made in USA" labels.
Figure 2: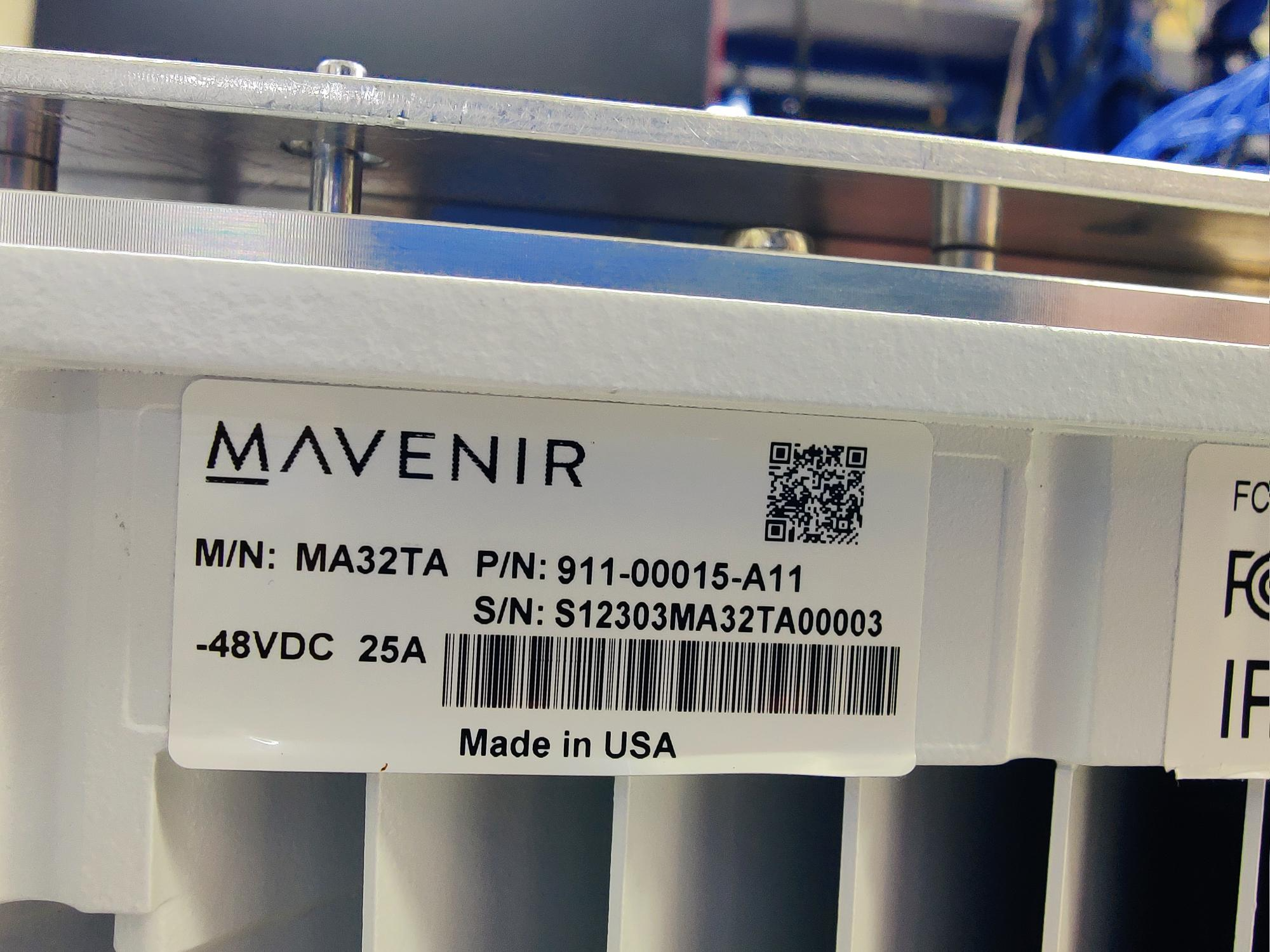 Mavenir said some of its products feature 'Made in USA' labels. Click here for a larger version of this image.
(Source: Mavenir)
Figure 3: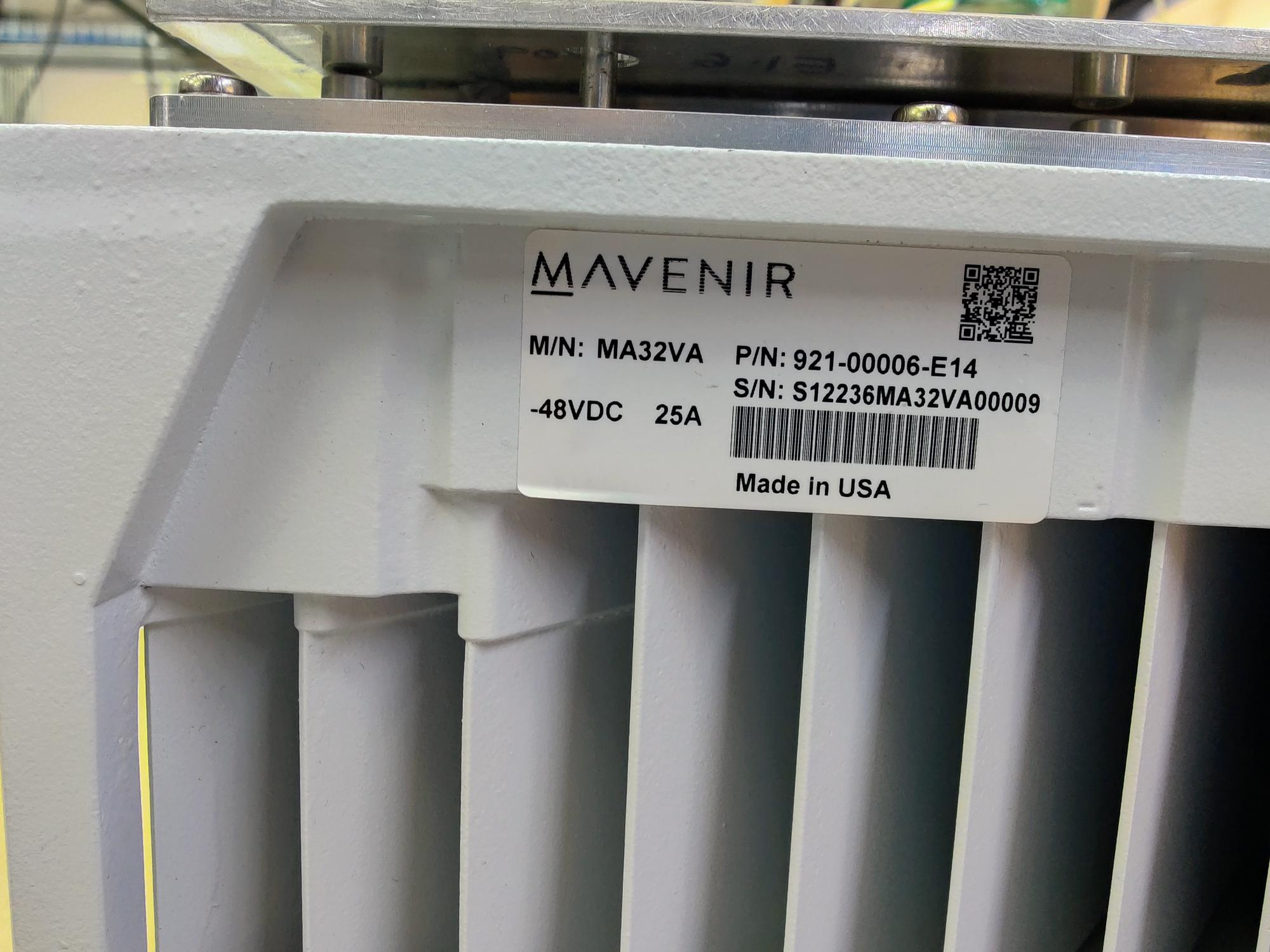 Mavenir said some of its products feature 'Made in USA' labels. Click here for a larger version of this image.
(Source: Mavenir)
"Given geopolitical discussion, Mavenir shifted all plans several years ago to manufacture all our radio products outside of China," the company said, adding that it now counts manufacturing operations in the US, Mexico and India. The company said its main subcontractor is Jabil, which is based in the US, and that its main radio design operation is headquartered in Dallas, Texas.
Further, Mavenir's CEO said that the company would use some of its new funding to accelerate its manufacturing efforts.
"That is why we raised almost $500 million to build our own radios – because there was nobody with a business case to build them," Pardeep Kohli, Mavenir's top executive, told Light Reading recently.
Global operations
Other big 5G networking vendors offered similar assurances.
"Nokia has a globally distributed manufacturing network across Europe, Asia Pacific, Japan, India, the Americas, as well as China, which helps us respond rapidly to customer requirements and reduce transportation costs and CO2 emissions," the company said in response to questions from Light Reading. "We have strong, long-standing customer relationships in the US where our sold 5G RAN [radio access network] products are currently produced mainly in Finland, Mexico and Vietnam. Nokia works very closely with US-based technology companies and our latest radio access network products are largely made using components from these US suppliers."
Indeed, a cursory check of some of Nokia's FCC filings show labels that reflect a global approach to manufacturing.
Figure 4: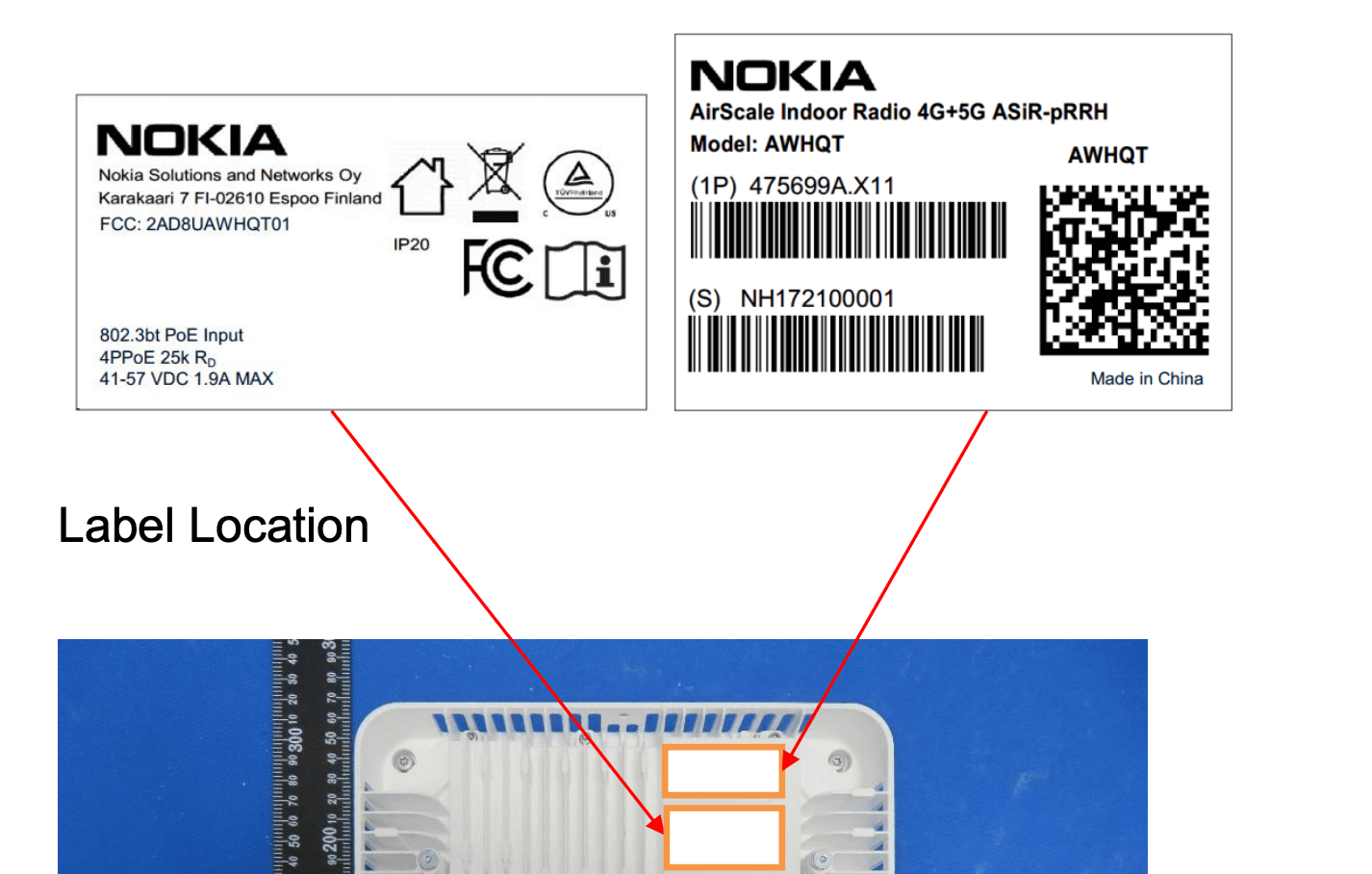 Some Nokia FCC filings show 'Made in China.' Click here for a larger version of this image.
(Source: FCC/Light Reading)
Figure 5: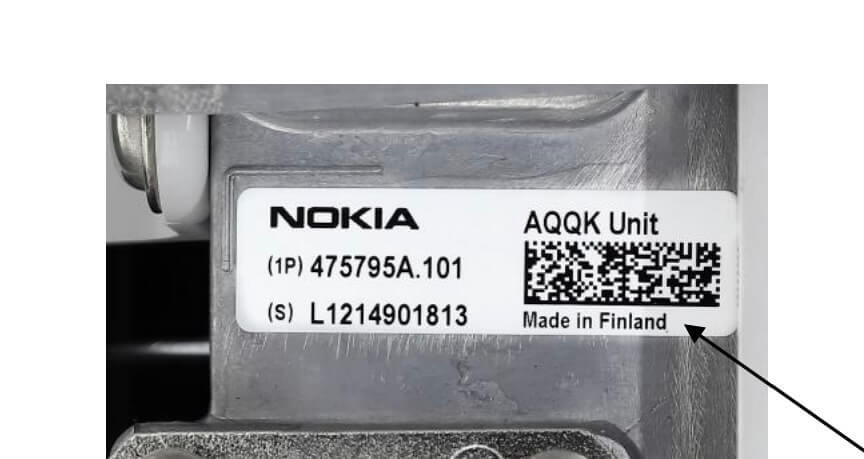 Other Nokia FCC filings show a 'Made in Finland' label. Click here for a larger version of this image.
(Source: FCC/Light Reading)
"Samsung Networks manufactures 5G networks components and equipment in South Korea, Vietnam and the United States. Specifically, we manufacture some critical 5G chipsets in the US, at our semiconductor facility in Austin, Texas," the company wrote in response to questions from Light Reading.
However, the devil remains in the details. For example, some officials at the equipment vendors, who asked to remain anonymous, explained that the manufacturing process for 5G radios can be both complex and geographically dispersed. Some components can be manufactured in one location and then assembled into products in another, using components built elsewhere – meaning, one "Made in the USA" product might differ substantially from another.
The bigger story
Shifting operations away from China – a country that devoted decades to becoming the world's manufacturing center – to locations with few or no manufacturing capabilities is no small task. But Ericsson and other equipment makers have been working to do so for several years.
In 2018, for example, 5G equipment maker Inseego discussed at length its efforts to shift manufacturing out of China. The reason was clear.
"The Trump administration announced 10% tariffs on the list three set of products for 2018, with the 10% increasing into 25% into 2019. We are well underway with moving the manufacturer of our products out of China to other nonimpacted jurisdictions," explained Inseego CFO Steve Smith during a call at the time.
The trend is gaining steam in the telecom industry partly because the Biden administration is holding firm on its intention to put "Buy America" restrictions on US government subsidies for the construction of telecom networks in rural areas.
"NTIA believes that if it can be Made in America, it should be made in America – and it's why we'll strictly enforce 'Build America, Buy America' (BABA) requirements," the agency wrote in February. The NTIA is in charge of writing the rules for the allocation of more than $40 billion in Broadband Equity, Access and Deployment (BEAD) program funding.
Sticking to those requirements won't be easy, however, according to some longtime Washington players.
"The country can close the rural digital divide in the next few years, or it can enforce a strict Buy American mandate. It cannot do both," wrote Blair Levin, a nonresident senior fellow at Brookings Metro and a former FCC official, in an April post to the Brookings site.
Related posts:

— Mike Dano, Editorial Director, 5G & Mobile Strategies, Light Reading | @mikeddano
Subscribe and receive the latest news from the industry.
Join 62,000+ members. Yes it's completely free.
You May Also Like
---