 Of all Huawei's various moving parts, its devices business appears to have been hurt the most by trade sanctions. As US measures bit, Huawei last year shipped about 188 million phones, a drop of 21% from the 2019 figure, according to Counterpoint Research. Cut off from Google's software and TSMC, one of its main chip suppliers, Huawei's gadgetry has undoubtedly suffered.
All that makes its latest transparency somewhat curious. For the first time, Huawei has provided a forecast for licensing revenues and said how much it will charge in royalties for a 5G smartphone. Between 2019 and 2021, it expects to generate between $1.2 billion and $1.3 billion in licensing revenues. Henceforth, royalties will be capped at $2.50 per device.
Figure 1: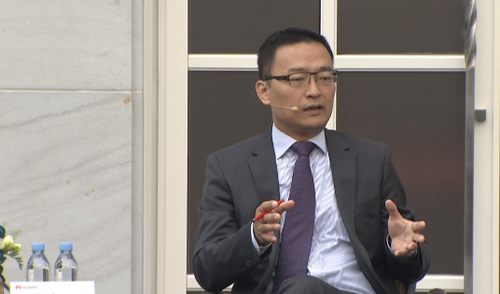 Jason Ding, Huawei's intellectual property chief, reveals its royalty rates in Shanghai.
During an unusually longwinded press conference, broadcast live from an outdoors venue in sunny Shenzhen, Huawei insisted that only now – with commercial rollout well underway – can it assess its own importance to the 5G standard. Executives also drew attention to a European Union ranking of the world's biggest investors in research and development. Last year, Huawei ranked third, behind only Google and Microsoft.
Licensees and licensors

And yet, for a company so proud of its 5G muscle, Huawei seems to make considerably less from technology licensing than any rival. Ericsson last year alone generated about $1.2 billion in revenues from licensing intellectual property rights, according to its latest annual report, while Nokia made €1.4 billion ($1.7 billion) from patent and brand licensing in 2020. As for Qualcomm, it pocketed an astonishing $7.2 billion in licensing revenues during its last fiscal year. Huawei made just $1.4 billion between 2015 and 2019.
The same gap exists for royalty rates. Huawei's cap of $2.50 per 5G device is much lower than the €3 ($3.60) ceiling that Nokia advertised a couple of years ago. Qualcomm demands 2.275% of the selling price of a 5G phone. Back in 2018, in a discussion about 5G device rates, Meyer-Dulheuer MD Legal Patentanwälte PartG mbB, a German law firm, said Qualcomm would typically receive about $13 in royalty payments for a modern smartphone.
The figures released by Huawei, and the timing of its announcement, point to a very different approach from its Western rivals as well as the recent challenges. Importantly, while Ericsson and Nokia collect more in licensing revenues for their standard-essential patents (SEPs), neither has to worry about a large handset business.
"Huawei uses SEPs more to leverage leadership in the smartphone market," says Tim Pohlmann, the CEO of a market-intelligence firm called IPlytics. "The main goal is selling phones, not licensing 5G in SEPs. And that has become more difficult with the US ban."
Because of its smartphone division, Huawei is likely to have a much larger royalties bill than Ericsson or Nokia, both of which quit the device-making business years ago. Even if some royalties are charged on mobile infrastructure, the market for radio access networks generates only about $30 billion annually. The market for smartphones is worth about $400 billion, according to one estimate. Suddenly happy to share details of licensing revenues, Huawei did not disclose its licensing costs in today's update. But charging heavily could upset other patent owners that make phones.
Want to know more about 5G? Check out our dedicated 5G content channel here on
Light Reading.
The main ones, according to Pohlmann, would be Apple and Samsung. Typically, an accommodation would be reached with these companies under which both parties cross-license their technologies and payments roughly cancel out. These considerations, and Huawei's efforts to build bridges with the West after the mayhem of the Trump presidency, make Pohlmann doubtful that Huawei will turn aggressive licensor.
Figure 2: 5G patent ownership shares multiplied by essentiality rate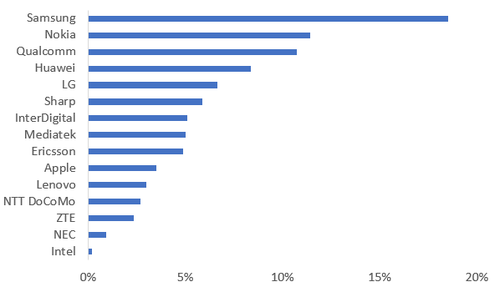 Source: IPlytics.
For all the mainstream news chatter about Huawei's control of 5G, recent data published by IPlytics tells a different story. In a report that came out last month, it put the Chinese vendor's share of essential 5G technology patents at roughly 8%, behind Samsung, Nokia and Qualcomm. Not even Samsung, the front runner, controls more than a fifth of the important intellectual property, according to IPlytics. Given this relative balance between the industry's big players, none of them could easily produce outrageous demands.
IPlytics is not the only firm that looks at this topic, and others have awarded higher status to Huawei. One advantage IPlytics has over certain rivals is timeliness. Its latest report considers declarations made in recent weeks. Back in 2018, when some of the studies were done, a huge number of those declarations were still pending, says Pohlmann. Important as it may be to the 5G standard, Huawei is not the dominant patents force some would have the world believe.
UPDATE: This story has been updated since it was first published to correct the location of the press conference (Shenzhen, not Shanghai), and to include details of Huawei's historical licensing revenues and Qualcomm's royalty rates.
Related posts:
— Iain Morris, International Editor, Light Reading
Subscribe and receive the latest news from the industry.
Join 62,000+ members. Yes it's completely free.
You May Also Like
---