Under Rajeev Suri, its last boss, Nokia was always a bit cagey about discussing job cuts. Analysts and reporters had to wait until the publication of the Finnish vendor's annual reports to see the workforce damage caused by restructuring. Pekka Lundmark, Suri's successor, is not for hiding the ugly truth. In the full spirit of transparency, Nokia today revealed that between 5,000 and 10,000 jobs will disappear from its books over the next 18 to 24 months.
That would leave Nokia with between 80,000 and 85,000 employees worldwide as it tries to boost margins and restore 5G competitiveness. The hope is that job cuts will slash about €600 million ($717 million) off annual expenses by the end of 2023. Nokia intends to pump much of that into research and development, potentially reversing a three-year decline in total investments as rivals have upped expenditure. It is also clinging to its target for an operating margin of between 7% and 10% this year, after reporting one of about 9.7% in 2020.
Lundmark the axeman

Hefty as these cuts sound, a big question is whether they go far enough for Nokia to hit that target. As Light Reading first reported earlier this month, Nokia has already cut about 11,000 jobs in the past two years to realize annual savings of just €500 million ($597 million), its 2020 annual report shows.
On a non-IFRS basis, its operating margin did rise about one percentage point last year, even though like-for-like sales dropped 4%, to about €21.9 billion ($26.2 billion). But Nokia also cut its R&D expenses by around €450 million ($538 million) last year, a reduction of almost 10%. This year, moreover, it is forecasting further shrinkage in sales, to between €20.6 billion ($24.6 billion) and €21.8 billion ($26 billion).
Figure 1: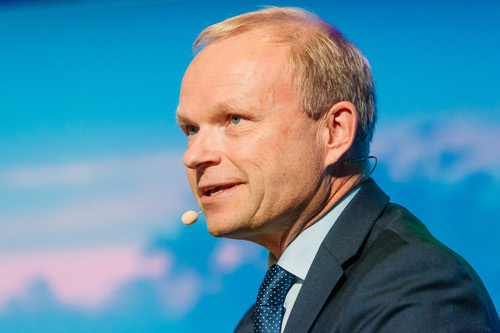 Full disclosure: Nokia CEO Pekka Lundmark has been upfront about job losses.
To cut only a few thousand jobs while simultaneously boosting R&D investments and delivering an operating margin of at least 7% will be tough. Nokia's schedule is for half the job cuts to happen this year, 15% in 2022 and the remainder in 2023. On top of that, the whole program is initially expected to cost between €600 million ($717 million) and €700 million ($836 million). And Nokia still expects another €500 million ($597 million) in "cash outflows" related to its last restructuring program.
The 7% is probably not sacrosanct. Lundmark has already indicated a willingness to do "whatever it takes" to regain its 5G mojo. In that market, Nokia clearly languishes in third place behind Ericsson and Huawei after it previously chose not to invest in customized silicon for its 5G radios but instead make use of expensive programmable chips. That decision proved costly, eroding margins and competitiveness, and Nokia is now partway through a strategic U-turn it does not expect to complete until the end of next year.
Figure 2: Job totals at equipment vendors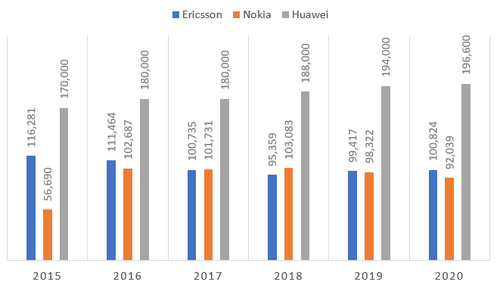 Source: Companies.
There was no indication in today's announcement that this turnaround might be accelerated. What Nokia did promise was an increase in R&D spending at its new-look network infrastructure business, which houses the fixed, Internet Protocol and optical divisions. At the cloud and network services business, meanwhile, it talks of "refocusing R&D resources to emerging growth opportunities." The takeaway is that Nokia's vast buffet of fixed, mobile and software products means it needs a lot of chefs for its kitchen.
So far, however, there has been little talk of divesting assets, as Ericsson did a few years ago when it was in similar trouble. Besides improving transparency, Lundmark's decision to put mobile in a separate business unit would make selling parts of Nokia much easier, as would his dismissal of the "end-to-end" strategy favored by Suri. Unlike his predecessor, Lundmark does not believe most customers want to buy everything in one go from the same vendor.
An R&D resurgence is needed

Divestment activity aside, any wise long-term investor should prioritize an increase in R&D spending over this year's profitability targets. Nokia's total budget fell from about €4.8 billion ($5.7 billion) in 2018 to less than €4.1 billion ($4.9 billion) last year. And concealed from analysts under Suri was the pain felt on the mobile side, where Nokia generates almost half its revenues. Lundmark's rejigging should make this visible in future. But the overall trend looks bad when mobile-focused Ericsson is spending more each year. In 2020, the Swedish company's investments rose 2%, to about $4.7 billion.
Want to know more about 5G? Check out our dedicated 5G content channel here on Light Reading.
In the meantime, both companies are dwarfed on the R&D side by Huawei, their Chinese nemesis. Yet to report annual figures for 2020, and with a much broader range of interests than Nokia, it previously pledged to invest as much as $20 billion in R&D last year. Its latest figures on the size of its workforce are a worry for Westerners. Despite all the pressure it has felt from US sanctions and European government bans, staff numbers have risen from 180,000 at the end of 2017 to roughly 196,600 last December, it claims.
A closer investigation reveals that Huawei has also been cutting jobs – just not in R&D. In 2019, it boasted a workforce of 96,000 R&D employees and 98,000 in other areas. Last year, there were 105,000 in R&D and fewer than 92,000 elsewhere. Huawei's critics will continue to question the veracity of its statements as a Chinese company and wonder how its margins can remain healthy after such a recruitment frenzy. For Nokia, at least, the backlash against it has brought a smidgen of relief.
Related posts:
— Iain Morris, International Editor, Light Reading
Subscribe and receive the latest news from the industry.
Join 62,000+ members. Yes it's completely free.
You May Also Like
---