How one MVNO found success by selling landline phones
How one MVNO found success by selling landline phones
Community Phone first launched in 2018 with plans to offer snappy smartphones. However, 'we were forced to give up on our own ideas to build a sexy cellphone company,' said the company's founder.
Community Phone launched its first MVNO service in 2018 on Sprint's mobile network with plans to offer snappy smartphones paired with helpful customer service via pop-up retail stores. But according to Community Phone Founder and CEO James Graham, the COVID-19 pandemic completely upended that strategy.
"We watched years of progress wash away almost overnight," he told Light Reading recently, as retail sales ground to a halt in early 2020.
The company needed to pivot, and it needed to do so quickly, Graham explained. But how could a brand new MVNO stand out in a crowded and cutthroat wireless market filled with big brands ranging from Verizon to Mint Mobile to Xfinity Mobile?
"It was a slow realization, and then it was all at once," Graham said.
He explained that his company's previous offering was well received among the employees of some big retail stores. And he discovered in talking to them that what they really wanted was a stationary phone inside their stores – one that wouldn't get lost or misplaced. However, the US telecom industry's general move away from traditional copper-based landline phone service and toward technologies like VoIP – which require Internet connections – made such phones increasingly hard to manage.
"This is happening to tens of millions of Americans, and businesses, all over the country," Graham said. "It's an important issue."
He explained that, for older Americans who might have trouble adapting to new phones and calling services, the situation is even more pressing. "It was a very different type of problem that the customers had," he said.
And that's when today's version of Community Phone was born.
Out with the new, in with the old
In 2021, Community Phone began selling what is essentially a mobile phone that's designed to connect to a landline phone. The gadget provides the same calling experience as a standard landline phone – complete with a dial tone – but routes the calls directly through a mobile network. All the device needs is a power jack.
Figure 1: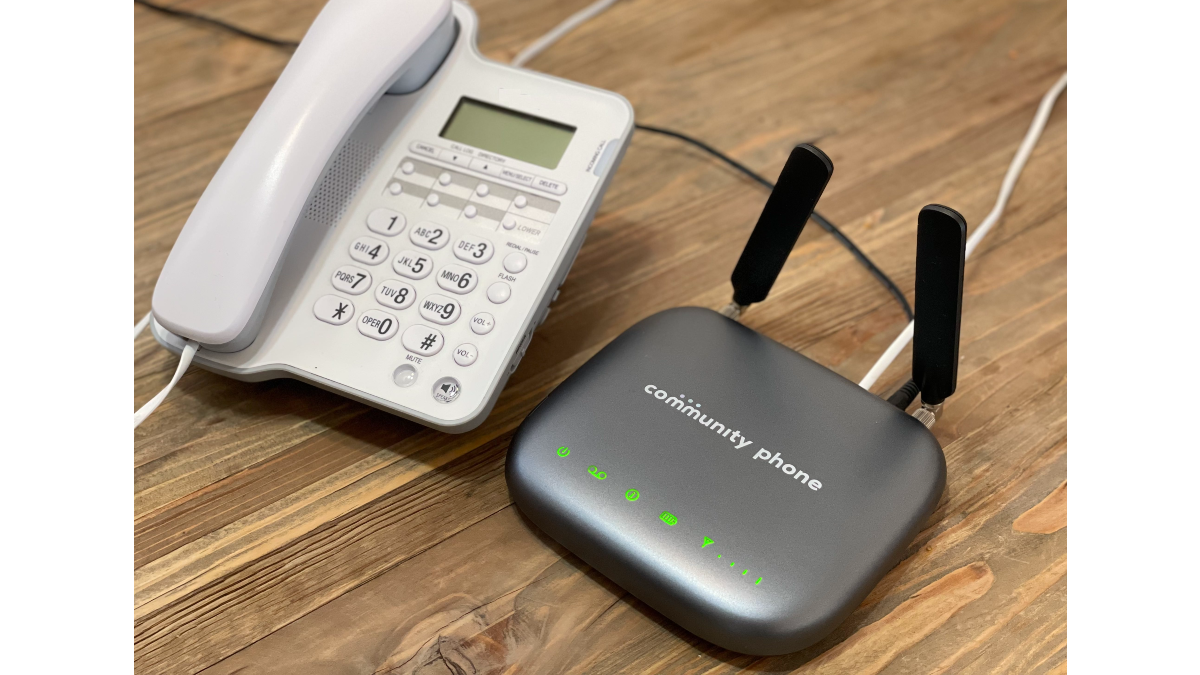 The Community Phone receiver base, on the right, plugs into power and connects to a mobile network. Users can then plug their existing, landline phone into the device in order to continue making traditional landline calls.
(Source: Community Phone)
"We were forced to give up on our own ideas to build a sexy cellphone company," Graham said.
He said that when the company began selling the new landline phone receiver, it recorded more sales in one day than it had in the previous several weeks.
Today, Graham said Community Phone counts "thousands" of customers, though he declined to provide specifics. He said he expects the company to grow to "hundreds of thousands" of customers in the next several years. Those customers are primarily in retail stores like Starbucks and 7-11s, or are older users keen to retain their existing landline phones amid operator moves to VoIP calling.
Graham wouldn't disclose Community Phone's finances or fundraising efforts, but suggested the company is able to grow organically via the money it makes from customers. Community Phone offers standard calling services for around $40 per month, in addition to other text messaging and call-forwarding services.
Graham also wouldn't discuss his company's MVNO partner or partners, but said the company works to ensure its customers will have suitable mobile coverage before sending them a receiver.
Community Phone's efforts come at an interesting time in the US telecom industry. Most big telecom companies are working to add more bells and whistles to their calling services, rather than supporting customers' existing phones. For example, T-Mobile is working to upgrade its mobile network to Voice over 5G (VoNR) calling technology, while Verizon recently announced its mobile devices can now work with Microsoft Teams "for easier calling and collaboration." Meanwhile, wireline operators like AT&T are working to shutter their aging copper network and replace portions of it with fiber.
Further, MVNOs like Community Phone – companies that essentially piggyback on the mobile networks of operators like AT&T, Verizon and T-Mobile – have been in the spotlight recently. For example, Comcast, Charter and other cable companies are working to launch and expand their own MVNO offerings, while Dish is working to stem the loss of customers from its Boost Mobile MVNO. Just this week Bloomberg reported that T-Mobile is eyeing the purchase of actor Ryan Reynolds' MVNO Mint Mobile.
Related posts:

— Mike Dano, Editorial Director, 5G & Mobile Strategies, Light Reading | @mikeddano
Subscribe and receive the latest news from the industry.
Join 62,000+ members. Yes it's completely free.
You May Also Like
---