 The 5G core is a vital part of the 5G system and is essential to enable 5G standalone (SA) operation and associated services. In a 5G network, the core is based on the service-based architecture specified by 3GPP and is typically deployed on a cloud infrastructure. The transition from appliances and virtual network functions used in 4G core to a cloud native 5G core requires deep technical expertise in infrastructure, an understanding of cloud native network functions (CNFs) and experience in "NetOps" and lifecycle automation.
To investigate how operators are thinking about 5G core technology and services, Heavy Reading has published its new 5G Core Networks Operator Survey. To download a free copy of the analyst report, click here (registration required).
One area the survey investigates is how service providers view the consolidation of 5G core workloads onto a cloud infrastructure platform. Asked if they expect to operate a common platform for both the core and edge environments, about half (53%) say they will operate "a mixed environment depending on scenario." But as the figure below shows, about a third (34%) believe they "will mostly use a common platform at core and edge."
Figure 1: Will your organization operate a common cloud infrastructure platform at both the core and edge environments?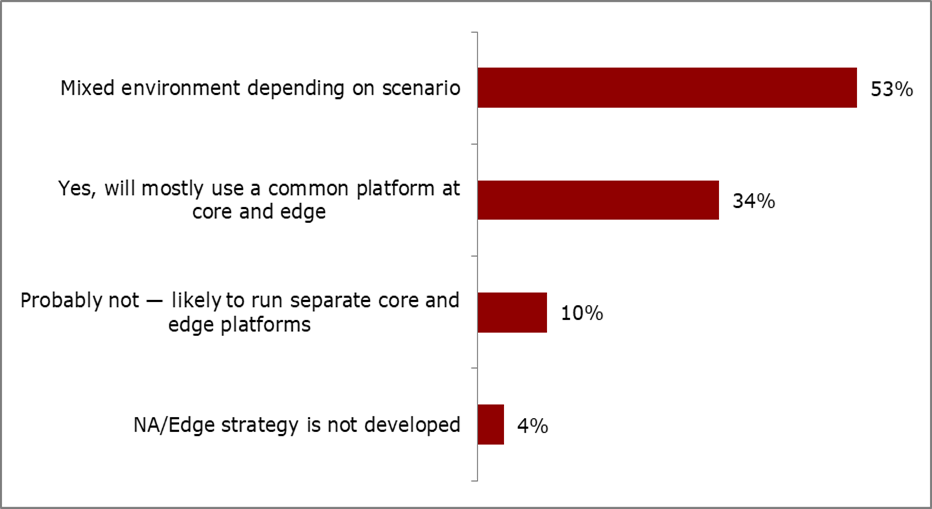 n=83
(Source: Heavy Reading)
At face value, there are clear advantages to consolidating on a single cloud platform because it reduces overhead related to interoperability, testing and maintenance and simplifies ongoing operations. This explains why only 10% are "likely to run separate core and edge platforms."
But might we have expected a larger number than 34% opt for a common platform? Why did 53% anticipate a mixed environment? The answer probably lies in the specific scenarios the respondent has in mind.
One factor is that edge and core are different and have different requirements. A good example is virtualized radio access networks (vRANs) at the edge, where several high profile service providers are publicly known to use a different cloud infrastructure stack than in their centralized data centers (where core functions typically reside). This can be for operational reasons, for real-time performance reasons, because of environmental hardware requirements (servers may need to be ruggedized, for example) or simply because RAN function vendors are currently optimized for a different technology stack.
The same kind of diversity can be anticipated at the enterprise edge. As service providers deploy 5G network access and/or private network services to these locations, they will need to place assets into diverse facilities for diverse customer types and applications. Inevitably, they will have to deal with multiple platform environments.
Over time, however, as 5G core functions such as user plane functions (UPFs) and related security functions are distributed toward edge sites or to enterprise customer sites, service providers will need ways to manage CNFs holistically. A common platform deployed on diverse hardware is ideal, but where that is not practical, common tooling and "DevSecOps" methodologies can help improve operating efficiency.
Sustainability is another reason to drive toward common platforms. The survey also revealed that the leading initiative to reduce energy consumption in the 5G core is to "move as many functions as possible to a common platform," as identified by 52% of respondents (see: Energy efficiency in the cloud native 5G core).
For several reasons, then, 5G core workload consolidation is an important area to watch.
— Gabriel Brown, Senior Principal Analyst – Mobile Networks & 5G, Heavy Reading
This blog is sponsored by Red Hat
Subscribe and receive the latest news from the industry.
Join 62,000+ members. Yes it's completely free.
You May Also Like
---