Automakers' shifting strategies could open doors for 5G providers
Automakers' shifting strategies could open doors for 5G providers
GM is moving away from Apple CarPlay and Android Auto in some of its vehicles in the future. That could create another opportunity for 5G providers to sell their connections. General Motors (GM) – one of the world's biggest automakers – recently said it would move away from Apple CarPlay and Android Auto in some of its vehicles in the future.
The move is just the latest indication that some automobile companies are looking to recapture more control over drivers' experiences. And that trend, according to some analysts, may well create some significant opportunities for 5G network operators in the US and globally.
"Connectivity will define the in-vehicle experience from GM. That means a lot higher degree of data exchange between vehicles and the network – probably evolving toward 4GB to 8GB a month, up from 100s of megabytes in the past," wrote analyst Roger C. Lanctot, of TechInsights, in response to questions from Light Reading.
It's worth noting that GM in 2021 said it would connect millions of its cars in the US to AT&T's 5G network in the years to come. Further, earlier this year, AT&T announced it would revive its "Connected Solutions" business unit to navigate the intersection between 5G and the Internet of things (IoT). Connected cars will be the operation's first area of focus.
Taking back control
GM made waves late last month when it announced that its upcoming lineup of electric vehicles won't support iOS and Android smartphone projection systems. Instead, it will run a Google-made infotainment system featuring Google Maps, Google Assistant, Spotify and other apps running natively in the vehicle's display.
Figure 1: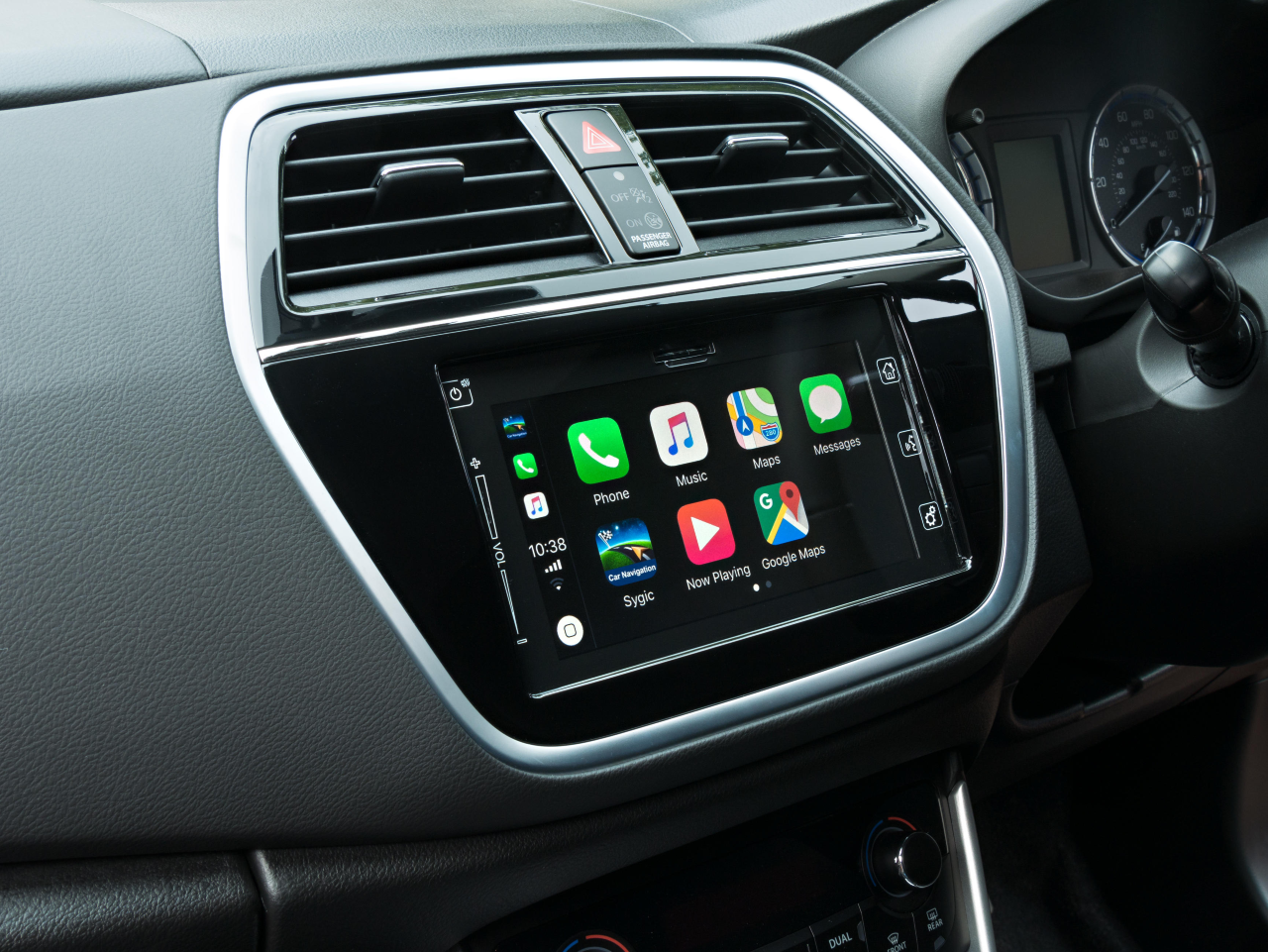 Apple Carplay is a smartphone-mirroring service that essentially projects the content of an iPhone onto a car's dashboard.
(Source: Tekimageon/Alamy Stock Photo)
It's a noteworthy decision considering automakers – and 5G network operators – cannot make any additional money from smartphone-mirroring services such as Apple CarPlay and Android Auto. Those services essentially piggyback on users' existing smartphone connections. But an infotainment service provided by GM would presumably use the 5G connection installed in GM's automobiles – and that's typically billed as an extra line of service for the driver. The cost of the connection could also be bundled into the cost of the car itself.
"It is no surprise that car companies like GM, Mercedes, VW and others are somewhat hostile to connecting phones in cars – smartphone mirroring," Lanctot, of TechInsights, wrote. "Some car makers even resisted this, such as Toyota. But most gave in and realized – after about 10 years – that they were losing touch with and control of their customers and of the in-vehicle experience. They want to take that back and are willing to pay the price of connectivity to do that."
Semicast Research's Colin Barnden agrees.
"CarPlay and Android Auto may be wildly popular, but they provide an 'in' to the vehicle which make automakers nervous. Why would automakers want to share their customer experience with mega-tech companies?" wrote Colin Barnden, a principal analyst at Semicast Research, in a recent LinkedIn post.
Indeed, Barnden pointed out that a shift away from Apple CarPlay and Android Auto could open the door to alternative products from the likes of Qualcomm. "Part of Qualcomm's brilliant digital cockpit strategy was to see this threat as an opportunity, and to build a tech ecosystem which the automakers will trust," Barnden wrote.
It's worth noting that Qualcomm's core business involves selling 5G chips to smartphone makers like Apple and Samsung. As a result, the company is a partner to 5G network operators hoping to get more 5G gadgets onto their networks.
A widening, complex opportunity
To be clear, GM's latest move isn't the only one that could have an impact on 5G operators. BMW, Ford, Mazda, Polestar, Rivian, Tesla, Volkswagen and Volvo have all removed AM radio options from their electric vehicles. Some, like Lanctot, believe that FM radio might be next.
"If GM and Mercedes can turn away from Apple, dropping broadcast AM/FM radios may no longer seem so far-fetched. Cost and complexity for software-centric in-vehicle systems have soared to such a degree that the auto industry appears to have entered an all-bets-are-off phase," Lanctot wrote in a LinkedIn post. "Nothing is sacred any longer. No system in the car is sacrosanct, especially as regards the infotainment system."
Perhaps not surprisingly, the National Association of Broadcasters is conducting a campaign against the removal of AM radio.
In place of those free, over-the-air services, automakers could turn toward revenue-generating services delivered over a 5G connection, whether that's TuneIn, Spotify or some other streaming app. "Tesla made this decision a long time ago – your Tesla more or less has to be connected and you more or less have to pay at least $10 a month," Lanctot explained.
Could video streaming be next? Possibly. Prior to selling its media business, AT&T made a loud announcement about HBO Max services for its connected car customers. Services started at $20 per month.
But there are other options out there besides 5G. "ATSC 3.0 technology – which will require additional hardware and software – looks attractive not only for bringing free over-the-air digital video to vehicles but also for datacasting opportunities (i.e. software updates) and enhanced positioning technology in support of safety systems," Lanctot wrote, pointing to the new TV broadcasting technology. "Also, ATSC 3.0 will deliver something new and novel – free digital TV for cars – a technology that has eluded the electronics industry for decades."
As electric vehicles gain market share – they accounted for 7% of new vehicle registrations in the US in January, according to Axios, up from 4.1% in January 2022 – it's not clear how automobile companies might attempt to change the driving experience for motorists and passengers. Presumably they'll be looking for technology partners that can give them a profitable edge rather than push them to the background.
Related posts:

— Mike Dano, Editorial Director, 5G & Mobile Strategies, Light Reading | @mikeddano
Subscribe and receive the latest news from the industry.
Join 62,000+ members. Yes it's completely free.
You May Also Like
---