 AUSTIN, Texas -- Big Communications Event -- The race between AT&T and Verizon to be first with 5G trials kicked up a notch Tuesday when an AT&T executive said the company will start a 5G trial with "friendly" customers by the end of this year.
AT&T Labs will deliver a "multi-gigabit, fixed" test with friendly users "by the end of the year," Dave Wolter, AT&T assistant VP of radio technology and architecture, said at his keynote here at BCE 2016. AT&T has previously said that it will do mobile 5G field trials with pre-standard equipment in 2017. It intends to move to tests with 28GHz millimeter wave equipment around the end of this year. (See AT&T 5G Trials to Start With Fixed 15GHz Tests and AT&T Plots Mobile 5G Tests in 2017.)
Verizon Communications Inc. (NYSE: VZ) is expecting to start its own 5G pilot with friendly customers sometime in 2017. (See Verizon Will Pilot 5G Fixed Wireless in 2017 and Verizon Hits 1-Gig+ in 5G Trials, Eyes Early Applications.)
Figure 1: AT&T Man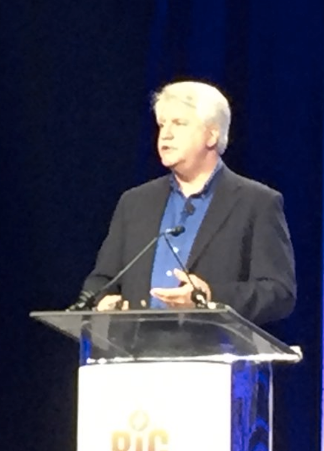 David Wolter
Wolter did not say exactly what "multi-gigabit" speeds would be in the trials. However, his slides said that the Phase 1 5G specification, which the industry is working on defining now, will offer "mobile broadband throughput of 5 Gbps+." Wolter said that the pre-standard millimeter wave (mmWave) radio tests will help AT&T learn about one of the anticipated building blocks of the 5G future.
For all the latest news on 5G, visit the dedicated 5G site here on Light Reading.
"It's a new area for us," Wolter said of mmWave radios. "We don't understand everything we need to know yet."
For AT&T, this will include indoor tests, outdoor tests and finding out how well the radios can broadcast signals from the outdoors inside. This will all help AT&T to understand how deploying millimeter wave in select areas in American cities could work.
The super-fast, high-band signals react very differently from wide-area cellular networks today. Rather than blasting a wide signal, the multiple input, multiple output (MIMO) antennas steer a beam to a specific user over a short range -- think meters not miles -- but can be blocked by walls and other conditions.
"These are going to be very short-range," explains Wolter. "I could turn a corner and lose the signal."
Nonetheless, standardized mmWave radios will be on the menu for the "mobile broadband" Phase 1 of the 5G specification, Wolter expects. He anticipates that the spec will be baked in 2018, with commercial deployment the year after.
"The sexy part of 5G, if you will, is about the high speed," notes Wolter. "But 5G is about more than that."
So Phase 2 of 5G will be about "massive IoT," designing a network that can support millions -- maybe billions -- of new connected autonomous machines in the "sub-6GHz" radio bands.
Wolter readily admits that this will require "careful" and "flexible" radio design to support the differing high-speed and low-power multi-band applications. Still, he expects the Phase 2 specification to be completed late in 2019.
This means, Wolter says, that it will "2020 or 2021" before the public sees "true 5G" really coming together.
— Dan Jones, Mobile Editor, Light Reading
Subscribe and receive the latest news from the industry.
Join 62,000+ members. Yes it's completely free.
You May Also Like
---