AT&T's Arnoldi: 5G Does More Than Quench the Need for Speed
AT&T's Arnoldi: 5G Does More Than Quench the Need for Speed
AT&T's Melissa Arnoldi plans to tell BCE's audience how AT&T's SDN and virtualization strategy will be critical to delivering the capabilities businesses and consumers want from 5G. For consumers and businesses, upcoming 5G networks bring to mind the need for speed -- faster downloads and shorter wait times. But underpinning the promise of speed, low latency and high capacity are software-defined networks and virtualization, says AT&T's Melissa Arnoldi.
During her keynote at Light Reading's Big Communications Event (BCE) in Austin next week, President of Technology and Operations Melissa Arnoldi will address how AT&T Inc. (NYSE: T)'s SDN and virtualization strategy will be critical to delivering the capabilities businesses and consumers are anticipating with the emergence of 5G.
"When you think about the compute processing power that will be needed for such business models or appliances such as AR, VR, autonomous car and robotics -- the computing processing power that will be needed, the reduction in latency and our 'secret sauce' or software will become more critical so you don't have to put all the requirements in the hardware of the network but you can put it in the software," she says.
Figure 1: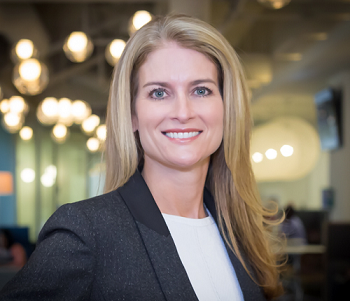 Melissa Arnoldi, President of Technology and Operations for AT&T, will deliver the first keynote the morning of May 15 at BCE in Austin.
Arnoldi will also examine how AT&T's edge computing strategy will address network latency challenges and further the operator's efforts around artificial intelligence and machine learning use cases. One such AI effort by AT&T is Acumos, an AI platform and marketplace aimed at lowering the barrier to entry for AI app development. AT&T partnered with Tech Mahindra Ltd. and the Linux Foundation to deploy the open source platform, which was announced at AT&T Summit last November. (See AT&T's Acumos: Transforming AI Apps From Snowflakes to Lego Bricks.)
While 5G will further enable efforts around machine learning and AI, Arnoldi says data and analytics will also play a central role in driving these technologies, and she will discuss the efforts of AT&T's Chief Data Office in supporting big data analytics for ML and AI use cases.
Want to hear more about the leading operator use cases for AI technologies? Join us in Austin from May 14-16 at the fifth-annual Big Communications Event. There's still time to register and communications service providers get in free!
BCE attendees can also expect to hear new updates on AT&T's progress on both 5G trials as well updates on the progress made in the cities where AT&T plans to launch mobile 5G services later this year in Atlanta, Dallas and Waco, Texas. Read Arnoldi's full keynote presentation description, "5G & SDN Worlds Colliding," here. (See AT&T Reveals Initial 5G Cities and AT&T Rolls Out Faux 5G in 100+ US Markets.)
In addition to AT&T's Melissa Arnoldi, keynoters at BCE include James Feger, vice president of network virtualization at CenturyLink; Mathew Oommen, president of Reliance Jio; Phil Meeks, EVP and president at Spectrum Enterprise; and Jan Geldmacher, president of Sprint Business. Take a look at the agenda here and mark your calendar for their keynote addresses on topics such as 5G, SDN, artificial intelligence, machine learning, digital transformation, IoT and more. We'll see you in Austin next week! (See CenturyLink's Feger: Why Automation Shouldn't Be an Afterthought.)
— Kelsey Kusterer Ziser, Senior Editor, Light Reading
Subscribe and receive the latest news from the industry.
Join 62,000+ members. Yes it's completely free.
You May Also Like
---