 Now that operators and vendors have started to preview the very first 5G devices and smartphones to be available for the next-generation wireless networks, it's time to revisit our review from earlier in the year -- A 5G Smartphone Timeline for 2019 -- and update some key details.
Here's the timeline for the arrival of 5G devices, based on the information we have in early August 2018.
H2, 2018
Verizon Communications Inc. (NYSE: VZ) is expecting to have customer premises equipment (CPE) units and home routers, from Samsung Corp. , available for the launch of its "residential broadband" service, which is expected in the second half of 2018. These will likely be offered as part of the fixed gigabit service, whether professionally- or user-installed, rather than sold separately. (See Verizon's Fixed 5G: A Cable Alternative Is Coming!.)
Figure 1:

Verizon shows off Samsung's fixed 5G gear as it tests units in Basking Ridge, NJ.
Q4, 2018
5G hotspots are expected late in 2018. Notably, AT&T Inc. (NYSE: T) has promised its mobile "puck" as the first device available with the launch of its standards-based mobile system late in 2018. (See AT&T's 'Mobile' 5G: What the Puck? and Qualcomm Unveils New Modules to Power Millimeter Wave 5G for Smartphones.)
Late 2018/Early 2019
Verizon has announced that its first (3GPP) standards-based mobile offering is a Motorola Inc. (NYSE: MOT) Mod 5G radio module, which can be used with the new z3 smartphone (pictured below). Verizon says it will reveal exactly when the module will launch -- and how much it will cost -- later this year. (See Moto Phones Could Get Modular With 5G in Future and Verizon's First 5G Mobile Device? It's a Snap!)
Figure 2: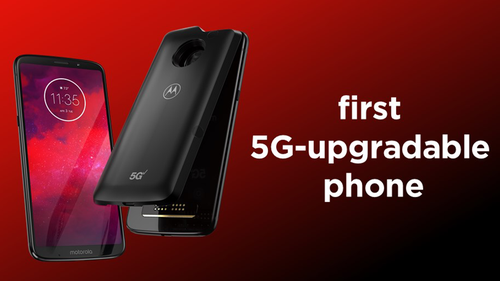 H1, 2019
Full-blown mobile 5G smartphones are expected to be launched in the first half of 2019. Models from Huawei Technologies Co. Ltd and Samsung are expected to be among the first.
Mid-2019
Sprint Corp. (NYSE: S) is promising "always-connected" 5G PCs on its network for mid-year 2019. (See Intel Promises 5G Laptops With Sprint in 2019 .)
Want to know more about 5G? Check out our dedicated 5G content channel here on
Light Reading.
2020-2021
Apple Inc. (Nasdaq: AAPL) isn't expected to deliver 5G iPhones in the first wave of smartphone devices, according to analysts that have shared their views with Light Reading (more on that soon). But the company is working on designs that use multiple frequencies for 5G. (See A 5G Apple iPhone? Don't Hold Your Breath!)
Late 2020-2021
The 3GPP 5G "Phase II" specifications are expected to be ratified at the end of 2019, delivering Internet of Things upgrades to the wireless technology, supporting connected cars and other IoT devices. This will push commercial Phase II-ready offerings into 2020, or further out.
Further reading

— Dan Jones, Mobile Editor, Light Reading
Subscribe and receive the latest news from the industry.
Join 62,000+ members. Yes it's completely free.
You May Also Like
---