The 3GPP specifications group has apparently been forced to delay work on the initial 5G standard, it emerged at a 3GPP meeting in Italy this morning, threatening hold-ups to the launch of 5G services.
The latest development was communicated in Twitter and LinkedIn updates by Peter Clemons, the chief designer of a critical communications specialist called Quixoticity, and appears to have consequences for Release 15, the initial 5G standard, and subsequent updates.
In his LinkedIn update, Clemons said that Balazs Bertenyi, the 3GPP's RAN (radio access networks) chairman, had dropped a "mini bombshell" in Sorrento, where the 3rd Generation Partnership Project (3GPP) is meeting this week, with the announcement that a so-called "functional freeze" for the Release 15 "Late Drop" would not happen until March, three months later than originally planned.
A mini-bombshell dropped by @3GPPLive RAN Chair, Balazs Bertenyi, during RAN Chair Report to SA Plenary this morning in Sorrento: Release 15 Late Drop Functional Freeze pushed back by 3 months until March, requiring a similar 3-month delay in R16. More detail in my LinkedIn post pic.twitter.com/fu08jzhFnN

— Peter Clemons (@PeterClemons11) December 14, 2018
The update comes several weeks after Light Reading uncovered details of a backwards-compatibility problem in the Release 15 standard, with various sources indicating that device chips based on September specifications might not communicate with 5G basestations already in some telco networks. (See Exclusive: Early 5G Network Gear Won't 'Talk' to Device Chipsets.)
The 3GPP subsequently confirmed the move by forwarding a copy of Bertenyi's presentation to Light Reading (see graphic below).
Figure 1: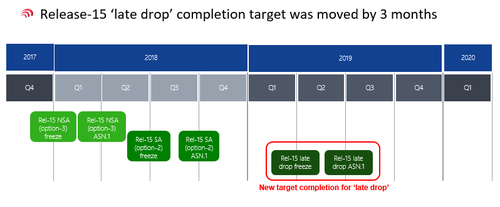 Source: 3GPP.
Answering questions from Sorrento via LinkedIn, Clemons said most of the reasons for the delay were "simply administrative" and that "Release 15 (Phase 1) has been very challenging for the 3GPP community" because of the sheer workload it has faced.
One problem appears to have been a lack of coordination between the different 3GPP technical specifications groups (TSGs) working on the 5G standard -- the SA (service and system aspects), CT (core network and terminals) and RAN groups -- with Bertenyi apparently complaining there had been no time for a joint TSG coordination meeting in Sorrento.
Clemons said most delegates were sympathetic given the "massive work overload" the 3GPP had encountered during Release 15.
"The enormous amount of work undertaken during Release 15 by RAN 1 and RAN 2 [TSG sub-groups] needs to be coordinated with SA 1 and SA 2, with CT also having a really hard job to make sure that rapidly changing standards are backwards-compatible and forwards-compatible," he told Light Reading. "The well-reported compatibility issues have played a part but are not as serious, I believe, as some may think."
Want to know more about 5G? Check out our dedicated 5G content channel here on
Light Reading.
It remains unclear whether the "Late Drop" delay will have any serious impact on the launch of 5G services as operators in North America and parts of Asia gear up for commercial deployment. "It might not make much difference in practical terms," said Gabriel Brown, a principal analyst with Heavy Reading, in comments emailed to Light Reading.
With the functional freeze for Release 15 now set to happen in March, an ASN.1 freeze would not happen until June, said Clemons. When it comes to Release 16, a functional freeze is now scheduled for March 2020 and an ASN.1 freeze for June 2020. The RAN TSG, meanwhile, aims to approve a "package" for Release 17 in December next year.
The 3GPP defines ASN.1 as covering "certain protocols between the network and the UE [user equipment], or between network nodes." Anything outside this category is considered a "functional" requirement.
3GPP New Radio (NR) specifications were originally frozen in December 2017 in a controversial move to accelerate 5G development. Under previous plans, the 3GPP had aimed to freeze NR specifications in mid-2018. (See 5G Is Official: First 3GPP Specs Approved, 3GPP Approves Plans to Fast Track 5G NR and 3GPP Likely to Fast Track 5G NR Specs This Week.)
During an earlier conversation with Light Reading about the 5G backwards-compatibility issue, Jane Rygaard, the head of mobile networks marketing for Nokia Corp. (NYSE: NOK), said the industry had been trying to move a lot faster than it had on previous mobile standards. "Adjustments that are happening the specifications will have a bigger impact because people have been used to getting it when it is baked and ready," she said.
— Iain Morris, International Editor, Light Reading
Subscribe and receive the latest news from the industry.
Join 62,000+ members. Yes it's completely free.
You May Also Like
---