4:00 PM -- While the Long Term Evolution (LTE) spectrum auction in the U.K. has been delayed for years due to mobile operator squabbling and unresolved technical issues, one operator is already running a live 4G network in London, and Light Reading Mobile saw it in action today. (See Britain's Bloomin' LTE .)

That operator is UK Broadband Ltd. , a subsidiary of Hong Kong's PCCW Ltd. (NYSE: PCW; Hong Kong: 0008), and it is doing something a bit different with its 4G network: Using network and customer premises equipment from Huawei Technologies Co. Ltd. , the operator has deployed a Long Term Evolution Time Division Duplex (LTE TDD) network in the 3.5GHz and 3.6GHz frequency bands, which is spectrum that it had previously acquired to provide WiMax services in the country. (See UKB Turns On LTE TDD.)

UK Broadband's 4G offering won't be mobile, though. Rather, it will be a fixed broadband replacement service, and it will be available to individual or business retail customers as well as other service providers on a wholesale basis. The operator said it will launch commercial prices for the service in the next four weeks.

So far, the network comprises five macro base stations located in the London Borough of Southwark, and the operator plans to have nine base stations operational by the end of June.

Click on the photo below and use the arrows to navigate and see how the new 4G network compared to the 3G networks of Vodafone UK and Three UK .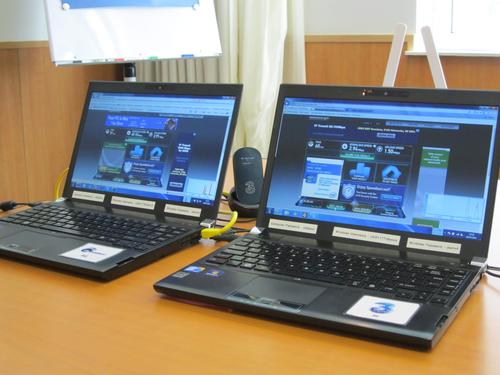 — Michelle Donegan, European Editor, Light Reading Mobile