 When I started my career as an intern at Telephony magazine just over eight years ago, I was thrilled at the prospect of gaining (through a family friend) an exclusive interview with Sprint CEO Gary Forsee, and making a name for myself.
But a few months later, Forsee resigned (or was pushed), crushing my interview ambition. But there was soon a new interview target (though without the quasi-nepotistic connections) as Dan Hesse took over as top dog at my hometown carrier.
From his first black-and-white commercial and his emphasis on network harmonization and customer service, Hesse promised to turn the struggling carrier around.
And, in many respects, he succeeded. The company he is handing over to new CEO Marcelo Claure is much different than the mess of networks and brand confusion he inherited, even if many challenges still remain. (See Sprint Appoints Claure As New CEO and Hesse Out, Claure In: Sprint Is Son's House Now!.)
It was often messy, but during his tenure, Hesse shut down Sprint's old Nextel network, pivoted the company from WiMax to LTE, and -- his biggest accomplishment -- negotiated Sprint's acquisition by SoftBank Corp. , netting it the cash and leadership it needed to continue its Network Vision (although ultimately getting himself ousted in the process). (See Softbank Closes on Sprint Acquisition.)
"Dan Hesse walked into a very, very difficult situation," says Interactive Broadband Consulting Group LLC (IBB) Senior Partner Jefferson Wang. "From a network perspective, it was Nextel at low-band, Sprint at mid-band, WiMax at high-band. There were two different headquarters -- Reston, Virginia, and Overland Park, Kansas. It was a company with dual identities. He had to unify and harmonize all that, which took a lot of strong, decisive decision making. That is what he was great at."
For more on the key developments in the US mobile sector, check out the stories at Light Reading's dedicated mobile channel. As we bid Hesse adieu and wish him and his reported $40 million severance package well, we take a look back at some of our favorite moments with the outgoing Sprint CEO, who we'll always remember in all his black-and-white glory. Click on the picture below for more: Figure 1: The Face of Sprint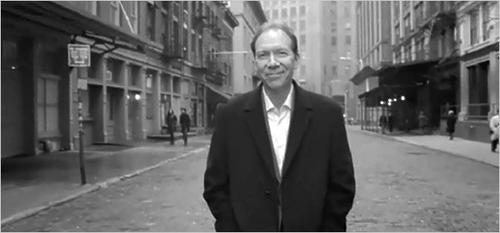 Sprint eventually pulled its black-and-white commercials featuring Hesse, meant to give a face to the brand, but Hesse's celebrity status was already secured. In addition to being a strong leader, Hesse was just a downright likeable guy. Glassdoor named him one of 2014's highest-rated CEOs by employees, even though he was also the highest paid in the wireless industry last year, raking in $49.1 million, including $27.8 million in stock. (See Sprint CEO Hesse to Stay On Through 2018.) Before T-Mobile US Inc. CEO John Legere came around, Hesse's laidback keynotes had the most quips and quotable one-liners. I think Light Reading's own Dan O'Shea summed it up best, when he commented almost a year ago: "Hesse has been in the sector forever, and has proven himself very level-headed over the years, even when hawking fringe-appeal ideas like free space optics. He is the sort of guy who, if he was my neighbor and I was going out of town for a long period of time, I would totally trust him to water my plants, bring in the mail and make sure a few lights were left on every night to make it look like someone was actually there." But, nice guys finish last, as they say, and Sprint is in need of a shakeup, especially as a merger with T-Mobile US is off the table. There has long been talk of the board distancing itself from Hesse under Softbank CEO Masayoshi Son's leadership, so his departure isn't all that surprising, even with a five-year contract in place. (See SoftBank's Son Keeps Sprint on Short Leash.) In a memo to employees, Hesse acknowledged the rocky road Sprint has taken during the past seven years, and reiterated his confidence in the company he is leaving, and in its new leadership. "With the most difficult part of the Network Vision build behind us, Sprint is about ready to begin growing again," Hesse wrote. "A 'controlled entity' like Sprint can be most effective when the majority owner and the CEO are fully aligned and are great partners. Marcelo and Masa enjoy an exceptional relationship, which has grown out of mutual respect between two very successful entrepreneurs. This is the right time in Sprint's evolution for Marcelo to take the reins and get the most benefit from our relationship with SoftBank." IBB's Wang wasn't surprised to hear of Hesse's departure either, as nearly seven years is a long time for any CEO to serve. He praises Hesse for teeing up Son and Claure to make the changes needed to make Sprint a real competitor in the US again. Hesse harmonized the networks, gave Sprint a brand identity, and improved its customer image. Now it's up to Claure and Son to execute, but Wang thinks they're up for the challenge. "If Son is behind it, it will get very aggressive," Wang says. "That's the only way he plays. He plays scale, aggressive price changing, and bringing the industry down to a certain threshold that's difficult if you don't follow… If he has the control in the US market, he'll bring all his assets here and disrupt the disruptor." — Sarah Reedy, Senior Editor, Light Reading
Subscribe and receive the latest news from the industry.
Join 62,000+ members. Yes it's completely free.
You May Also Like
---