Dish Fiber Leads With Managed WiFi
Dish Fiber Leads With Managed WiFi
Dish has accelerated its pursuit of apartment service deals with a new offering that matches raw connectivity with a managed, property-wide WiFi network, IPTV services and, later, IoT capabilities. "Fiber" is right there in the name of a recently launched service from Dish Network focused on apartment buildings, but the offering is leading with a property-wide, managed WiFi capability for both the building owner and the individual residents.
That service, called Dish Fiber, was formally introduced in June. In addition to supplying apartments with raw Internet connectivity (usually with a fiber connection leased from an area provider), the service also layers on the aforementioned managed WiFi piece as well as a "bulk" IPTV tier for all residents and the ability to upgrade to larger IP-delivered pay-TV packages.
The apartment-focused service is a new area for Dish, and builds on the TV services it has tailored for hotels, campus student housing, hospitals and other businesses -- even large facilities like the Denver International Airport.
Under the newer apartment offering, Dish Fiber is "leading with a WiFi product … that then offers video as a layered-on service," said Alistair Chatwin, vice president of Dish Business.
"Internet is the highest-desired amenity" among apartment dwellers, he said, citing data from the National Multifamily Housing Council finding that having access to a solid broadband service is a good 10% ahead of other perks and desires among that group.
Figure 1: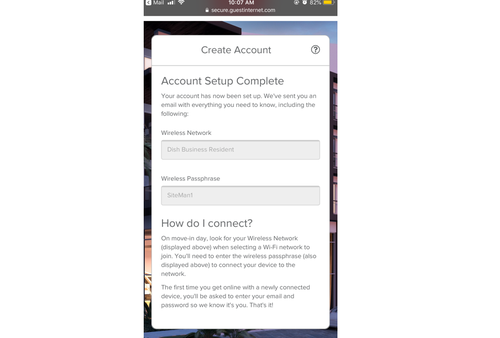 Dish Fiber says its managed WiFi platform enables apartment dwellers to quickly authenticate their devices and connect anywhere on the property-wide network.
One challenge here is that renters are a transient group and rarely stay in one spot for more than two years. With that backdrop, Dish Fiber sees this as an opportunity to work directly with building owners to deliver the raw data connection to the campus and back it with a managed WiFi offering that can be used by the owner and accessible to the apartment dwellers, in their individual apartments as well as common areas like in-building gym, the parking lot and hospitality rooms.
"By approaching the building as the customer rather than the individual resident, we've been able to build out what we call a managed WiFi solution within the whole property."
For the managed WiFi piece, Chatwin said Dish is able to segment and compartmentalize the network in a way that enables residents to connect their individual, authenticated devices using a single SSID and allow those devices to talk to each other without intermingling with devices owned and operated by other residents living on the property. That traffic is also segmented from usage of the building owner.
For guests, renters and building staff, it all looks like a big WiFi network, "but under the covers, there's a software platform that lets us segment by network type or user type," Chatwin said.
A new twist for Dish
It's also a new twist on the apartment market for Dish, which has typically worked with smaller, private cable operators that are usually local. The aim with Dish Fiber is to cast a wider net and target an estimated 16 to 17 million living units that are eligible for the service. Dish hopes that reach capability will bring in larger partners that might operate buildings in multiple regions of the US.
"That's one of the big advantages that we bring -- we come in as a nationwide provider," Chatwin said.
But it's still early days for Dish Fiber. Chatwin acknowledged that Dish, at least from a video perspective, has been a minor player in the apartment arena (it's traditional pay-TV service has been largely focused on single-family homes). Dish Fiber, he said, has signed on "tens of properties" so far.
Dish has also tapped several tech partners to build out this element, including Extreme Networks and Ruckus Networks for access points, switching gear from sources such as HP/Aruba Networks and Cisco Systems, and network management, onboarding and firewall systems from vendors such as WatchGuard Technologies and Eleven.
Dish Fiber is also getting into a competitive space that has drawn more attention from other service providers. Comcast, for example, offers broadband to apartments in its footprint and has adapted its X1 video platform for that market. From the startup arena, Starry is using its millimeter-wave-powered fixed wireless offering to target MDUs and has an expansion plan underway to cover parts of more than 20 US cities.
Video still plays a part
Video and IoT services also have roles to play at Dish Fiber.
Dish is using managed WiFi networks on these properties to distribute a "bulk" IPTV offering with 24 channels (building owners can select them from a list of about 40) available to everyone. Renters can also upgrade to a higher-end pay-TV service (bigger line-ups, premium networks like Showtime, and DVRs and other additional features) by connecting Dish TV receivers to the property's wired network.
Figure 2: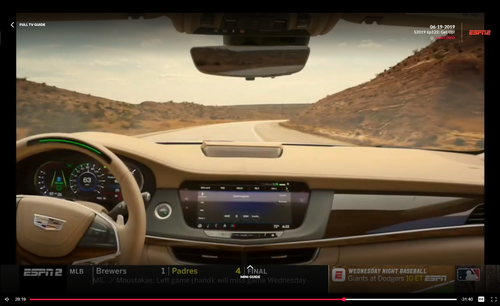 Dish Fiber's IPTV system supports a 'bulk' tier of 24 channels selected by the apartment owner available to all and the ability to upgrade to bigger, more traditional pay-TV packages.
In both of those cases, video is delivered over IP -- the apartment building sources video feeds from Dish via satellite to the company's SmartBox, a commercial-focused video headend that converts those incoming signals to IP and carries them along to the individual apartments on in-building wiring.
On the IoT end of it, Dish Fiber also has work underway to support IoT and smart home services that run on the building-wide network for both residential users and the building owners. In the latter case, the owner would have control of heating and conditioning and lighting and other building functions.
For now, Dish Fiber is telling building owners that the network will be "ready" for such services as that element gets more fully developed, Chatwin said.
Related posts:
Dish Serves 'Fiber' to MDUs Comcast Brings X1 Video to SMBs Comcast Finds More Work for X1 Starry says spectrum wins widen reach to 40M US households — Jeff Baumgartner, Senior Editor, Light Reading
Subscribe and receive the latest news from the industry.
Join 62,000+ members. Yes it's completely free.
You May Also Like
---