Who's Ahead in DWDM?
New figures from market researcher
IDC
have
Ciena Corp.
(Nasdaq: CIEN) crowing about its share of the 2001 long-haul DWDM market (see
IDC: Ciena Leads DWDM
). But the big picture painted by IDC's report is
not
good news.
Ciena captured the leading share of a market that shrank 34 percent below its 2000 level of $8.4 billion. "We've seen a major market contraction," says IDC senior analyst Sterling Perrin. "DWDM had the steam taken out of it, and North America led the downward spiral."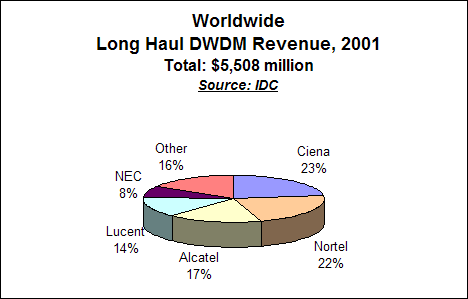 North American revenues dropped from about 70 percent of the market total in 2000 to about 57 percent in 2001, reflecting the region's central role in the telecom slowdown.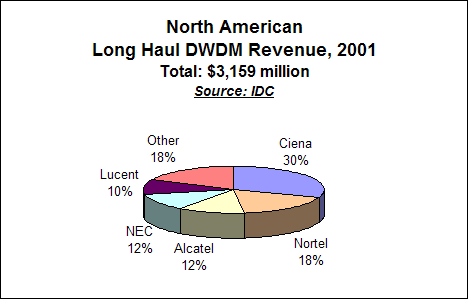 Weakness in the overall market indirectly helped launch Ciena into the top spot by toppling the former market leader,
Nortel Networks Corp.
(NYSE/Toronto: NT).
In 2001, Nortel dropped from claiming roughly $3.4 billion in worldwide revenues, or 41 percent of the worldwide long-haul DWDM market, to showing about $1.21 billion, or 22 percent of worldwide revenues, a bit less than Ciena.
Perrin acknowledges Ciena did well to grow against the backdrop of the telecom recession. In 2000, its share of the worldwide DWDM long-haul market was 10 percent, representing about $840 million in revenues, according to IDC. In 2001, Ciena garnered about $1.3 billion, IDC says.
Ciena's success in 2001 appears to be based in part on business it took from other players, including Nortel. But Perrin maintains that the lion's share of Ciena's revenues came from a handful of its 40-odd customers, which include the big players in telecom. And the growth spurt may not be sustainable. "There are no guarantees for 2002. Some of Ciena's key customers have indicated they won't be spending at the same level this year," Perrin says.
Are better things ahead for long-haul DWDM? Not immediately, according to IDC. Many large carriers have evidently completed their buildouts and won't be buying again soon. But one bright spot may be the Asia/Pacific region, where growth is anticipated by IDC to continue, not contract, over the short term. How well the major players can penetrate that market will likely affect their bottom lines for the next year or so, Perrin maintains.
— Mary Jander, Senior Editor,
Light Reading
http://www.lightreading.com
UPCOMING LIVE EVENTS
June 6-8, 2023, Digital Symposium
June 21, 2023, Digital Symposium
December 6-7, 2023, New York City
All Upcoming Live Events
PARTNER PERSPECTIVES
- content from our sponsors