SAN FRANCISCO -- OFC 2014 -- Name two things that aren't dead. If you said character actor Abe Vigoda and high-performance proprietary switches, you'd be right!
White-box switches, built using commodity components and running OpenFlow software, don't scale and won't replace proprietary switches from Cisco Systems Inc. (Nasdaq: CSCO), Juniper Networks Inc. (NYSE: JNPR), Alcatel-Lucent (NYSE: ALU), and so on, according to Randy Nicklas, executive vice president for engineering and chief technology officer for Windstream Communications Inc. (Nasdaq: WIN). Nicklas spoke at a panel discussion on "The 'IT-ization' of Telecom and Its Implications" here.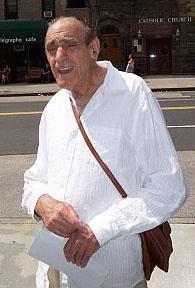 This is either a proprietary
switch or Abe Vigoda.
Either way, not dead.
White boxes don't provide needed packet forwarding, Nicklas said.
White-box switches can work for small service providers. But multifunction, multitenant services need specialized hardware, said Ihab Tarazi, chief technology officer for Equinix Inc. (Nasdaq: EQIX), also on the panel.
White boxes can provide some network functions, such as security, Nicklas said.
"But if you're in the path of high volumes of data -- 100 to 500 ports -- you need high performance," Nicklas told us after the discussion. A typical Internet provider has a point-of-presence in a city and requires high-performance hardware in that PoP. "You won't have enough slots to put 10G cards in a white box."
That said, software is becoming increasingly important to network operations and requires new relationships with vendors and skills from network managers, Tarazi said. Vendors need to become partners, willing to commit to long-term relationships, with robust software for operations and management. For most service providers, the days of just buying cheap, powerful switches are over.
Network managers need to have both networking and software skills, Tarazi said: "You need a new skillset. We call them 'white unicorns.' You can't find them."
Ciena Corp. (NYSE: CIEN) has a headstart there, president and CEO Gary Smith said, noting that over 70 percent of its engineers are software engineers.
Service providers' changing needs change the vendor relationship, Smith said. "Historically, Ciena has been buried deep in the network, and occasionally we stuck our head up and said, 'What's going on?' " But now Ciena needs to be more aware of service providers' business needs. Ciena spends as much time with customer marketing departments as it does with engineers, as well as spending a lot of time with CIOs. (See Ciena CEO: I'm So Excited!)
Replacing proprietary switches with white boxes running open-source is a central tenet of SDN. (See Defining SDN & NFV.) But that's the purist vision. As with open-source movements in IT, purists want to cleanse the city by driving out proprietary infidels (so to speak). Pragmatists look to leverage the advantages of open-source and commodity hardware while continuing to use proprietary technology where it makes sense. (See 6 Degrees of Separation: SPs Define 'Open'.)
— Mitch Wagner,

, West Coast Bureau Chief, Light Reading. Got a tip about SDN or NFV? Send it to [email protected]
---
Want to learn more about SDN and the transport network? Check out the agenda for Light Reading's Big Telecom Event (BTE), which will take place on June 17 and 18 at the Sheraton Chicago Hotel and Towers. The event combines the educational power of interactive conference sessions devised and hosted by Heavy Reading's experienced industry analysts with multi-vendor interoperability and proof-of-concept networking and application showcases. For more on the event, the topics, and the stellar service provider speaker lineup, see Telecommunication Luminaries to Discuss the Hottest Industry Trends at Light Reading's Big Telecom Event in June.
---