IBC2018: What MediaKind Did Next

Comment (0)
AMSTERDAM -- IBC2018 -- MediaKind might not have been granted its full independence from parent Ericsson just yet, but the video networking and media content management specialist has come to IBC with the bullish attitude of a company that's been let off a leash.
MediaKind is the new name for what was Ericsson Media Solutions (but not including the broadcasting services operation Red Bee Media, which remains an Ericsson subsidiary): The Swedish vendor struck a deal to offload 51% of that unit to One Equity Partners earlier this year and is retaining the other 49%. The deal is not quite completed yet, but it's close. And CEO Angel Ruiz and his team haven't been waiting for the lawyers to pick up their M&A fees before pitching the unit as a leaner, hungrier and more focused outfit than it was at the turn of the year. (See Ericsson Rebadges Media Unit, Eyes Smart Cities, M&A.)
With MediaKind's independence still not sealed, Ruiz still can't discuss financials or reveal quite how much slimmer the unit has become in terms of headcount and operating costs. But he's bullish about the company's potential to make money (rather than lose a small fortune, which it has been doing in recent years), as is Andrew Dunn, the managing director of soon-to-be majority owner One Equity Partners. Beyond having cut costs significantly in the run up to the divestment (no figures available, though), there's no indication from the company as to how the business is going to reverse its financial fortunes.
So at the moment, it can offer only fighting talk: As senior VP of North America Sales Steve Payne told Light Reading, under Ericsson the Media Solutions business was focused on "making money… now we're focused on making profitable money."
All involved, though, stress the importance of having Ericsson as a stakeholder and sales channel, particularly as the mobile networking and services sector offers potential new business opportunities, especially as the shift to 5G takes mobile network operators further into the IP networking and cloud platform domains. "The video sector is shifting towards IP-based video and that's different from before," says Dunn. "These guys [Ruiz et al] are ready for that. The opportunity is growing."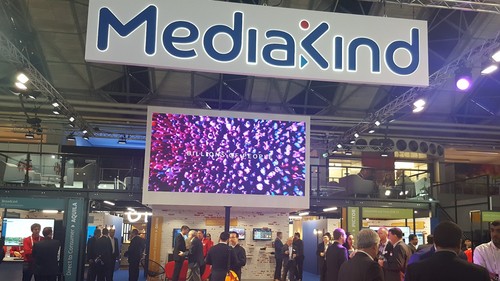 So what is MediaKind up to in the final weeks of its life under the Ericsson flag? It didn't make any major new announcements here, but provided some updates on where it's focusing its efforts:
Cloud partnerships: The company has developed and is investing further in cloud-centric applications, so which cloud services suppliers is it tapping into? CEO Ruiz says the majority of its efforts currently are with Microsoft Azure, but as with any digital company it'll be spreading its load.
Growing its addressable market, maybe with some strategic M&A activity: Video traffic, as we are constantly told, is ramping up at an almost unmanageable pace and all that traffic will need to be managed, secured and delivered, right? Dunn and Ruiz see a great deal of business opportunities from increasing mobile video consumption, particularly as 5G services come online in the coming years, as well as from smart city video management opportunities. And Ruiz is hinting that, once it's independent, MediaKind might just be further developing its opportunities with some strategic purchases. "This market is consolidating and we want to be a consolidator," he told me here. Video platforms, as we have identified, comprise just one of the puzzle pieces in the 5G Big Picture. (See Piecing Together the 5G Big Picture.)
Marketing its refreshed portfolio: In the run-up to IBC the company unveiled its "Universe" portfolio of products that addresses content distribution, networking and delivery, as well as professional services. The announcement is here.
Investing in platform and apps development: Chief Technology and Strategy Officer Mark Russell talked through his Horizon Innovation Suite, which includes the development of a "cloud-native contribution network" and a video platform for smart cities/homes: "We're putting a lot of focus on this … video takes a lot of forms, not just entertainment," said the CTO. The developments also include an analytics platform for content recommendations that enables social media "influencers" to have their content fed into the media stream and have their participation managed and verified using blockchain technology.
Enabling migration to its MediaFirst platform: MediaFirst is the "cloud-native" system developed in recent years, separately from the Mediaroom system Ericsson acquired from Microsoft. Now MediaKind has developed a "client" that will enable the 36 million Mediaroom set-top boxes (STBs) deployed around the world to be managed by the MediaFirst TV platform. In addition, the company has struck a partnership with video software vendor Zodiac to enable other legacy STBs to be upgraded to run MediaFirst courtesy of a software update (no truck roll required). "Our philosophy is that no set-top box should be left behind," stated Ruiz, invoking emotional images of stranded and desperate hardware. Zodiac, not by coincidence, counts One Equity Partners as an investor.
New customer wins: Canada's Cogeco is using MediaFirst for its IPTV service, while triple-play service provider TotalPlay Mexico is using the vendor's Encoding Live video processing platform for its pay-TV service. The company is also still talking up its engagement with Telefónica in 13 Latin American markets, which was announced in April. (See Cogeco Connects With MediaKind on IPTV, Keeps TiVo and Telefónica Tunes to Ericsson for TV Services Upgrade .)

— Ray Le Maistre, Editor-in-Chief, Light Reading