T-Mobile to Play the Customer Care Card With Layer3 TV

Comment (3)
T-Mobile held its latest Un-carrier Next event today and, to the surprise for some people (well, me, anyway), there was no big reveal about how the company will price and package a national OTT TV service fueled by its acquisition of Layer3 TV. (See T-Mobile Stays Vague on OTT TV.)
But what was revealed, particularly in the area of customer service, hints at some of the strategies that T-Mobile will employ when the OTT TV service is launched later this year.
Under the "Team of Experts" program announced today, all T-Mobile US Inc. mobile customers get access to a dedicated team of 30 to 40 people, available 24/7, who are there just to serve them. When customers put in a call, they're to be routed to the team directly, sidestepping the robots or getting transferred and bounced around when they do reach a person. To keep the gluttons for punishment happy, T-Mobile subs can opt to use the automated IVR system. (See T-Mobile Bucks Automation Trend in Customer Service With Latest 'Un-carrier' Move.)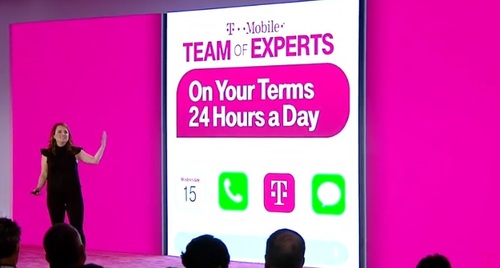 T-Mobile talked this up as providing "Rock Star Status" for its customers. Along that theme, it also announced an exclusive multi-year deal with Live Nation for concert tickets and a partnership to bundle in Pandora Plus for free for a year. No word yet if that also means they'll be providing customers with private green rooms replete with comfy bean bags, top-shelf spirits and buckets of fist-sized shrimp sitting on ice.
But it's pretty clear that T-Mobile will replicate its new Team of Experts program for TV, as T-Mobile CEO John Legere declared that this latest customer service/experience program "is bigger than wireless."
"What better way to make you pant even more for what we're going to bring to TV than to solve the service part of the equation," Legere said. "In the meantime, if you happen to be served by Comcast or Charter, please enjoy what customer service will be for the last few months that you have to deal with them. [There are] more surprises coming."
Though T-Mobile's still mum on details like a launch date and what will actually go into the new OTT TV service, if you're going to drill into a historical weak spot in cable and the pay-TV industry in general, customer care is not a bad one to focus on.
And while the Team of Experts program is new, the general idea of fixing customer service in the pay-TV realm isn't foreign to Layer3 TV , which had a mere 5,000 customers to keep fat and happy when it was acquired by T-Mobile early this year.
From the start, the Denver-based company has prided itself in providing white-glove, concierge-style customer service through all communications channels, down to the techs behind the wheels of its fleet of electric-powered BMW and Tesla vehicles.
Despite efforts by cable operators to improve, the stigma of providing poor customer service has been a tough one for the industry to shake. But will T-Mobile's new program, as it is extended to the new OTT TV product, be enough to draw droves of customers?
It certainly won't hurt its case, but I still believe that how T-Mobile prices and packages its national OTT TV service and integrates it with other digital offerings ultimately will hold more sway with consumers who are looking to make a change or have never given pay-TV a chance in the first place.
TiVo's Online Video and Pay-TV Trends Report for Q4 2017 found that price, by a wide margin, was the biggest influencing factor (87%) in a consumer's decision to cancel pay-TV, followed by use of an OTT-delivered video service (39.7%) and the use of an antenna to get broadcast TV channels (23%).
— Jeff Baumgartner, Senior Editor, Light Reading