Putting a new twist on the importance of viewing data in the age of OTT and multiscreen video, NBCUniversal has pushed ahead with the debut of WatchBack, an ad-supported app that lets consumers sample full TV episodes or smaller chips for free in exchange for data that provides insight into their preferences and online video-watching habits.
In addition to getting free access to a curated mix of content from NBCUniversal LLC and dozens of digital video partners, those viewers are also in line to get some rewards in the form of points that can be redeemed for gift cards from retailers such as Best Buy, Amazon, Macy's, Target and Walmart.
WatchBack is setting up weekly "sweepstakes" to mete out some of those points. According to Variety, the first such sweepstakes, for E!'s new reality show, Ashlee+Evan, will enter viewers into a contest to win points (with a retail value of $100) if they watch the first two episodes before October 8 at 12:00 a.m. EDT. Ten winners will be picked per episode, according to the app.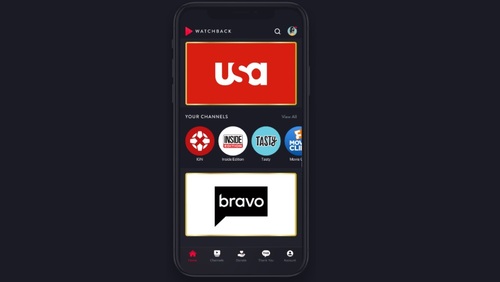 Word that NBCU's new app was in development surfaced in October. At the time, a person familiar with it explained that WatchBack is viewed as a marketing tool that would provide insight into online viewing habits and as a vehicle for NBCU and other content partners to get their shows discovered by an increasingly fragmented video viewing audience. (See NBCU Building OTT Lure to Hook Viewers .)
The WatchBack app, launched on October 5, is initially available on iOS devices, with a version for Android devices expected to follow soon.
In addition to providing access to shows from NBCU's network stable (including E!, Oxygen and CNBC), WatchBack also features content from more than 60 third-party, digital-focused programmers and/or studios such as BuzzFeed, Newsy, Tasty, Mashable, Refinery29 and CollegeHumor.
"The long-term goal of WatchBack is to make it just a little easier for consumers to try out new programs for the first time and create fans for us and our partners," Andrew Hanna, VP of insights and strategy at NBCU, told The Hollywood Reporter, which notes that the app is also Nielsen-measured.
Per the app's fine print, WatchBack is limited to US consumers 18 years or older, and allows for registered users to stream on two devices at the same.
And while one aim of WatchBack is to help consumers discover new content in a curated form, engagement is another. Sweepstakes prizes will expire (in the form of WatchBack prize value) will expire if users are inactive (haven't used the app while logged in) for 90 consecutive days.
With WatchBack reaching iOS and (soon) Android, a big question will be whether the app will be around for the long term and help programmers and OTT video players get a fix on a moving audience that has access to an overwhelming sea of choices, or if the app will merely become a short-lived experiment that will fade soon after the novelty of the idea wears off. (See Verizon's Go90 Shakes Hands With Eternity.)
— Jeff Baumgartner, Senior Editor, Light Reading