Based on the initial wave of Q2 results at Comcast, AT&T and Charter Communications, the rate of cord-cutting for traditional US pay-TV providers is poised to reach record levels, predicts a top industry analyst.
Those three providers shed more than 1.2 million aggregate video subs in Q2, compared to combined loss of just 134,000 in the year-ago period, Michael Nathanson, analyst with MoffettNathanson, explained in a report issued Monday.
"The early read on traditional cord-cutting is freaking ugly," he wrote in an emailed statement, noting that pay-TV subscriber declines have already missed MoffettNathanson's estimates by -450,000 so far during this earnings season.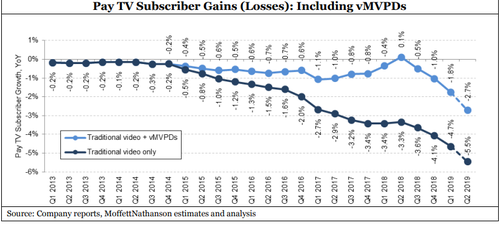 Several other major US providers, including Dish Network, Altice USA and Verizon, have yet to post their respective video damage for Q2. Meanwhile, it's become abundantly clear that OTT-TV services from the likes of Hulu and YouTube are not keeping up with those losses and serving as one-for-one replacements as consumers flee traditional pay-TV offerings in greater numbers.
"As a result of this bloodshed, we are estimating that the rate of traditional cord-cutting will reach -5.5% in 2Q (the worst rate it has ever been) and all-in cord-cutting (adding back the virtual MVPD subscribers) will be -2.7% (again, a new low)," Nathanson explained. "We would expect that this trend will continue to accelerate over the back-end of 2019... Even if Hulu Live TV and YouTube TV crush numbers this quarter, we expect to see a continued acceleration in the rate of Pay TV subscriber declines."
Related posts:

— Jeff Baumgartner, Senior Editor, Light Reading