The best CES interviews take place in the hallways and byways of the Las Vegas Convention Center and its surrounding hotels. Such was the case with Comcast Vice President of Product Development and Planning Scott Boyarsky, who stopped to answer a few questions after participating on a panel at the Parks Associates Connections Summit hosted at CES.
Light Reading: Does Comcast have opportunities for growth outside of the US?
Boyarsky was surprisingly candid about Comcast Corp. (Nasdaq: CMCSA, CMCSK)'s global ambitions. Pointing out market consolidation among service providers in the US, he suggested that it's not strange for Comcast to be looking internationally for new business. "I think if you listen to our executives speak… I think they both [CEO Brian Roberts and Comcast Cable CEO Neil Smit] look at international as an opportunity," Boyarsky said.
He went on to clarify, in response to further questioning, that it's not pressure from Netflix Inc. (Nasdaq: NFLX) that's driving Comcast's strategy. Despite the fact that Netflix is now a global network with service in 190 countries, Comcast's motivations are unrelated to any moves made by the popular OTT provider. Instead, according to Boyarsky, the cable company is looking to expand based on its own business objectives.(See Netflix: The Birth of a Global TV Network.)
What Boyarsky didn't mention specifically is that Comcast already has revenue coming in from outside the US. Shaw Communications Inc. in Canada licenses Comcast's X1 platform and runs its new Free Range IPTV service largely on Comcast's network infrastructure. (See Shaw 'Hatches' Free Range TV.)
Undoubtedly, Comcast is also watching international companies start to play on American turf -- including French operator Altice , which recently acquired Suddenlink Communications and plans to acquire Cablevision Systems Corp. (NYSE: CVC); and Liberty Broadband through its ownership stake in Charter Communications Inc. and its shared Chairman John Malone with UK-based Liberty Global Inc. (Nasdaq: LBTY).
---
Want to know more about pay-TV provider trends? Check out our dedicated video services content channel here on Light Reading.
---
LR: What happens next with 4K and High Dynamic Range (HDR) TV?
"It's delicate," admitted Boyarsky.
Sounding like many of his fellow experts, Boyarsky pointed out that it's difficult to promote any new technology to consumers without much available content to view. However, he also suggested that between 4K TV and HDR, "HDR is where we're going to see [traction]," and it's what will drive momentum for the next wave of video upgrades.
Support for HDR was a common theme at CES. It has the advantage over Ultra HD/4K TV of creating a more noticeable improvement to the human eye, and of not requiring a significant bandwidth increase over traditional HD television.
LR: How does Comcast feel about universal search and discovery in video program guides? These features help consumers find the content they want, but also at times point customers away from Comcast and toward competing services.
Following up on his enthusiastic response to the issue on the Parks Associates panel, Boyarsky clearly stated that Comcast "would be very interested in becoming an interface that would allow discoverability through multiple paths."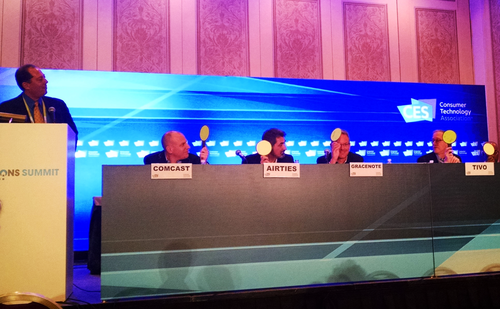 Asked if that might include sharing information about Comcast services with the likes of Netflix and Amazon.com Inc. (Nasdaq: AMZN) or offering details about programming from OTT providers on the Comcast guide, Boyarksky added, "It could."
To get a sense of what a touchy subject this is, consider the fighting that took place at the Federal Communications Commission (FCC) last year about whether pay-TV providers should be required to open up access to their video metadata to outside hardware manufacturers and service providers. It's encouraging to hear from Boyarsky that Comcast is interested in supporting universal search features, but negotiations with potential partners as Comcast seeks to maintain interface control could still be fierce. (See DSTAC Still Seeking Common Ground .)
LR: Comcast continues to invest heavily in TV set-tops and gateways that are leased to subscribers even as many other cable companies now say they'd rather have consumers buy their own hardware. How does this strategy play out for Comcast in the future?
The bring-your-own-device movement, noted Boyarksy, is something "[we] philosophically and strategically struggle with." In part, he explained, the issue is about Comcast wanting to have a physical presence in consumer homes. If consumers buy a streaming media box at the store, there's a relationship with that hardware provider that Comcast has little influence over.
That assessment naturally brought up the question of whether Comcast might consider offering its own retail device in the future. Boyarsky made no commitment, but he did leave the door open to the idea, calling it "a possibility."
Now that would be an interesting development, and definitely a question to follow up on at CES 2017.
— Mari Silbey, Senior Editor, Cable/Video, Light Reading