With Hulu getting ready to launch a cable-competing live TV service, partial owner Comcast, even though hamstrung by merger conditions, isn't sitting still ahead of the frontal assault.
First, Comcast Corp. (Nasdaq: CMCSA, CMCSK) is planning for the day when it can resume an active role in managing Hulu operations. As part of the conditions imposed on its acquisition of NBCUniversal LLC , Comcast agreed to take a back seat in running Hulu, which it co-owns with Walt Disney Co. (NYSE: DIS), 21st Century Fox and Time Warner Inc. (NYSE: TWX). That means, at least theoretically*, that Comcast hasn't had any say in how Hulu develops products, licenses content or even how Hulu might structure a sale of the company, which it considered in 2013. (*See Comcast Merger May Hinge on Hulu.)
However, those conditions expire in 2018, and while that's still over a year away, it's only a short time in the context of corporate boardroom strategizing. Comcast could make life difficult for its Hulu LLC partners after that future date, particularly with regard to how services are priced and how NBCU content is packaged.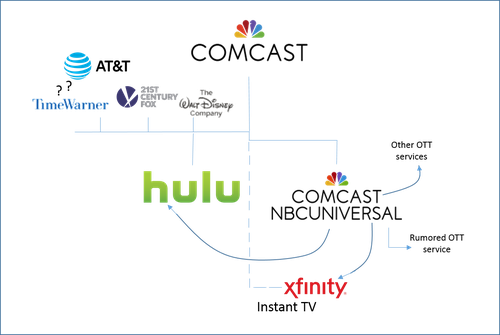 Second, Comcast is getting ready to launch its own online skinny bundle service, Xfinity Instant TV, in the third quarter of this year. Comcast will have to do this very carefully in an effort not to cannibalize revenue from its more expensive video packages. But with pricing starting at only $15 per month, the new service should compete favorably with other low-cost over-the-top TV options, including Dish Network LLC (Nasdaq: DISH)'s Sling TV, AT&T Inc. (NYSE: T)'s DirecTV Now and, drum roll please, Hulu's own forthcoming live TV service. (See The Skinny on Comcast's Skinny Bundle.)
Third, a Bloomberg report has it that Comcast is preparing to produce an additional video service with content aggregated from its own NBCU assets once federal merger conditions no longer apply. This offering would presumably look something like the CBS All Access service and likewise be available nationwide, rather than only in Comcast's footprint like Xfinity Instant TV. However, given the limitations of off-the-record sources, any conclusions about a go-to-market strategy are just speculation at this point. The bottom line is that any online NBC service could detract from Hulu's offering, which has to depend on NBC content as part of its appeal.
---
Want to know more about video and TV market trends? Check out our dedicated video services content channel here on Light Reading.
---
Hulu, meanwhile, is soaking up the media spotlight ahead of its service launch. Although the company hasn't officially announced pricing, TechCrunch reports that sources claim the new live TV offering will ring in at $39.99 per month and will include ads as well as access to on-demand content. The base package won't allow for fast forwarding through commercials like a traditional DVR, but TechCrunch says Hulu is considering a premium bundle that would unlock the feature along with cloud storage for recorded programs.
On Hulu's own promotional site for the new service, the company highlights a number of features, including personalized content alerts, multiple concurrent streams for the entire household and the ability to pause live TV. Hulu markets the offering as "All your TV. One experience."
Hulu has a problem, however. Even after nearly a decade of doing business, it isn't profitable. And, as Frost & Sullivan analyst Dan Rayburn points out, with content costs being what they are, there's no guarantee -- even with a full-fledged live TV service on the way -- that it will make money in the future either.
Compare that to Comcast, which makes a lot of money.
On the one hand, it's in Comcast's interests for Hulu to succeed. On the other hand, why would the cable company just sit back, even as a co-owner, and watch Hulu try to eat into its market share? Comcast has a lot more invested in its own video services than in those of its partial subsidiary, and that's before rival AT&T potentially takes a stake in the business with the acquisition of Time Warner. (See AT&T-Time Warner Merger Gets European Approval.)
Why would Comcast set those interests aside?
The answer is that it wouldn't. And the evidence suggests that it isn't.
— Mari Silbey, Senior Editor, Cable/Video, Light Reading