Multi-Gig Brings Star Trek Holodeck to Cable
It's a question that often gets asked: What applications and services actually need speeds of 1 Gbit/s or more?
It's also a question that CableLabs has been trying to tackle with its annual series of "The Near Future" videos. The third in the series, released Tuesday, is focused on how next-gen broadband networks will help to underpin the future of education. It follows one last year centered on remote healthcare and the original one in 2016 that took aim at how the life of consumers will be transformed with gigabit-class speeds.
"The reason why we do these films is to take the conversation away from the bits and bytes around technology and convey the impact on everybody's daily lives," CableLabs CEO Phil McKinney said in a press call.
With a view that's three to eight years out, this year's video looked at how several technologies -- including the Internet of Things, AI agents and interactive video walls -- might play a role in education. But it also took a stab at how mixed reality and light field displays/"holodeck"-like applications might also factor in and put some significant pressure on network capacity.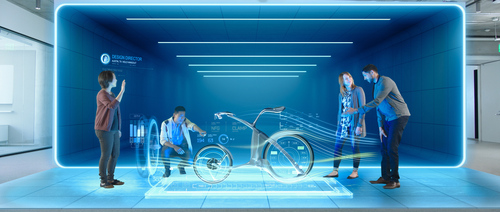 The interactive, light field display examples in the video (including one on a table and another more, immersive room-size, holodeck-like example that conjures up images of Star Trek) are future-facing, of course. But some early work that CableLabs has already conducted in this area illustrates the sheer amount of data that will be needed to connect multiple people to these collaborative experiences.
For a "fairly small" light field display (about two feet by two feet) tied to recent experiments, the network would need to provide sustained speeds of about 800 Mbit/s, McKinney said.
He allowed that this was done using non-compressed data, so the bitrate demands would be lower if compression was employed. But he added that it's a good example of an application that would need the kind of capacity that can be supported by Full Duplex DOCSIS, an annex to DOCSIS 3.1 that will support multi-gigabit symmetrical speeds. (See CableLabs Pushes Full Duplex Forward.)
"You should be able to do anything in the film in a 10-gig symmetrical link," McKinney said.
This isn't the first indication that CableLabs has had its eye on these sorts of applications, as the R&D organization has also been noodling on a spec focused on the creation of three-dimensional, volumetric images using light field displays. (See CableLabs Is Building a VR Media Spec... With the Holodeck in Mind.)
CableLabs released the video in concert with this week's Summer Conference in Keystone, Colo.
Tied in, Tibit Communications came away with "Best New Product" honors at the event's Innovation Showcase put on by UpRamp, the CableLabs-backed startup accelerator program.
Petaluma, Calif.-based TiBiT has developed a pluggable OLT (optical line terminal) device (about the size of a pack of gum) designed to virtualize the access network using Ethernet switching technology.
TiBiT beat out several other startups:
AlcaCruz -- it has a technology/product called SuperStream that aims to reduce bandwidth requirements for AR and VR streaming.
Collinear Networks -- it has an over-the-air data platform that claims to deliver up to 20 Gbit/s at up to 5 kilometers.
CryptoMove -- a cybersecurity, blockchain-focused company that keeps data secure at the node level alongside a decentralized ledger for data recovery.
Datazoom -- a startup focused on accelerated acquisition of data from online video players that can optimize video streaming.
RackN -- software that gives commodity physical servers the same level of control and speed as cloud machines.
Securing SAM -- software for home routers that provides protection, anomaly detection, network segmentation and device fingerprinting and removes the need for technician intervention.
Unsupervised -- AI system that discovers patterns and opportunities for growth by culling customer data.
UpRamp also announced the third cohort for its "Fiterator" program, which gives selected firms exposure to cable operators and guaranteed commercial deals. In turn, UpRamp is in line for a small equity stake (usually as warrants) from its startup picks. (See UpRamp Announces New Startup Cohort.)
The set of startups joining this year's UpRamp cohort are:
Averon, a mobile-focused cybersecurity startup focused on identify theft and authentication.
Blitzz, which is working on a video, AR and AI-enabled video platform to connect with customer support agents over real-time video and chat apps.
Mutable, a company with a public edge cloud that shares similarities to Amazon Web Services, Google and Azure but allows code to be deployed automatically to the edge and cuts down the time needed for devices to communicate with data centers (think in terms of latencies in the sub-20 millisecond range).
— Jeff Baumgartner, Senior Editor, Light Reading