LAS VEGAS -- Here's a recap of some other news and views from this week's tech-fest in Sin City:
The Ultra HD Alliance has scored a wave of endorsements from Hollywood-focused creatives and other movie-making organizations and has gained pledged product support from a trio of top TV makers for "Filmmaker Mode" (FMM), a set of specifications for home-delivered streaming services that's intended to preserve and maintain the artistic intent of the filmmaker.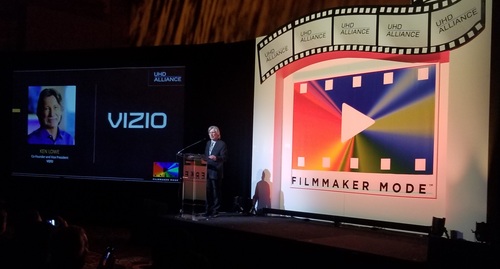 The general idea behind FMM is to eliminate motion interpolation, a video processing technique that can cause motion-blur in HDTVs, as the home entertainment market gets flooded with premium OTT video services. For streaming content that supports the specs, TVs will be made to automatically go to FMM or allow consumers to toggle to that mode manually.
FMM was introduced last August. Here at a press event Monday, UHD Alliance, which counts Charter Communications among its backers, said FMM has received endorsements from a handful of Hollywood-focused organizations -- The Directors Guild of America, The Film Foundation, the International Cinematographers Guild and the American Society of Cinematographers.
FMM will also be supported by an initial set of TV makers -- LG Electronics, Panasonic and Vizio. LG, for example, will include FMM in all new 8K and 4K TVs introduced in 2020, said Tim Alessi, LG's senior director of marketing. Panasonic will start FMM support on 2020 OLED TVs, and Vizio is working to add FMM as an automated feature and as a manual option for consumers in its TV models, said Ken Lowe, co-founder and VP at Vizio.
Technicolor is here to live-demo two versions of its "Jade" 4K-capable set-top box -- one running Google's Android TV and another operating the Reference Design Kit (RDK), the open source software managed by a joint venture of Comcast, Charter Communications and Liberty Global. The setups speak to the move by the industry to extract the software layer from the hardware/device and establish multiple options for the pay-TV and OTT video marketplace. Jade also builds in a Broadcom systems-on-chip, WiFi 6, Bluetooth 5.0, far field voice control and decoding for AV1, a new bandwidth-efficient, royalty-free codec. (See Royalty-Free Video Codec AV1 Keeps Gaining Ground.)
Locast, a non-profit startup that provides OTT-delivered local broadcast TV in several major US markets covering 40 million households, has launched a GoFundMe page to help it raise funds for its legal defense against CBS, NBC, Fox and ABC/Disney. Locast alleges that the broadcasters have colluded and sued to shut down Locast over copyright claims, while Locast believes its business is protected in part by its non-profit status. (See US Broadcasters Move to Squash Locast's Counterclaims and Locast: Broadcaster-Led Lawsuit 'Objectively Baseless' & 'an Unlawful Sham' .)
Sweepr, a startup that has developed a customer care platform for the smart home, said the Amazon Alexa Fund participated in the company's $9 million Series A funding round as a strategic investor. Alexa is one of the voice platforms that Ireland-based Sweepr has already integrated into its offering for ISPs and other types of service providers. (See Startup Wants to Help ISPs Turn Smart Home Customer Care Into a Profit Center.
Taking aim at "NEXTGENTV," the consumer brand for ATSC 3.0, the next-gen broadcast TV standard, OTT and video software company Vewd has integrated BitRouter's ATSC 3.0 and ATSC 1.0 receiver software package into its operating system. The tie-in of BitRouter's ATSC3pack will enable TV and set-top box makers to launch hybrid TV devices supporting ATSC 3.0, starting later this year, Vewd said. (See TV Makers to Launch 20 ATSC 3.0-Powered TV Models in 2020 and Shout It Out Loud: 'NEXTGEN TV' Is ATSC 3.0's Go-To-Market Brand .)
Synamedia, the company formed from the acquisition of Cisco's video software business in 2018, said E-Vision, a unit of Etisalat Group, is using the company's Infinite platform to power a new cloud-based, multi-country, multi-tenant OTT service in the MENA (Middle East and Africa) region and Pakistan.

For more CES 2020 news and insight, please see:


— Jeff Baumgartner, Senior Editor, Light Reading