It's not exactly 4K TV, but it is a good way to make use of 4K/Ultra-HD displays.
Just in time for the start of the NCAA college basketball tournament (aka March Madness), Dish Network LLC (Nasdaq: DISH) has dropped an update for its Hopper 3 DVR that lets users watch four games at once in a split screen showing different feeds in each of four quadrants. For viewers with HD sets, the streams display in 540 resolution. But for viewers with 4K TVs, each stream in the new Sports Bar mode displays in full 1080 HD resolution.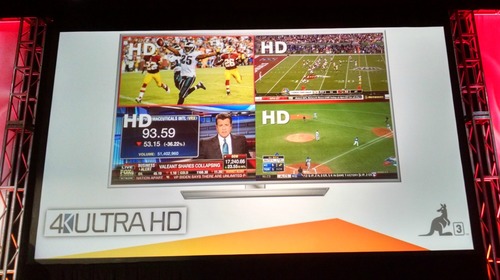 Dish announced its 4K Hopper DVR back at CES along with content partnerships designed to bring more UHD video to Dish subscribers. But the operator also pointed out at the time that there are other ways to take advantage of new 4K TVs -- like the new Sports Bar feature -- while viewers wait for more UHD programming. That's good news for TV manufacturers who still need a compelling reason for consumers to make the 4K upgrade. (See Dish Ups the Ante in Vegas With HopperGO.)
On the content front, progress toward UHD broadcasting is still painfully slow. However, AT&T Inc. (NYSE: T) did announce last week that it will air the Masters golf tournament in 4K Ultra HD for DirecTV subscribers next month. That event will mark the first-ever live UHD broadcast for consumers at home in the US.
Meanwhile, Dish may have the exclusive on four-stream viewing for March Madness, but Apple Inc. (Nasdaq: AAPL) is the only company to get access to a new dual-screen feature available in the NCAA March Madness Live app. That feature for Apple TV users was announced earlier this month.
— Mari Silbey, Senior Editor, Cable/Video, Light Reading