Xfinity Goes Back to School in Style
Xfinity Goes Back to School in Style
Comcast is hooking kids on cable with Xfinity on Campus, now headed to 27 colleges and universities. Xfinity on Campus "isn't your parents' cable service."
So says Comcast Corp. (Nasdaq: CMCSA, CMCSK) Executive Vice President Marcien Jenckes, who announced an expansion of the video service from seven schools to more than two dozen colleges and universities in a blog post today. Starting this fall, Xfinity on Campus will be available at 27 campus sites (participating schools listed at the bottom of this page), with more schools expected to sign on for the service later in the year. Xfinity on Campus is bundled in with on-campus housing, which means students pay no extra fee for access.
Comcast's IP-based streaming product launched commercially only a year ago, but it's gaining momentum both in terms of audience reach and feature development. Soon, Comcast says it will add a cloud-based DVR option to the service and even allow students to download content for offline viewing. The company also plans to transition Xfinity on Campus customers to a consolidated Xfinity app that includes the ability to purchase content, alongside options for viewing live, on-demand and recorded TV. (See Comcast Streams Back to School .)
Although Xfinity on Campus is designed for watching video on laptops and mobile devices, Comcast acknowledges that extending the service to connected TVs is a likely possibility. Today, the cable company has a number of hybrid arrangements with schools that combine service delivered over traditional set-tops with deployment of Xfinity on Campus for mobile viewing. In the future, Comcast will consider making IP-based boxes -- like the current "Xi" client set-tops used for X1 customers -- available to students as a way of unifying service across TV and mobile platforms.
Figure 1: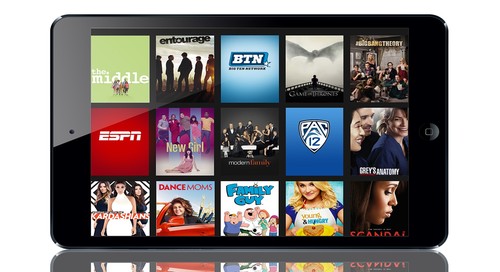 Xfinity on Campus
In Xfinity on Campus deployments so far, Comcast has tracked some interesting viewing patterns. According to the company, students are watching live television 62% of the time versus on-demand TV, which accounts for only 38% of total usage. Within the live television category, half of the shows watched are live sports, and those sporting events account for 78% of total viewing.
"If you give students access to live TV, they'll actually watch it," says Jeremy Andreoli, executive director of video services for Comcast Cable. Refuting the idea that consumers aren't interested in live programming, Andreoli notes, "We have proof that that's not the case."
Want to know more about the impact of web services on the pay-TV sector? Check out our dedicated OTT services content channel here on Light Reading.
Meanwhile, the success of Xfinity on Campus is important to Comcast for several reasons. Some schools, such as the University of Delaware, are returning as customers after previously abandoning Comcast for alternative solutions. Others are approaching Comcast for the first time because of the Xfinity on Campus service. The company is hoping that in the future it will be able to provide the campus product to every school in its footprint, although Jenckes notes that customers "need to have a very robust WiFi network on campus" for the service to be viable.
If Comcast can gain widespread distribution, the benefit goes beyond just the addition of customers at the college level. It also gives Comcast a way to hook new consumers at a critical stage of life with the hope that they'll return as paying subscribers after graduation.
"It is very important for us to have the next generation of our customers, to give them exposure to our products and services," says Jenckes.
Xfinity on Campus has also proven to be a useful experiment in planning out other Comcast video products. Jenckes, for example, points to the college service as a model for the upcoming Stream service. Stream, currently in a beta trial in Boston, offers online access to a skinny bundle of channels, including the broadcast networks, PBS and HBO for $15 per month. Likening it also to the now-defunct Aereo product, Jenckes says, "Stream is a similar service." He quickly adds, though, that, unlike Aereo, Stream adheres to the licensing terms of Comcast's programming contracts. (See Comcast Plays Down New OTT Service and Comcast 'Stream' Joins OTT Flood.)
In the college and university domain, Comcast does have some competitors, including Philo -- which has signed up roughly two dozen schools as customers for its multiscreen video service -- and Campus Televideo Inc. . (See Philo Raises $10M, Considers New Markets.)
However, the bigger threat to Comcast may be other multiscreen services that are available at a low cost without a contract, like Sling TV and HBO Now. Consumers may not spend the money for those services when Xfinity on Campus is bundled with student housing, but other OTT offerings are likely to gain appeal once school and parents are no longer footing the monthly bill.
Xfinity on Campus schools include:
Benedictine College, Brandeis University, Bridgewater College, Chico State, Dartmouth College, University of Delaware, Drexel University, Emerson College, Goucher University, Lasell College, Loyola University Maryland, Massachusetts Institute of Technology, Morehouse College, University of New Hampshire, Northwestern University, Oregon State University, Regis College, Rider College, St. Michael's College, Seattle Pacific University, Sonoma State University, Washington & Lee University and Yale University.
Coming soon to Champlain College, Lebanon Valley College and Tennessee State University. The service will also be trialed at Carnegie Mellon University this fall.
— Mari Silbey, Senior Editor, Cable/Video, Light Reading
Subscribe and receive the latest news from the industry.
Join 62,000+ members. Yes it's completely free.
You May Also Like
---