Tivo Touts Network Flexibility in Latest Video Win
Tivo Touts Network Flexibility in Latest Video Win
Tivo shows that its new, app-focused IP video platform is device- and network-agnostic.

Tivo's new app-based, multiscreen IPTV platform for pay-TV providers is designed to be device-agnostic, supporting operator-managed and unmanaged, retail-bought video streaming devices. It turns out the platform is network-agnostic too.
TDS Telecom , a service provider that operates both telco and cable networks, is the first in this hybrid group to connect with TiVo Inc. (Nasdaq: TIVO) on a next-gen pay-TV service that taps into a cloud-powered platform that Tivo introduced in January. (See Tivo Drops New TV Platform Ahead of CES and Tivo's Done With Hardware.)
TDS isn't saying when the new service will launch and which market it will debut in first, but does acknowledge that the updated offering, for TVs as well as mobile devices, will eventually replace its legacy video service platform, which includes an IPTV system that runs Ericsson AB (Nasdaq: ERIC) Mediaroom (the IPTV platform that Ericsson acquired from Microsoft Corp. (Nasdaq: MSFT) in 2013) in its telco footprint, and an RF-based video service in its cable footprint. (See Ericsson Buys Microsoft's IPTV Unit.)
In addition to extending access to smartphones and tablets, TDS' new service with Tivo, which bakes in its user interface, recommendations system and other software components, will also support a network DVR and start-over and catch-up services that integrate video systems from Nokia Corp. (NYSE: NOK)
Figure 1: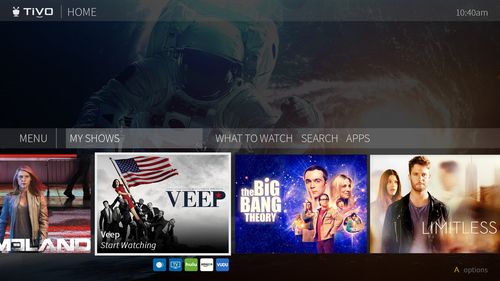 TDS's new pay-TV offering will run a new cloud-based, IPTV platform from Tivo that also features a new user interface.
The service will also work on retail devices, including iOS and Android smartphones and tablets, as well as TV-connected Apple TV and Amazon.com Inc. (Nasdaq: AMZN) Fire TV devices. TDS will also give subs the option to use an Android TV-powered streaming player that will auto-boot to its own service/app but still support other apps offered in the Google Play store.
TDS is also the first service provider with this sort of hybrid network set up to sign up for Tivo's new IP-based, app-focused offering, according to Michael Hawkey, SVP and GM of user experience at Tivo. Among other cable operators, Service Electric Cable TV and Communications is also on board to deploy "Experience 4," the name Tivo has assigned to its new cloud-based, IPTV platform.
TDS plans to offer video packages that share similarities to its legacy offerings, but the new one will also connect users to over-the-top apps and provide the "sizzle" and more intuitive experience that consumers expect from video streaming devices and apps, says Julie Maiers, VP of marketing and product development at TDS.
TDS will eventually switch its base to the new offering (it has about 50,000 subs on its IPTV service, and 70,000 on its legacy cable TV service), but will initially go with a cap-and-grow rollout, Maiers said.
Tivo's win with TDS comes as other cable operators and telcos of similar size weigh plans to develop and deploy next-gen IP video services, with MobiTV and Evolution Digital LLC among the vendors that are aiming for that growing opportunity. (See MobiTV Aims to Arm Broadband Providers With Live, Streaming Pay-TV and Android TV Arrives With Evolution Digital.)
It also enters play amid some uncertainty about what Tivo's future will hold. Its CEO, Enrique Rodriguez, recently left to become chief technology officer of Liberty Global Inc. (Nasdaq: LBTY), and Tivo is currently exploring alternatives that could lead to M&A or have the company go private. (See Rodriguez Bolts Tivo to Be Liberty Global CTO.)
— Jeff Baumgartner, Senior Editor, Light Reading
Subscribe and receive the latest news from the industry.
Join 62,000+ members. Yes it's completely free.
You May Also Like
---